Lawmakers Slam Administration for Faulty Job Data on Government Web Site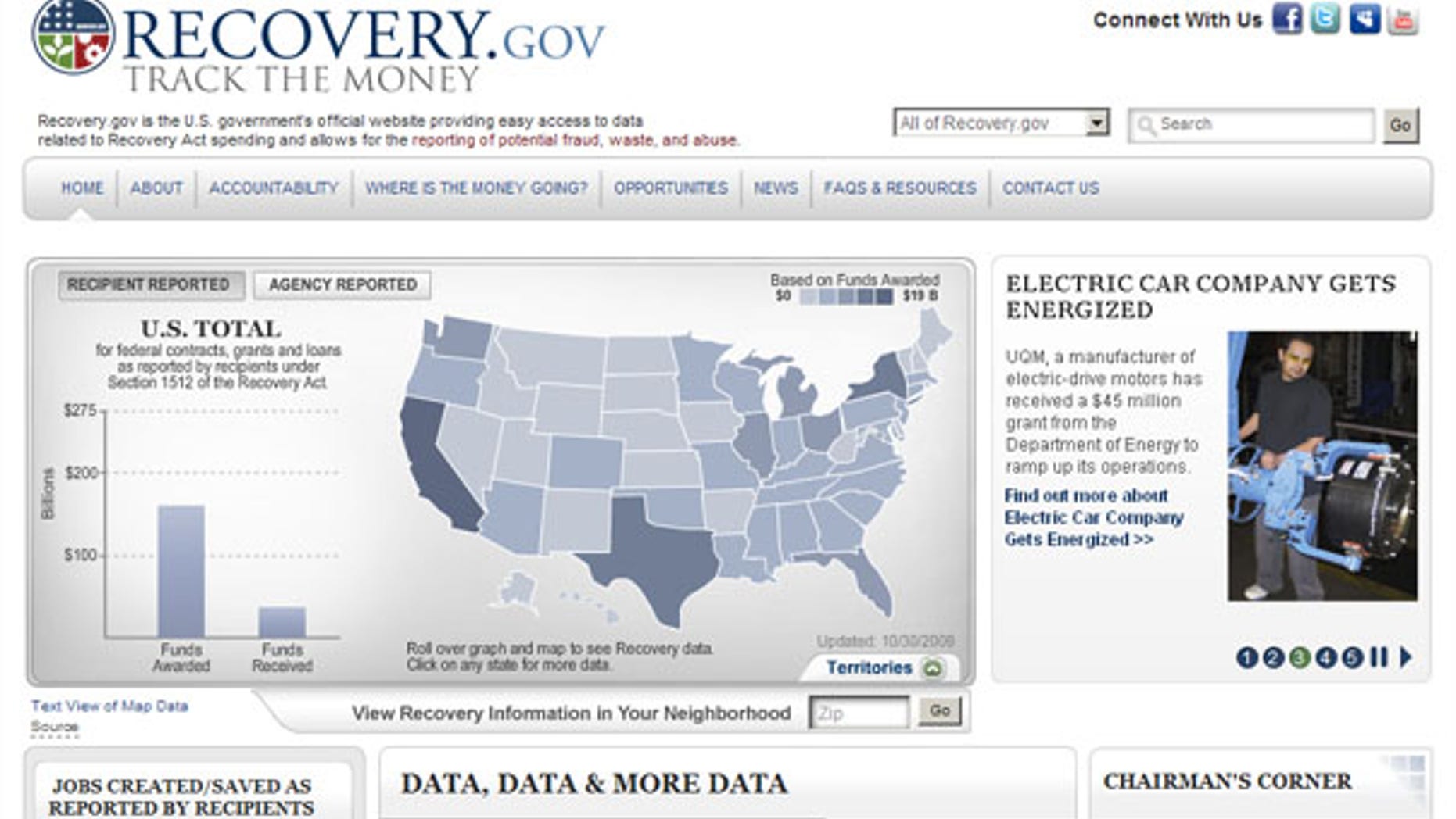 The Democratic chairman of the House Appropriations Committee is demanding greater accountability from the the Obama administration after gross inaccuracies were found on a government Web site that tracks jobs purportedly saved or created by the $787 billion stimulus plan.
But Rep. David Obey of Wisconsin isn't against Congress spending more money for another jobs package next year, and said the mistakes undermine what has been an otherwise successful stimulus package.
In an interview with Fox News on Tuesday, Obey called the inaccuracies on Recovery.gov "infuriating" and said the success of the government's stimulus package has been "obscured by the silly mistakes."
"In my judgment, someone who doesn't know which congressional district they're in doesn't have enough of a clue to receive taxpayer money in the first place," Obey said.
"When you put out information that turns out to be inaccurate, you shouldn't be surprised if the public says, 'Hey, do they know what they're doing?'" he added.
Recovery.gov is under fire for posting a number of jobs created in congressional districts that don't exist and for accepting unrealistic data from several reporting outlets.
For instance, the Web site reported that 30 jobs were saved or created with $761,420 of federal stimulus spending in Arizona's 15th Congressional District. One problem with the claim -- the state has only eight districts
The site also lists 12 other non-existent districts in Arizona where jobs were reportedly saved or created. It also lists imaginary districts in at least three other states, including Oklahoma, Iowa, and Connecticut.
One recipient of stimulus funds, Talladega County of Alabama, claimed that it had saved or created 5,000 jobs from only $42,000 in government money -- which would amount to $8.40 in annual income per job if each position received an equal amount of funding.
New Mexico Watchdog, a project of the Franklin Center for Government & Public Integrity, said in all, nearly $6.4 billion was used to "create or save" nearly 30,000 jobs in 440 non-existing districts, including in New Mexico's 4th, 22nd, 35th and 40th Districts. New Mexico has three Congressional Districts.
"When you cite the jobs created in congressional districts that don't exist, I think that strikes anyone from the White House on down as being more than stupid," Obey said.
G. Edward DeSeve, Obama's appointee to oversee the government's federal stimulus program, acknowledged the mistakes and said the White House is reviewing all reports with a "fine tooth comb" and working to correct inaccuracies.
In a blog posted to the White House Web site Monday, DeSeve said, "We fully agree with those who find the mistakes in the data frustrating -- and we've been working with the Recovery Board to find the mistakes and fix them.
"Just because mistakes are inevitable in any new system -- especially one this large, and this new -- doesn't mean they are acceptable," he said.

Donna Tommelleo, a spokeswoman for Connecticut Gov. M. Jodi Rell, added that Connecticut correctly reported its job data on the Web site, but errors were made by "entities other than state agencies and in at least one case -- jobs from a California congressional district -- were attributed to Connecticut."
"From the very onset of the stimulus legislation, the state of Connecticut has placed a premium on transparency, accountability and accuracy. These are taxpayer dollars for which the state has been entrusted and, as a result, has factually accounted for every dollar spent and justified every job created," Tommelleo said.
ABC News reported Monday that the White House slashed 60,000 jobs from its most recent report on the recovery program as a result of faulty data. Officials with the Recovery Board reportedly told the network that the mistakes were caused by human error.
"We report what the recipients submit to us," Ed Pound, communications director for the board, told ABC.
DeSeve also went on to downplay the impact of the mistakes, calling the inaccuracies "relatively few" and claiming they do not change the "fundamental conclusions one can draw from the data."
"Some of the mistakes are frustrating typos and coding errors that don't undermine information at the heart of the data," DeSeve wrote, adding that "transparency is going to be messy."
Obey said he believes the mistake will be used by Republicans to cast doubt on the effectiveness and credibility of the administration's stimulus plan.
"This will just be used by them to undermine the recovery package, which is one of the reasons it's so unfortunate," he said.
Just as Obey predicted, Republicans on Tuesday began using the news to poke fun at the stimulus plan they uniformly opposed in February.
Rep. Ginny Brown-Waite, R-Fla., issued a statement saying she went onto the Web site to see for herself how the money is being spent.
"I was alarmed to see that Democrats have spent $3,582,587 to create five jobs in Florida's 86th congressional district. In the fighting 53rd they spent $460,000 of your taxpayer dollars to create zero jobs," she said. Florida has 25 U.S. Congressional Districts.
"The truthiness of the president's claims is mind boggling," Brown-Waite added. "How can we expect the administration to run stimulus when they can't even run a Web site?"
Obey said the mistakes could fuel opposition to a possible second stimulus package, which he suggested he supports.
"I have no idea if there will be a (second) package, but you can put me down as someone who believes we should be doing more than what we're doing," he said.
Fox News' Chad Pergram contributed to this report.