Lawmaker Warns Parks Takeover by Mexican Cartels, Illegals 'Intensifying'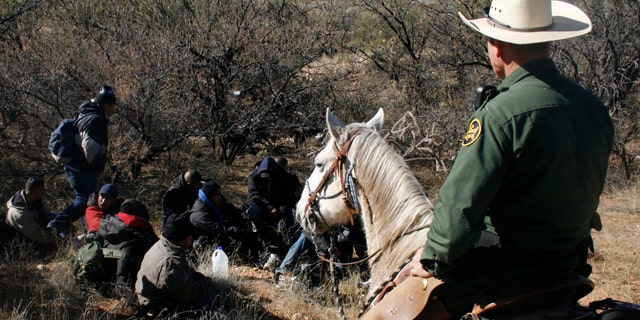 Federal environmental laws are handcuffing U.S. Border Patrol agents to a foot-and-horseback strategy as they try to battle Mexican drug cartels and illegal immigrants who are turning wide swaths of America's border with Mexico into a virtual no-man's land.
Rep. Rob Bishop, R-Utah, ranking Republican on the House Parks and Public Lands Subcommittee, said the Buenos Aires National Wildlife Refuge in southern Arizona -- part of which was closed in 2006 because it was considered too dangerous for Americans to visit -- is just the tip of the iceberg.
He said there's plenty of other parkland along the border that's either closed to the public or is considered too dangerous because of concern about drug gangs, human smugglers and illegal immigrants, and that the problem is getting worse.
"You travel here in America at your own risk," Bishop told FoxNews.com.
The reason the parkland along the border has become so hazardous, Bishop said, is because environmental regulations restrict Border Patrol from using vehicles to patrol in those areas -- except in special circumstances. In turn, he said, drug cartels are being funneled into those swaths as immigration agents get tougher patrolling private land.
"It's intensifying," Bishop said. The Utah Republican is the author of a bill, H.R. 5016, that would allow border agents to patrol parkland without worrying about the environmental restrictions. He described that bill as the solution to the problem.
"They're not allowing the Border Patrol to do the job that they know they need to do," he said.
New attention has been drawn to the issue following reports about the Buenos Aires refuge. Signs have been posted warning Americans not to cross into the closed-off territory -- U.S. Fish and Wildlife Service originally sent around a notice in October 2006 that about 3,500 acres were being closed to public use out of concern for public safety.
"The Buenos Aires National Wildlife Refuge has been adversely affected by border-related activities," the notice said. "Assaults on law enforcement officers and violence against migrants have escalated. Violence on the refuge associated with smugglers and border bandits has been well-documented."
The Interior Department has said that Secretary Ken Salazar is trying to work with the Department of Homeland Security and other agencies to "meet the twin goals of protecting our national security and our natural resources."
Asked about Bishop's bill, spokeswoman Kendra Barkoff said Thursday that the department does not comment on "pending legislation." But she said in a written statement that the administration has committed "unprecedented manpower" to the border region and that since 2006, areas like the Buenos Aires National Wildlife Refuge "have experienced a significant decline in violent activity in the area thanks to ongoing cooperation between the U.S. Fish and Wildlife Service and U.S. Customs and Border Protection."
But Bishop said the "irony" of the situation is that trespassers in the lawless zone are trampling the environmental habitat anyway. And he said the Obama administration's plan to send National Guard troops to the border will be inhibited by the restrictions on federal land.
"I don't care how many troops you send down there -- until they have access to the land, it doesn't do any good," he said.