Last Republican Standing? Cornyn Takes Fight to Democrats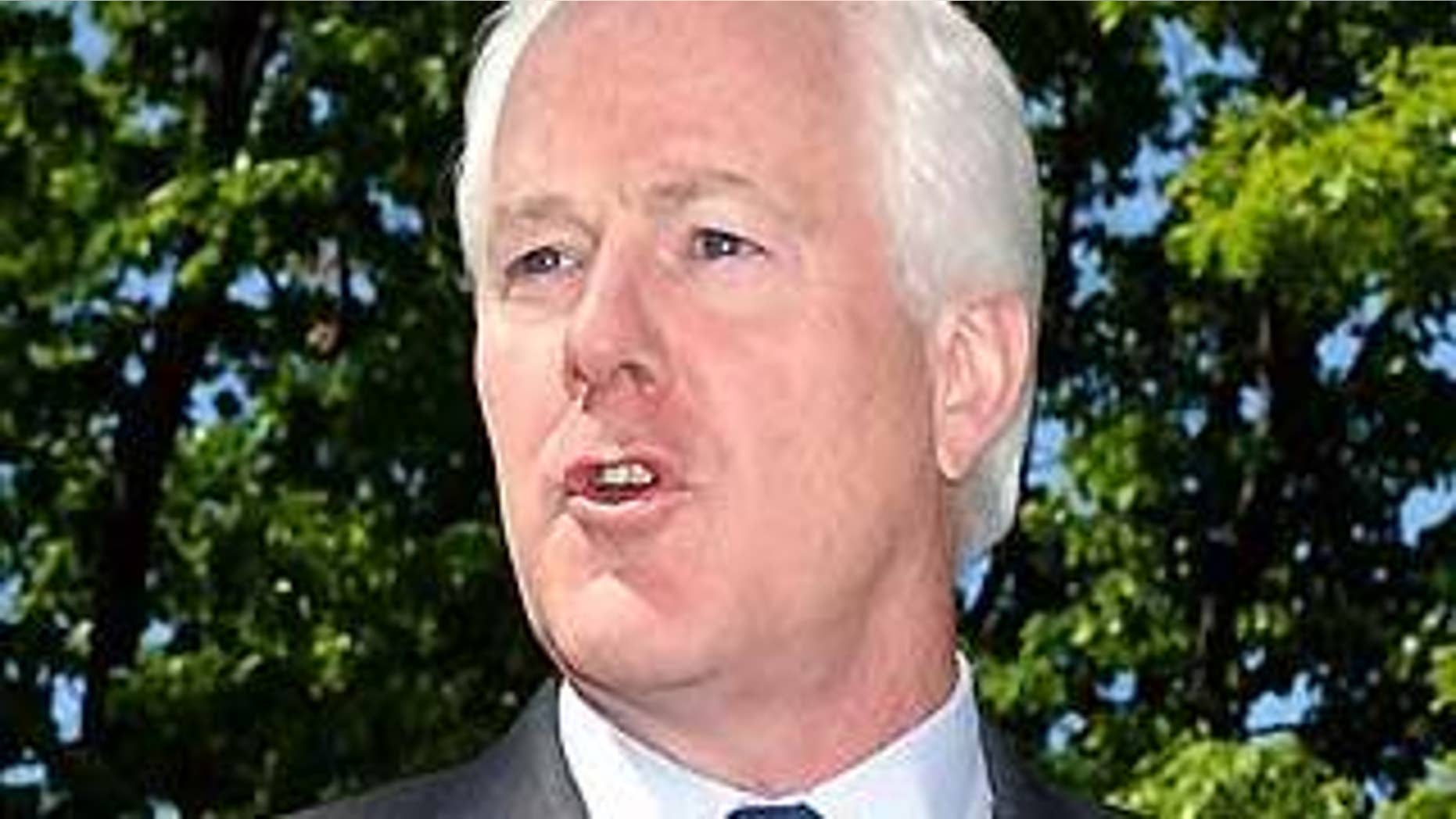 WASHINGTON -- As he sees it, Sen. John Cornyn faced two paths at the beginning of this congressional session: fight ... or fade into the scenery. The Texas Republican chose to fight.
Now Cornyn is being hailed by some as the opposition's champion in a very disadvantaged political arena. But he is being criticized by others who say his strategy reveals the same partisan antics that sank the GOP in the first place.
Cornyn does not want to be seen as a partisan hack, and he points to his confirmation vote this week for Treasury Secretary Tim Geithner -- who won little Republican support -- as proof that it's not just about politics.
But the new chairman of the National Republican Senatorial Committee, the election and fundraising arm for incumbent and would-be GOP senators, says he's got to stand up where others won't.
"Simply because Republicans lost the last election ... we should not roll over and throw our principles out the window. We will respectfully oppose any efforts to enact a partisan agenda that raises taxes on families and small businesses, hurts access to health care, drives up the federal debt and grows the size of our already bloated federal government," Cornyn told FOXNews.com in an e-mail.
Since the 111th Congress convened on Jan. 6, the former Texas Supreme Court justice and state attorney general has tried to stymie Hillary Clinton's secretary of state confirmation, stall Eric Holder's appointment to be attorney general and keep Democrat Al Franken from taking the disputed Minnesota Senate seat. He has also publicly scolded Senate Majority Leader Harry Reid on several occasions.
Cornyn is making no excuses for it, despite the call for a new bipartisan spirit by President Obama and his emerging allies among the GOP, most notably his former presidential opponent, Sen. John McCain.
"When I see things such as the gaping loopholes in the Clinton Foundation's foreign donor reporting requirements, I'm going to speak up and call attention to it," said Cornyn, who was re-elected to his second term in November. "The same goes for an attorney general nominee who made some questionable decisions in the past by advocating for controversial pardons. That's not being partisan -- it's standing up and asking the questions that our constituents sent us to Washington to ask," he said.
"As NRSC chair, it's my job to work to outline those differences and present them to the American people. If Senator Reid, for example, tries to raise taxes on his constituents in Nevada, we will work to hold him accountable for that," Cornyn added.
Political observers say the conservative Texan is relishing his new and aggressive role as NRSC chairman because he has no choice. Spotlighting key philosophical and ideological differences with Democrats and challenging majority positions is the only way to recruit Republican candidates for 2010, raise cash, lift the base and bring in new voters.
"He wants to give Democrats no quarter, and make them suffer for every perceived weakness or misstep," said Larry Sabato, director of the Center for Politics at the University of Virginia.
"Many other Republicans are trying to play nice during the honeymoon period, so this may be a version of good cop/bad cop," Sabato said.
But NRSC spokesman Brian Walsh insists his boss was not wearing his partisan cap last week when he held up for a day what had been expected to be a smooth confirmation for Clinton. Cornyn, a longtime advocate for "open government," wanted more transparency into the foreign donations and relationships developed through the nonprofit foundation headed by Clinton's husband, former President Bill Clinton, said Walsh.
In the end, Cornyn voted for Clinton, who was confirmed by a 94-to-2 vote. Walsh said Cornyn dropped his opposition when he was satisfied with Clinton's responses to his questions. He believes he forced more transparency into process as a result, he added.
As for Holder, Cornyn said he will oppose the attorney general-designate's confirmation on Wednesday, citing Holder's position on prisoner interrogation techniques and what he perceives as his inclination to prosecute Bush administration officials for harsh interrogation methods used on suspected terrorists.
Click here to hear Sen. John Cornyn on FOX News Talk's "Brian and the Judge" show.
Such high-profile opposition has led to Cornyn being cast as either hero or pariah.
"We need bipartisanship and to be united in these troubled times," said Matt Glazer, editor-in-chief of the Texas-based liberal Web log, BurntOrangeReport.com. "And I don't think that is something John Cornyn is equipped to do.
"His leadership role is going to be one of a partisan hack and attack dog," Glazer said.
But David Benzion, publisher of the conservative LoneStarTimes.com, and senior researcher at Hill Research Consultants in Texas, a Republican polling firm, said Cornyn is a needed shot in the arm for the GOP base, which has been "demoralized and stunned about who they are" since the November elections.
Benzion called Cornyn "a very sophisticated conservative, temperamentally mature." He is no hack, no "grinder" or "fire-breathing dragon" who throws punches just for the sake of opposing Democrats, he said.
"The fact is, when Republican leaders have no spine and no independent voice whatsoever -- total compliance -- then you might get a pat on the head" from the Democratic leadership, said Benzion, whose polling firm worked on Cornyn's first Senate campaign in 2002.
Texas vs. Arizona
Cornyn's emergence as the spearhead of the loyal opposition is a stark contrast to the role taken by John McCain, who was called by The Washington Post Obama's "best friend in the Senate" for his support of Clinton in the face of Cornyn's revolt.
It should come as no surprise. McCain and Cornyn have their own history. In May 2007, the Arizona senator reportedly got in a heated exchange with Cornyn over an immigration reform bill that McCain introduced and Cornyn opposed.
According to The Washington Post, Cornyn  apparently accused McCain of "parachuting into the bill negotiations from his presidential campaign" on one particular. McCain reportedly responded with a "f--- you."
Nonetheless, Cornyn endorsed McCain for president after he won the Texas Republican primary in March. McCain hadn't been his first choice, and he made that clear publicly. "I sort of liken it to a grieving process. You come to acceptance," Cornyn told an audience after issuing his  endorsement.
When asked whether Cornyn and McCain were already setting up in adversarial roles, Walsh said he wouldn't try to second-guess McCain's motives, but "Senator Cornyn has a great deal of respect for him."
But while he may be rubbing some fellow senators the wrong way on the inside, Cornyn's role as NRSC chairman obligates him to play an equally important role -- in which a show of confidence, the ability to respond rapidly and a constant stream of headlines are key.
That's also a turnaround from the style used by Cornyn's NRSC predecessor, Sen. John Ensign, R-Nev. Perhaps to his party's peril, Ensign is in fact friends with Reid, said Ross Baker, a Rutgers University politics professor who just left a sabbatical working for a year in Reid's office.
"John Cornyn has no similar restraints. He is a more aggressive partisan than John Ensign and he intends to really mix it up. He realizes it is an uphill battle," Baker said.
Election watchers say that at this point it is unlikely the GOP can regain the Senate in 2010. The Republicans currently hold 41 seats to the Democrats' 58, not counting the prospective loss of the Minnesota seat, now the center of a court battle. Meanwhile, no fewer than four GOP senators have already announced plans to retire, and more retirements are expected. In all, 36 seats are up for election -- 17 Democrats and 19 Republicans.
That only adds to the pressure on Cornyn to succeed any way he can.
"After having pledged, too, to bolster the committee -- both with human resources and better fundraising -- Cornyn is doing what campaign chairman do, he's taking the gloves off," said Baker. "[The Republicans] have to stop the hemorrhaging and to try to pick up some seats for their own. If not, John Cornyn will be blamed."