Kobach challenges 'legitimacy' of New Hampshire's 2016 election, after out-of-state voter report
NEWYou can now listen to Fox News articles!
MANCHESTER, N.H. – Members of President Trump's election integrity commission clashed Tuesday over new claims that thousands of out-of-state voters may have swung last year's election in New Hampshire in Democrats' favor.
With the Presidential Advisory Commission on Election Integrity holding its second meeting in New Hampshire, the allegations took center stage.
Co-chairman Kris Kobach, Kansas' Republican secretary of state, challenged the "legitimacy" of last year's blockbuster Senate election in New Hampshire.
New Hampshire's longtime Secretary of State Bill Gardner, a Democrat, fired back, saying the results were "real and valid."
The session at the New Hampshire Institute of Politics came less than a week after Kobach charged in a column on Breitbart.com that voter fraud in the Granite State may account for Democrat Maggie Hassan's narrow Senate victory last November over incumbent Republican Kelly Ayotte.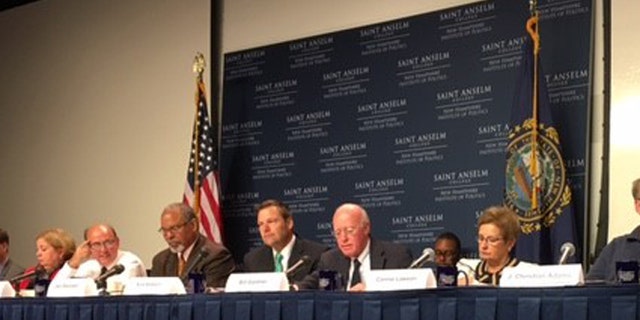 Kobach cited a report compiled by Gardner and released by Republican state House Speaker Shawn Jasper. The report – which some Republicans say also could raise questions about Hillary Clinton's narrow win over Donald Trump in the state – showed that more than 5,000 people who registered to vote last November using out-of-state driver's licenses never subsequently obtained in-state licenses or registered their cars in the state.
In his article, which was heavily criticized by Democrats, Kobach suggested that the data was proof voter fraud likely led to Hassan's 1,017-vote victory over Ayotte out of nearly three-quarters of a million ballots cast.
The state's laws allow a person – for instance, a college student – to be domiciled in New Hampshire for voting purposes and still be a resident of another state for driver's licensing purposes. But state law also requires that people who come to live in the state and have a vehicle register it and obtain a New Hampshire driver's license within 60 days.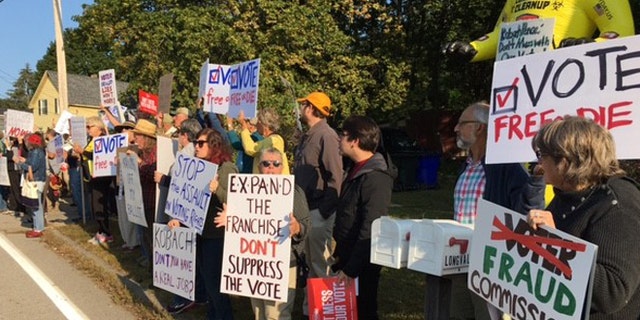 "New Hampshire is a swing state. Everybody comes here," Kobach said Tuesday, adding that people are "flooding across the border to participate in primaries, to possibly cast a vote."
Kobach charged that "until further research is done … we will never know the answer regarding the legitimacy of that particular election."
Countering Kobach, Gardner said "the problem that has occurred because of what you wrote is that the question of whether our election as we recorded it is real and valid. And it is real and valid."
Gardner pleaded that "we all need to stay focused on" the marching orders from Vice President Pence, the commission's chairman, that "we work in a way that we don't have preconceived, preordained ideas of what the facts are going to turn out to be."
Maine Secretary of State Matthew Dunlap, another commission member, also criticized Kobach, calling his voter fraud allegations "reckless."
President Trump lost New Hampshire's four electoral votes last November to Democratic presidential nominee Clinton by fewer than 2,800 votes.
While Trump trounced Clinton in the all-important Electoral College vote, 306 to 232, to win the presidency, he also lost the national popular count by nearly 3 million votes to Clinton.
Soon after his victory, Trump claimed he would have won the popular vote "if you deduct the millions of people who voted illegally." And he singled out New Hampshire as one of three states with "serious voter fraud."
Democrats argue the commission is a voter suppression effort led by Trump to justify his voter fraud claims. Top New Hampshire Democrats have urged Gardner, who has served more than four decades as secretary of state, to quit the commission.
Gardner referenced the incoming fire he's taken in recent days, saying in his opening comments that "some have questioned why I am here."
After highlighting the state's rich political history, he added that "New Hampshire people aren't accustomed to walking away or stepping down from their civic duty and I will not either."
But the commission's role came under attack during a protest outside the New Hampshire Institute of Politics prior to the start of the meeting.
"The commission should not exist," said Jason Kander, the former Missouri secretary of state who now heads Let America Vote, a new nonprofit group that works to increase voter participation.
Kander, who ran unsuccessfully as a Democrat for U.S. Senate last year, told demonstrators that Trump's allegations of voter fraud are "the biggest lie a president has ever told."