Kerry Launches Late Money Push for Coakley in Race for Kennedy's Senate Seat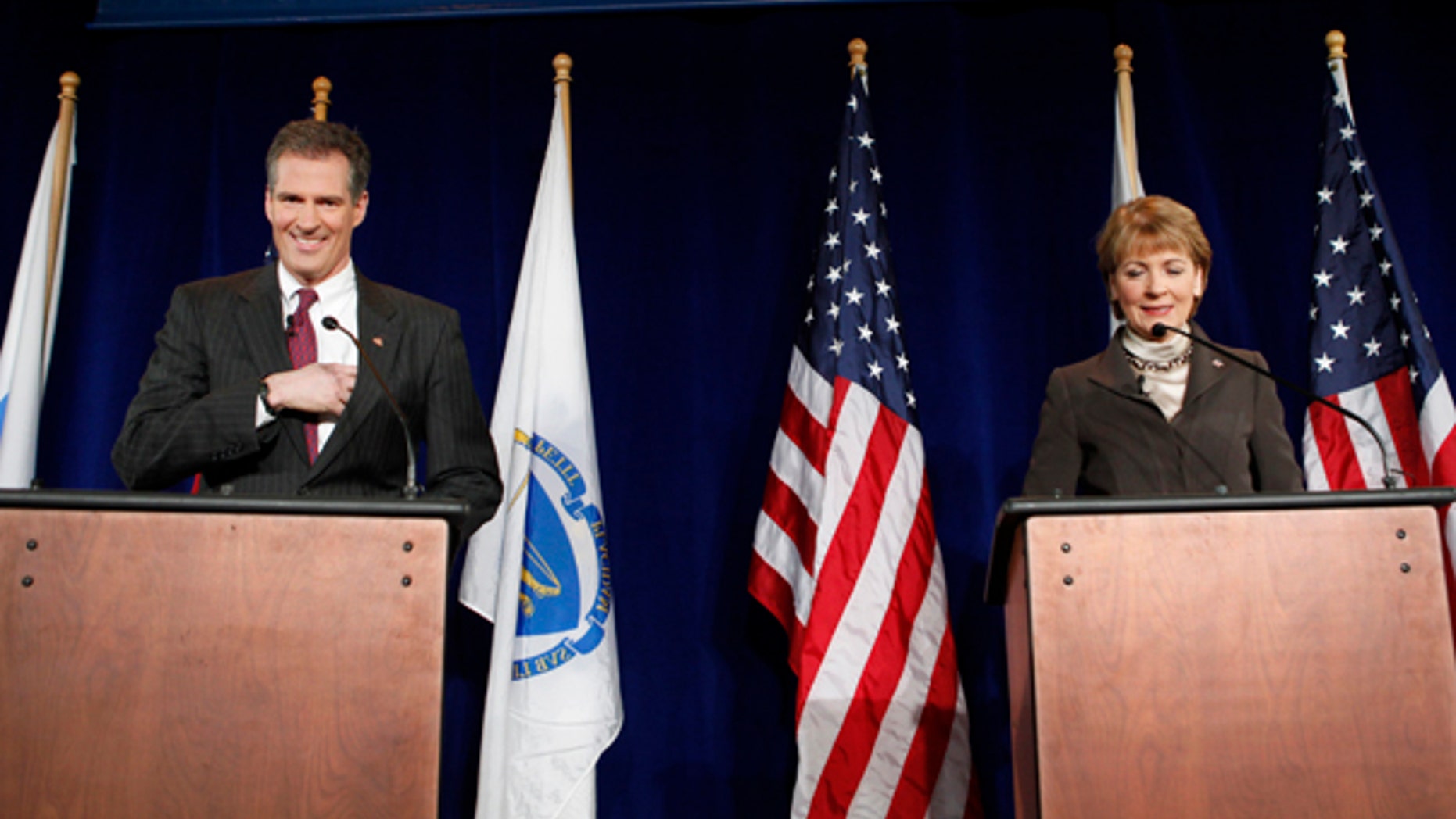 Sen. John Kerry is rushing to the aid of Democrat Martha Coakley in the race for the Senate seat once held by Ted Kennedy, making a last-minute fundraising and get-out-the-vote push as her Republican challenger closes in.
State Attorney General Coakley seemed to have a lock on the race going in. But with the special election one week away, recent polling suggests GOP state Sen. Scott Brown could have a shot at not only winning the longtime Democratic seat but breaking the party's filibuster-proof majority in Washington.
In a bid to prevent this nightmare scenario for Democrats, Kerry, the state's senior senator, has contributed his e-mail list of 3 million people to the Coakley campaign. According to an aide, he's sent out four e-mails to drive up turnout and fundraising. And he plans to campaign for Coakley alongside former President Bill Clinton Friday in Kerry's first public appearance since his hip replacement surgery a week ago.
"This is our wake-up call," Kerry said in an e-mail that went out Tuesday seeking to drum up $225,000 for the Democratic Senatorial Campaign Committee on Coakley's behalf. "Polls in Massachusetts are tightening, and one even shows a dead heat in the fight to keep Ted Kennedy's seat in the hands of a Democrat who will fight and vote for jobs, health care, clean energy and mainstream values."
He was referring to a Public Policy Polling group survey that showed Brown leading Coakley 48-47 percent. A separate poll from the Boston Globe showed Coakley up 15 points, but Republicans in Massachusetts are buoyed by the sheer possibility that Brown is within striking distance.
"I think he has an excellent chance to win," said Massachusetts Senate Minority Leader Richard Tisei. "(Coakley has) run a lackluster campaign. ... I think he's peaking at exactly the right time."
Brown may be experiencing a perfectly timed surge. His campaign announced Tuesday that it had raised more than $1.3 million online in 24 hours. And it didn't help Coakley any that, as noted by the Globe, her campaign misspelled her state's name as "Massachusettes" in her latest ad.
The two candidates are far apart on the issues. Coakley supports the Democrats' health care reform plan while Brown is pledging to vote against it if he gets the chance. Coakley opposes the Afghanistan war while Brown supports the troop build-up there.
Coakley was endorsed by the Massachusetts Chiefs of Police while Brown won the backing of the State Police Association of Massachusetts.
While Massachusetts is among the most solidly Democratic states in the country, GOP colleagues say Brown has carved out a base by demonstrating an independent streak and a hands-on approach to politics.
"He's visible. ... He's out there among the folks and he's not afraid to engage the people he represents," said Massachusetts Senate Republican Whip Robert Hedlund.
Brown is an attorney and has served with the Massachusetts National Guard for 30 years. He has somewhat of a quirky history -- he once posed nude, in 1982, for Cosmopolitan magazine after winning its "America's Sexiest Man" contest. He is married to a TV reporter and one of his two daughters was a finalist on "American Idol."
Brown is pitching his candidacy as Republicans' ticket to blocking health care reform, since he could break the Democrats' 60-vote majority in the Senate. Even if he pulls out an upset, though, it's unclear whether he'd be sworn in in time to vote on the bill. Interim Sen. Paul Kirk has pledged to vote in favor of health care reform, one of the causes of Kennedy's life, if the final bill comes to the floor while he still occupies the seat.
Brown told Fox News on Tuesday that if he wins, he will "send (health care reform) back to the drawing board."
But Democrats are stepping up efforts to defend the seat on Jan. 19.
"The next five days will decide the fate of Ted Kennedy's seat," Kerry said in his e-mail. "We can't leave anything to chance."