Keeping pace with Trump, his agenda created Capitol Hill version of 'Hell Week'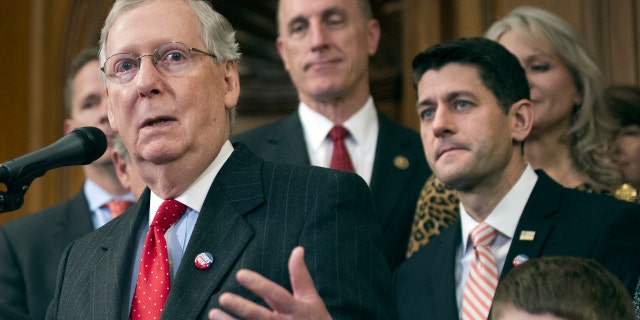 They're not supposed to. But fraternities and sororities still haze their pledges when they sign up. They submit the newbies to humiliating stunts, plying them with alcohol and requiring them to endure bizarre physical and psychological challenges.
Those who work in the theatre community put in grueling hours during the week leading to opening night. They trudge through technical and lighting cues, musical issues, lightning-fast costume changes and re-run scenes after actors bollix stage directions.
During their training, Navy SEALs endure days on end slogging through cold and wet conditions, often on just minutes of sleep. They endure pain and physical trials -- swimming and diving through the surf. And yet mental tests often dwarf the other obstacles.
Those who toil on Capitol Hill this week also braved their own mental and physical trials. There were fracases with the other party. Fights about rules. Name-calling. Standoffs with the administration. Republicans scrapping with other Republicans. Awful schedules. It was brutal.
Whether you're a member of the Greek system getting hazed, prepping a show on Broadway, training to become a SEAL, or work in Congress, everyone has a common name for these types of weeks.
"Hell week," declared House Democratic Caucus Chairman Joe Crowley, D-N.Y.
"Dumpster fire," chimed in Vice Democratic Caucus Chairwoman Rep. Linda Sanchez, of California.
Democratic lawmakers flocked to airports last Sunday to stand alongside protesters and help lawyers bail out refugees and green card holders ensnared in the immigration executive order cul-de-sac. In the wee hours of Sunday morning, Homeland Security Secretary John Kelly and administration officials raced to douse the firestorm stoked by the executive order.
"This order is too broad," protested Sen. Ben Sasse, R-Neb. "If we send a signal to the Middle East that the U.S. sees all Muslims as jihadist, the terrorist recruiters win by telling kids that America is banning Muslims and this is America versus one religion."
Republican Sens. John McCain, Ariz., and Lindsey Graham, S.C., said in a joint statement: "We fear this executive order will become a self-inflicted wound in the fight against terrorism. This executive order sends a signal, intended or not, that America does not want Muslims coming into our country."
President Trump promptly incinerated McCain and Graham on Twitter, accusing the GOP duo "of always looking to start World War III."
It's not clear when a president last used the term "World War III." But Democrats and Republicans alike were agog at even Trump's use of the term. They argued that the president of the United States shouldn't use the phrase unless the country is actually involved in World War III.
Hell week may not have ushered the United States into World War III. But Senate Majority Leader Mitch McConnell, R-Ky., asserted that Democrats always revert to eschatology when a Republican president is about to announce a Supreme Court nomination.
"We can expect to hear a lot of end-times rhetoric today from the left," predicted McConnell, a day before Mr. Trump selected Neil Gorsuch for the high court. "Democrats will paint the nominee in apocalyptic terms."
Trump's nomination of Gorsuch may very well bring Capitol Hill to the nexus of World War III and the end times. That's because Sen. Jeff Merkley, D-Oregon, declared he'd require the Gorsuch nomination to garner 60 votes to break a filibuster before confirmation.
That sort of chatter immediately sparked talk about the "thermonuclear option." That's a potential parliamentary gambit that Republicans could enlist to unilaterally lower the procedural bar to advance a Supreme Court nomination from 60 to just 51 votes – should Democrats filibuster.
A maneuver like the "thermonuclear option" could prompt nuclear winter in the Senate -- if not Armageddon.
That is … if the Senate's not already there both parliamentarily and theologically.
Senate standards require senators provide consent on the floor for committees to continue to meet two hours after the Senate itself gavels in for the day. Such a request is usually a formality. But not in this climate -- and especially when Democrats are protracting the confirmations of numerous cabinet officials.
On Monday, the Senate started at 4 p.m. The Senate Finance Committee scheduled a 6 pm meeting to send to the floor the nomination of Steven Mnuchin to become Treasury secretary. Naturally, Democrats enforced the two-hour rule and objected to the 6 p.m. session.
Then on Tuesday morning, Democrats didn't show up in an effort to prevent the committee from voting out Mnuchin's nomination -- as well as the nomination of Rep. Tom Price, R-Ga., to become Health and Human Services secretary.
"I think we call it an old-fashioned hissy fit," said an exasperated Senate Majority Whip John Cornyn, R-Texas, said of the Democrats' efforts.
The Senate convened at noon on Tuesday. And come 2 p.m., Democrats again blocked all committees from conducting business for the remainder of the day.
Wednesday was a different story as Democrats ghosted their committee assignments.
Senate Finance Committee Chairman Orrin Hatch, R-Utah, called a quick meeting that morning without the Democrats present, changed the rules and rammed through the Mnuchin and Price nominations.
Oregon Sen. Ron Wyden, the top Democrat on the Finance Committee, said he didn't even know what the GOP was doing. Wyden was at a separate huddle on rural health care.
"This is a rump group," he said of Republican meeting sans Democrats. "They broke the rules."
Few people had ever heard of acting Attorney General Sally Yates until early Monday evening. By 10:30 that night, Yates was no longer acting Attorney General.
But everyone knew her name. Trump fired Yates after his administration asked her to stay on from the Obama administration until the Senate confirmed Alabama GOP Sen. Jeff Sessions as U.S. attorney general.
Yates declared she wasn't "convinced the executive order is lawful" and wouldn't enforce it. Democrats and many media outlets christened the sacking "The Monday Night Massacre." That's an allusion to Watergate's "Saturday Night Massacre."
"This president is going to test, from an authoritarian standpoint, whether or not we are committed to the Constitution and the laws of the United States," said House Minority Whip Steny Hoyer, D-Md. "In the days ahead, we're going to separate the patriots from the politicians."
If you want to understand how bad things are on Capitol Hill, consider the vote to confirm McConnell's wife, Elaine Chao, as Transportation secretary. The Senate voted to confirm Chao, 93-6. But Senate Minority Leader Chuck Schumer, D-N.Y., was among the noes.
In other words, the Senate minority leader wouldn't even vote to confirm the wife of the Senate majority leader.
When Schumer was asked whether his vote was sending McConnell a message, he replied with an emphatic "no."
Even members of the same party found their colleagues blocking them this week.
At the Senate GOP's weekly press conference just outside the chamber, McConnell nearly forgot to recognize Sen. Cory Gardner, R-Colo., to speak. Gardner quickly muscled his way to the front.
"I was standing in the back," Gardner said.
Then someone jokingly asked the Colorado Republican: "Who are you?"
"I'm Cory Booker," deadpanned Gardner, referring to Sen. Cory Booker, D-N.J. "It happens a lot."
Schumer didn't just encounter tangles with Republicans and the Trump administration this week. He had to compete with tourists just to get out the Democratic message.
Reporters strained to hear Schumer during a press conference in the acoustically-challenged Ohio Clock Corridor as a noisy tour group walked nearby.
Schumer halted his remarks and turned to the group.
"Hey folks, shhhhhh!" hushed Schumer. "That was tourist obstructionism."
The SEALs and frat bothers know all about sleep deprivation during their respective hell weeks. And hell week on Capitol Hill wouldn't be complete without a similar test.
Thanks to the Democrats' dilatory tactics on nominations, McConnell ordered the Senate to meet at 6:30 a.m. Friday for votes. One roll call would repeal a mining regulatory rule.
The second tally was a procedural vote to break a filibuster on the nomination of Betsy DeVos to become Education secretary.
Bleary-eyed senators stumbled into the Capitol for the pre-dawn meeting. This marked the earliest the Senate had come to order since the legendary dawn patrol roll call vote to approve the first version of ObamaCare on Christmas Eve Day in 2009.
But even then, the Senate didn't convene until the practically leisurely hour of 6:45 a.m.
One might have thought hell week was over when lawmakers skipped town Friday. But on Saturday, Trump launched another digital fusillade via Twitter. Federal Judge James Robart blocked his immigration executive order. So Trump quickly taunted Robart, deriding him as a "so-called judge."
That sparked another protest at the White House and a cacophony of condemnations from congressional Democrats.
Such was hell week in Washington.
Which is why everyone is now dreading next week.