Kavanaugh nomination to Supreme Court cheered by conservatives
NEWYou can now listen to Fox News articles!
President Trump on Monday night nominated Judge Brett Kavanaugh to the Supreme Court, a seat to be vacated at the end of July by the retiring Justice Anthony Kennedy.
Trump, speaking from the White House, said, "There is no one in America more qualified for this position, and no one more deserving."
WHO IS BRETT KAVANAUGH? 5 THINGS TO KNOW ABOUT TRUMP'S SUPREME COURT PICK
Democrats quickly condemned the nomination, with leaders such as Senate Minority Leader Chuck Schumer, D-N.Y., promising to oppose Kavanaugh "with everything I have."
Conservatives, however, cheered the nomination of Kavanaugh, a former White House lawyer and staff secretary under President George W. Bush, to the nation's highest court.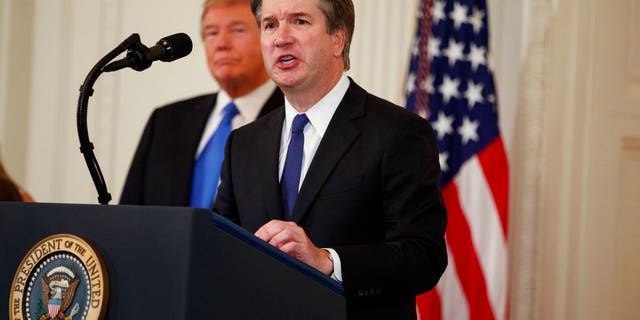 Trump, according to Republican National Committee (RNC) Chairman Ronna McDaniel, "nominated a strong defender of the Constitution and champion of the rule of law to the Supreme Court."
The federal appeals court judge "has proven his commitment to protecting the rights of all Americans through a distinguished career on the D.C. Circuit and his lasting service to our nation," she added.
The president of March for Life, a pro-life organization and annual event that protests Roe V. Wade, said that Kavanaugh has "excellent professional qualifications," proving he's the right choice for the vacant seat.
"He is exceptionally qualified for the role and will no doubt serve as a fair, independent judge who will remain faithful to the Constitution," said Jeanne Mancini, president of the event.
Mancini said by nominating Kavanaugh, Trump kept "his campaign promise by choosing another Gorsuch-like nominee."
THE MEDIA'S MIXED SIGNALS: HOW TRUMP GOT TO BRETT KAVANAUGH
"President Trump has made a superb choice," in selecting Kavanaugh, a graduate of Yale Law School and a former clerk to the retiring Kennedy in 1993, Senate Majority Leader Mitch McConnell, R-Ky., said Monday night.
"He is widely admired for his intellect, experience, and exemplary judicial temperament," McConnell said, adding Kavanaugh is widely respected by colleagues and peers and is "highly regarded throughout the legal community."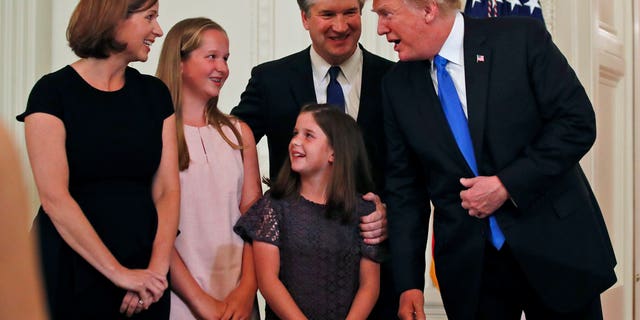 House Speaker Paul Ryan, R-Wis., shared similar sentiments, saying in a statement that the nomination of Kavanaugh "is an excellent choice" by Trump.
"Judge Kavanaugh will bring extensive experience to the Supreme Court; his long career exemplifies public service and, in particular, dedication to religious liberty," Ryan said.
Jay Sekulow, chief counsel for the conservative American Center for Law and Justice and a member of Trump's legal team, said Kavanaugh's nomination "is certain to serve this nation well."
Kavanaugh, Sekulow said in a statement, "embraces the philosophy of our Founders - an unwavering commitment to the rule of law and the Constitution."
He added that while there will certainly be "political attacks directed" at Kavanaugh, he believes the judge's "character, experience, and judicial temperament will be well received by the American people."
"Judge Kavanaugh is one of the most qualified Supreme Court nominees to come before the Senate," said Sen. Chuck Grassley, R-Iowa. "His credentials are well known, and he's served with distinction as a judge on the esteemed D.C. Circuit for more than a decade."
Fox News' Jason Donner, Chad Pergram, Kevin Kirby, John Roberts and Bill Mears contributed to this report.