Kamala Harris, amid 2020 rumors, floats $500 a month tax credit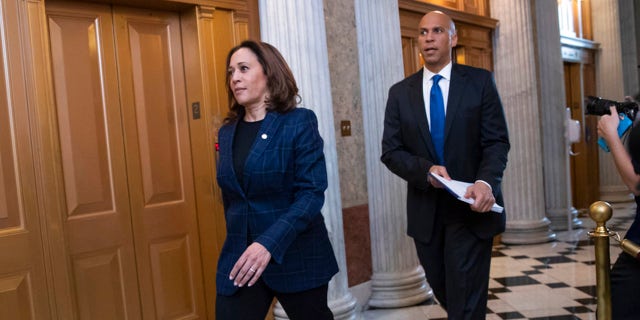 Sen. Kamala Harris, D-Calif., is proposing a new tax credit of up to $500 a month, or $6,000 a year, for families earning less than $100,000 a year -- as Democrats search for a counter-message to President Trump's tax cuts ahead of the November midterms and the 2020 presidential election.
Harris, who is widely seen as a likely 2020 Democratic presidential contender, is proposing legislation that would offer $6,000 to families earning under $100,000 a year, and $3,000 a year for single filers earning under $50,000.
The twist on Harris' proposal is that the money could be accessed either at the end of the year, or in monthly chunks of up to $500 a month. Harris' office cited a survey that said a majority of Americans don't have enough cash on hand to cover an unexpected expense like a rent increase or a medical bill.
"Americans are working harder than ever but stagnant wages mean they can't keep up with cost of living increases," Harris said in a statement. "We should put money back into the pockets of American families to address rising costs of childcare, housing, tuition, and other expenses. Our tax code should reflect our values and instead of more tax breaks for the top 1 percent and corporations, we should be lifting up millions of American families."
KAMALA HARRIS PLANS VISITS TO IOWA, OTHER STATES, RAISING SPECULATION ABOUT 2020 RUN
Harris' proposal is an example of the balance Democrats will have to find in proposing countermeasures to Trump's tax cuts, which are unpopular with Democrats but are seen by Republicans as the impetus behind the healthy state of the U.S. economy. Trump has repeatedly warned voters that Democrats want to raise taxes ahead of the November midterms and reverse the gains in the economy under his presidency.
"They would've done things with taxes that would've been a disaster," he said in an interview on Fox Business' "Trish Regan Primetime" this week. "Raised taxes, they were all going to raise taxes."
It is unclear how much the credit would cost and how it would be funded. Harris' office did not immediately respond to a request for comment from Fox News.
The Atlantic, which first reported on Harris' plan, estimated it would cost approximately $200 billion a year, while Politico reported that it would be financed by repealing the parts of the Trump tax cuts that benefit those earning more than $100,000, as well as a new bank tax on institutions with more than $50 million in assets. The outlet also noted that it would increase the number of Americans who are effectively excused from paying income taxes, currently around 44 percent.
The bill would likely be dead on arrival in the House and Senate in its current makeup -- where Republicans control both chambers and would be extremely unlikely to support such proposals, and would argue that such a move would hurt the gains in the U.S. economy. However, the bill could form a platform for Democrats indicating how they intend to govern should they take control of Congress and the White House.