Justice Department Weighs Voter Intimidation Complaint Against Reid Camp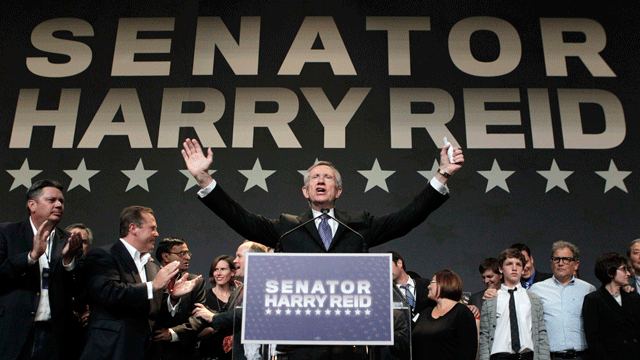 The Justice Department is reviewing a complaint from failed Republican Nevada Senate candidate Sharron Angle after allegations that Sen. Harry Reid's campaign engaged in voter intimidation and broke campaign finance law in his re-election campaign.
Laura Sweeney, a spokeswoman for the Justice Department, told FoxNews.com on Friday that the department is reviewing the complaint filed by an attorney for Angle that followed a National Review report about internal e-mails among Harrah's casino executives and a campaign staffer for Reid. The e-mails appear to show the group orchestrating an effort to push Harrah employees to get out and vote for Reid.
Sweeney would not comment further on the status of the review.
The complaint came after Reid prevailed Tuesday over Angle in their high-profile, bruising election, allowing Reid to remain as Senate majority leader.
Hans A. von Spakovsky, a senior legal fellow at the Heritage Foundation and a former Federal Election Commission member and Justice Department official, told FoxNews.com that there is enough evidence in the e-mails to warrant opening an investigation because they suggest that both the Reid campaign and Harrah's may have violated federal campaign finance law that "prohibits in-kind corporate and union contributions to, and coordination with, political campaigns."
"Look, a company can encourage its employees to go out and vote, but if you have e-mails coming in from a candidate like Harry Reid saying you've got to get out the vote for me, you have coordination going on between the candidate and the corporation," he told FoxNews.com.
Von Spakovsky also argued they Harrah's may have violated federal criminal law that prohibits intimidation and coercion of citizens exercising their right to vote -- or not to vote.
"On coercion, it boils down to what kind of threats, if any, were used against employees," he said. "Were they told there will be adverse employment consequences? The only way to figure out is to open an investigation, subpoena all the e-mails ... and get the employees in front of a grand jury so they can testify to what they were being told by supervisors."
But Melanie Sloan, executive director of Citizens for Responsibility and Ethics in Washington, CREW, said the case doesn't hold up.
"I think this is all quite a stretch," Sloan told FoxNews.com. "This isn't going to change an election outcome."
Sloan said she couldn't find any evidence of coercion of Harrah employees, and the Justice Department doesn't need to open an investigation into that unless there is an allegation.
On the campaign finance charge, Sloan said past regulations prohibiting partisan get-out-the-vote activities may have been wiped out by the Supreme Court ruling in January that gave corporations and trade unions broader First Amendment rights in political advertising.
"There's at least a question," she said.
In an opinion article published Friday in the Washington Examiner, Von Spakovsky said the Justice Department has to choose between investigating "what seems to have been blatant violations of federal law" or making "the same type of political decision that it has made in numerous other cases, including the New Black Panther Party."
Von Spakovsky said that if the Justice Department "fails to investigate, it will be telling the country that as long as you are an important political ally of the president, you need have no worry about violating federal law."
But Sloan said she found it "ironic" that Von Spakovsky complained about the lack of campaign finance rules only when it helped a Democrat instead of a Republican.
"I'm not very sympathetic," she said.
The exchange among Harrah's executives revolves around an e-mail received from an unknown Reid campaign staffer who promises to do "ANYTHING" to drive votes, offering to work with unions and provide access to the senator if it would help drive votes, the National Review report says.
The complaint from Mitchell specifically cites the National Review report, saying that the story "documents an orchestrated effort" by Harrah's "to intimidate and coerce" employees for the casino to vote for Reid, "to track whether or not employees had or had not voted and to pressure supervisors to ensure that the employees reporting to those supervisors were voting."
"And those overt activities were specifically demanded by one or more persons who work for Sen. Reid," the complaint reads.
Harrah's declined to comment.
A spokesman for Harry Reid's campaign dismissed the National Review report.
"This 'report' by a right-wing blogger who was literally embedded within the Angle campaign has no credibility on its face," Reid campaign spokesman Zachary Petkanas said in an e-mail to FoxNews.com earlier this week. "I'm not even sure the nature of the e-mail this blogger references. That being said, given Sen. Reid's work to strengthen the state's top industry, it should come as no surprise that casino employees support his re-election."