Justice Department appeals judge's order temporarily blocking Trump's travel ban
The Justice Department filed an appeal of a judge's order temporarily stopping President Donald Trump's travel ban on Saturday night, saying it's the "sovereign prerogative" of a president to admit or exclude aliens.
On Friday a federal judge in Seattle issued the halt to Trump's executive order that temporarily bans travelers, immigrants and refugees from seven predominantly Muslim countries from entering the U.S. By early afternoon, the departments of State and Homeland Security effectively said that they had responded accordingly.
The appeal states that the district court's ruling "conflicts with the basic principle that an alien seeking initial admission to the United States requests a privilege and has no constitutional rights regarding his application."
The Justice Department is asking that the federal judge's order be stayed pending resolution of the appeal.
It calls the ban necessary "to ensure that those approved for admission do not intend to harm Americans and that they have no ties to terrorism."
Airlines, federal agencies, foreign travelers and others scrambled throughout Saturday in response to the weekend court order.
Trump took to Twitter Saturday night to express his feelings about the judge's ruling. Trump said, "Bad people are very happy."
The appeal says the temporary restraining order by U.S. District Judge James Robart in Seattle is a broad overreach of judicial authority.
"Judicial second-guessing of the President's national security determination in itself imposes substantial harm on the federal government and the nation at large," it says. The order also imposes harm on U.S. citizens "by thwarting the legal effect of the public's chosen representative," it says.
President Trump, at Mar-a-Lago for the weekend with the first lady to attend the Red Cross Ball, had this to say when a pool reporter asked if has confident he would prevail in court: "We'll win," he replied. "For the safety of the country, we'll win."
The State Department said it had reversed cancelling visas for related foreigners, after provisionally revoking as many as 60,000 of them to comply with Trump's Jan. 27 order.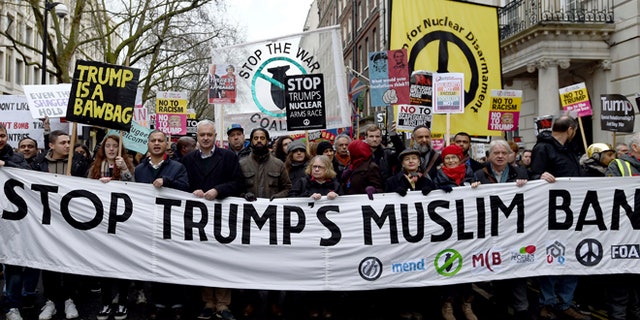 Then Homeland Security announced that it would no longer be directing airlines to prevent visa-holders affected by the order from boarding U.S.-bound planes.
The agency also said that it had suspended "any and all actions" related to putting in place the terms of the order.
However, by late Saturday afternoon, the response from international airlines still appeared in flux. Several were honoring the temporary halt, while some immigrants were still having trouble boarding planes to America.
Royal Jordanian, for example, had resumed flights from six of the seven countries -- Iraq, Syria, Libya, Yemen, Iran and Somalia -- as long as people presented valid visas or green cards.
But African immigration lawyer Julie Goldberg was struggling Saturday to arrange flights at Djibouti-Ambouli International Airport for stranded Yemeni citizens with visas.
And Goldberg said she was told by Qatar Airways and Turkish Airlines that immigrants from the seven countries are still not being allowed to fly.
Trump's executive order also halted a refugee program from the seventh country, war-torn Syria. He issued the temporary ban following his winning campaign promise to further protect Americans from what he calls "radical Islamic terrorism."
Like last weekend, when thousands of air travelers were detained at U.S. airports because the executive order was issued with no clear warning, widespread, peaceful demonstrations broke out Saturday.
They occurred again in New York and Washington, D.C., and in such places as Philadelphia, London and Paris.
Later in the day Saturday, Trump said on Twitter: "What is our country coming to when a judge can halt a Homeland Security travel ban and anyone, even with bad intentions, can come into U.S.?" He added that "very bad and dangerous" people may now come into the U.S. because of the judge's "terrible" ruling.
Earlier, Trump called the judge who issued the temporary restraining order a "so-called judge" and vowed that the order would be "overturned!"
Trump's tweet about Robart also resulted in criticism from Senate Minority Leader Chuck Schumer.
"The president's attack … shows a disdain for an independent judiciary that doesn't always bend to his wishes and a continued lack of respect for the Constitution," the New York Democrat said.
"The president's order is intended to protect the homeland and he has the constitutional authority and responsibility to protect the American people," a White House statement said.
The halt late Friday was issued by Robart, who was an appointee of George W. Bush. He said that Washington state and Minnesota had standing to challenge Trump's executive order on immigration. So he issued the temporary, nationwide restraining order based on his opinion that the states showed their case is likely to succeed.
Washington became the first state to sue over the order, and Minnesota joined the lawsuit two days later.
Federal attorneys had argued that Congress gave the president authority to make decisions on national security and immigrant entry.
The two states won a temporary restraining order while the court considers the lawsuit, which aims to permanently block Trump's order. Court challenges have been filed nationwide from states and advocacy groups.
Justice Department lawyers say about 100,000 visas -- not 60,000 -- had been revoked.
The Associated Press contributed to this report.