Judicial Watch sues DOJ for Bruce and Nellie Ohr records related to Fusion GPS, anti-Trump dossier
Conservative watchdog group Judicial Watch is suing the Justice Department for records related to Bruce Ohr, his wife Nellie Ohr, and their involvement in the now-infamous anti-Trump dossier.
The suit was filed Monday, following the Justice Department's failure to respond to Judicial Watch's December 2017 Freedom of Information Act requests about the couple and their connection to research firm Fusion GPS.
Judicial Watch's first lawsuit, related to their FOIA request from Dec. 7, 2017, seeks records of contact or communications between Ohr, Steele, and Fusion GPS co-founder Glenn Simpson, along with any other Fusion GPS employees; calendar entries, and travel requests for Ohr.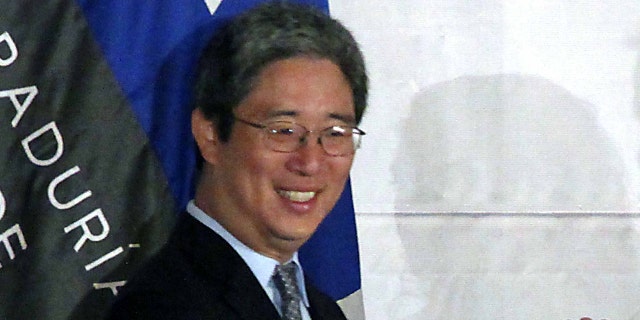 The second suit is connected to the group's Dec. 12, 2017 FOIA request, seeking emails, text messages and chats between Justice Department officials in the Attorney General's office and Nellie Ohr.
Bruce Ohr, who has since been demoted from a top post at the Justice Department, was a close contact for British ex-intelligence agent Christopher Steele, who compiled the dossier on behalf of Fusion GPS.
According to the memo crafted by Republicans on the House Intelligence Committee last month, Nellie Ohr, was "employed by Fusion GPS to assist in the cultivation of opposition research" on President Trump.
The memo also said Bruce Ohr passed the results of his wife's research, which was paid for by the Democratic National Committee and the Clinton campaign, along to the FBI.
Steele worked as a key source for the FBI, but was terminated for what the bureau defined "as the most serious of violations"—an "unauthorized disclosure to the media of his relationship with the FBI."
But even after his termination, Steele remained in close contact with Ohr, and their relationship was "inexplicably concealed from the Foreign Intelligence Surveillance Court (FISC)," during the FBI's effort to receive a FISA warrant for former Trump campaign official Carter Page.
"Once again, the Deep State Justice Department is covering up evident misconduct targeting President Trump," Judicial Watch President Tom Fitton said in a statement. "A top Justice Department official in the Obama administration had an obvious conflict of interest through his wife Nellie's work with the Clinton/DNC vendor Fusion GPS on the anti-Trump Dossier."
Fitton added: "The Justice Department needs to come clean about this scandal and turn over the documents as federal law requires."
Fox News learned in the fall of 2017 that the dossier was paid for by the Clinton campaign and the Democratic National Committee through the law firm Perkins Coie in an effort to conduct opposition research against the Trump campaign.
According to House Intel Republican memo, the FBI and the Justice Department were aware of the political origins of the dossier, but were not included in FISA warrant applications to surveil Page.