Judge strikes down 'highly paternalistic' California law banning handgun ads, slams state's 'distrust' of gun buyers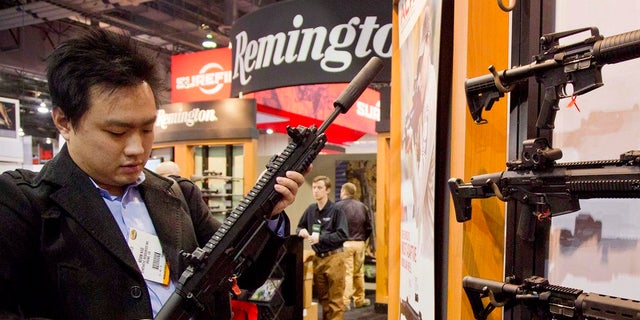 A federal judge appointed by former President Barack Obama on Tuesday struck down a 95-year-old California law that had banned handgun ads at gun shops, calling it "unconstitutional on its face" and slamming the state for its "paternalistic" assumption that its residents can't make up their own minds about firearms.
Officials in California had claimed the advertisements would trigger people with "impulsive personality traits" to buy more handguns, leading to increased suicides and crime -- assertions that U.S. District Judge Troy Nunley in Sacramento all but mocked in his ruling.
"The Government may not restrict speech that persuades adults, who are neither criminals nor suffer from mental illness, from purchasing a legal and constitutionally protected product, merely because it distrusts their personality trait and the decisions that personality trait may lead them to make later down the road," Nunley said in the decision, which was made public Tuesday.
"Moreover, in the effort to restrict impulsive individuals from purchasing handguns, the Government has restricted speech to all adults, irrespective of whether they have this personality trait," Nunley added, saying the law was overinclusive.
The 1923 law provided that "No handgun or imitation handgun, or placard advertising the sale or other transfer thereof, shall be displayed in any part of [a gun store] where it can readily be seen from the outside."
"[T]he Supreme Court has rejected this highly paternalistic approach to limiting speech, holding that the Government may not 'achieve its policy objectives through the indirect means of restraining certain speech by certain speakers,'" Nunley wrote.

In 2011, the Supreme Court held in Sorrell v. IMS Health that "'fear that people would make bad decisions if given truthful information' cannot justify content-based burdens on speech." The court continued: "The choice 'between the dangers of suppressing information, and the dangers of its misuse if it is freely available' is one that 'the First Amendment makes for us.'"
Nunley added in his ruling that the state failed to show the law would prevent suicides or crime, and provided only "speculation and conjecture" in its efforts to show a link between impulsive buyers of handguns and people who commit suicide or commit crime impulsively.

Further undercutting the state's argument, the California law did not restrict ads for other firearms -- meaning it was both underinclusive and overinclusive, according to Nunley.
For instance, Nunley noted in his ruling that gun shops could display a large neon sign reading, "GUNS GUNS GUNS" or a 15-foot depiction of a sporting rifle. The judge said they could also place ads for handguns elsewhere such as on a billboard blocks away.

MORE THAN 500 GUNS SEIZED FROM CALIFORNIA HOMES
California has other laws that could prevent handgun violence without restricting speech in violation of the First Amendment, the judge said. For instance, Nunley wrote, the state could try "an educational campaign focused on the dangers of handguns or the consequences of impulsive decision-making." But, Nunley made clear, "California may not accomplish its goals by violating the First Amendment."
The ruling came in a lawsuit filed in 2014 by several gun dealers who were fined by the state for handgun ads.
"If you are someone who is providing a constitutionally protected product or service, you should be able to communicate that to people in the same way a bookseller should be able to advertise they sell Bibles and Qurans," said Brandon Combs, executive director of The Calguns Foundation, a gun rights group. "Dealers should be able to say they sell handguns."
CALIFORNIA LAW PROMPTS SPIKE IN ASSAULT RIFLE REGISTRATIONS: REPORT
A spokeswoman for the state attorney general's office, which defended the law, said the office was reviewing the decision.
The state Department of Justice cited one of the plaintiffs, Ten Percent Firearms, for a metal sign shaped like a revolver in the store's parking lot that an inspector spotted in 2010, according to Nunley's ruling. Another plaintiff, Tracy Rifle and Pistol, received a citation after an inspector in 2014 found large vinyl decals depicting three handguns on the store's windows.
"As the Court explained today, the government cannot censor commercial speech in a paternalistic effort to keep citizens from making unpopular choices - or choices the government doesn't approve - if they are told the truth," Brad Benbrook, an attorney for the plaintiffs said in a statement.
California has among the strictest gun-control laws in the nation, including some that have arguably backfired. One 2016 law banned the sale of semi-automatic assault rifles with so-called "bullet buttons" – a feature that requires a separate tool to swap out magazines and reload – and required such rifles purchased before the law were required to be registered with the state by June 2018.
That prompted a 43 percent spike in assault weapons registration and a lawsuit by gun rights advocates, The Los Angeles Times reported in July. The law stipulated that "bullet button" rifle owners that haven't registered their weapon by deadline face up to a year in jail and confiscation of their weapon.
First Amendment scholar Eugene Volokh, who consulted with the plaintiffs in the case, said he expects the state will appeal to the liberal Ninth Circuit Court of Appeals. The appellate court had previously ruled against the plaintiffs in the case on their request for a preliminary injunction, but did not ever assess the First Amendment claims key to the case.
Fox News' Edmund DeMarche, Bradford Betz, and The Associated Press contributed to this report.