Jon Huntsman, ambassador to Russia, reveals cancer diagnosis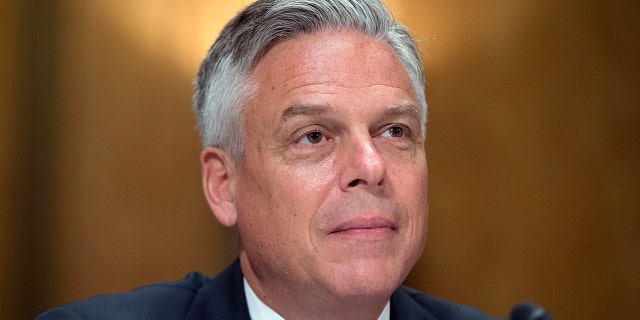 Jon Huntsman Jr., the U.S. ambassador to Russia, revealed in a recent interview that he has stage 1 cancer.
The former Utah governor revealed in an interview with Deseret News that he decided to visit the Huntsman Cancer Institute in Salt Lake City after he noticed a small black spot behind his ear and on his thigh over the summer. Doctors then confirmed the markings were signs of melanoma — a form of skin cancer.
"It's just stage 1. So we'll probably get it taken care of, and we'll be fine," Huntsman said in the lengthy profile, which was published Thursday.
He's already had surgery to remove the cancerous moles, he said, noting the wounds and bruises have now turned to scars. And he'll continue getting monthly checkups for a year to ensure the cancer hasn't spread.
"It kind of puts things in perspective," Huntsman said of his recent diagnosis.
Huntsman said because the cancerous growths were caught in time, he doesn't plan to resign as ambassador.
His father, Jon Huntsman Sr., died in February from cancer. He established the Huntsman Cancer Institute at the University of Utah and donated more than $1.4 billion to cancer research, according to The New York Times.