John McCain has brain tumor, hospital says
Sen. John McCain was diagnosed with a brain tumor following an earlier craniotomy to remove a blood clot from above his left eye, the Mayo Clinic Hospital in Phoenix said on Wednesday.
The hospital's examination of the tissue revealed that a primary brain tumor, know as a glioblastoma, was associated with the blood clot.
McCain and his family are reviewing further treatment options, which may include a combination of chemotherapy and radiation.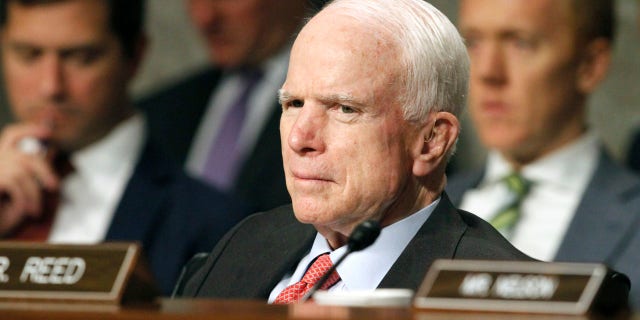 "Further consultations with Senator McCain's Mayo Clinic care team will indicate when he will return to the United States Senate," his office said in a statement.
The announcement follows a procedure that McCain, 80, had on July 14.
MCCONNELL DELAYS ACTION ON HEALTH CARE AFTER MCCAIN SURGERY
According to his office, McCain is "in good spirits as he continues to recover at home with his family in Arizona."
McCain ran for president twice. He lost the GOP nomination to George W. Bush in 2000 and was the Republican nominee in 2008 before losing to Barack Obama in the general election.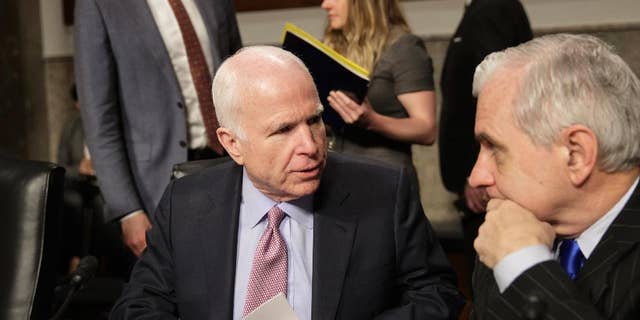 McCain was a prisoner of war in Vietnam for more than five years. Injuries from being tortured left the veteran Arizona senator unable to lift his arms above his head.
MCCAIN: NO 'PARTICIPATION TROPHIES' FOR GOP AFTER HEALTH CARE FAILURE
"Senator John McCain has always been a fighter," President Donald Trump said in a statement. "Melania and I send our thoughts and prayers to Senator McCain, Cindy and their entire family. Get well soon."
McConnell said, "We all look forward to seeing this American hero again soon."
McCain's daughter, Meghan, is a co-host of Fox News Channel's "Outnumbered."
"It won't surprise you to learn that in all this, the one of us who is most confident and calm is my father," Meghan wrote on Twitter. "He is the toughest person I know. The cruelest enemy could not break him. The aggressions of political life could not bend him. So he is meeting this challenge as he has every other. Cancer may afflict him in many ways: but it will not make him surrender. Nothing ever has."