John Dingell, longest-serving congressman in US history, remembered by mourners in Michigan
Mourners came from far and wide across Michigan to honor the longest-serving member of Congress in U.S. history Monday.
Hundreds of John Dingell's former constituents lined up at a performing arts center in suburban Detroit to pay their respects.
Bob Damiani, 71, of Taylor, told the Detroit Free Press: "He's a great man. He has always stood up for people."
Dingell's flag-covered coffin casket was in a ballroom at the center in Dearborn. Outside the room, mourners viewed oversized photos of his life and 59-year career in Congress.
He died last week at age 92, four years after retiring from the House.
"He made us very proud. We'll always remember him in the best way," Dawn Nowak, 53, of Dearborn told the Free Press.
The news outlet reported that Dingell, whose roots were in a working-class section of Dearborn, was known by his nicknames: Big John or "The Truck" for his old-school macho personality and 6'3" height.
"We're going to miss a good man," John Bendzick, 73, of Dearborn told the Free Press. "He was very similar to my father, in fact, they almost had the same personality. Very stoic, very solid with both feet on the ground."
DINGELL REMEMBERED BY FELLOW LAWMAKERS
Dingell succeeded his father in Congress in 1955.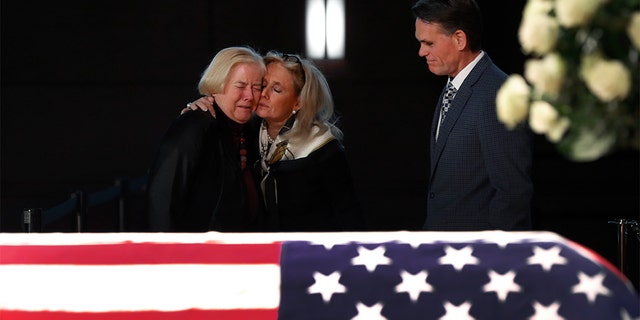 Rep. Debbie Dingell, who was elected to her husband's seat in 2014, stayed to greet everyone throughout the day.
The visitation was the first of many public events this week.
Funeral Masses are set for Tuesday in Dearborn and Thursday in Washington. A motorcade with Dingell's casket will pass the U.S. Capitol, where the Michigan Democrat held power for years as a House committee chairman. He will be interred at Arlington National Cemetery, officials have said.
CLICK HERE TO GET THE FOX NEWS APP
Former Vice President Joe Biden, Rep. John Lewis of Georgia and Rep. Fred Upton of Michigan are to speak at the Tuesday service, with former President Bill Clinton and former House Speaker John Boehner of Ohio speaking at the Washington service.
His life throughout the years inspired many politicians nationally.
"There's no question John Dingell was a tough guy," Michigan's Democratic Sen. Gary Peters told the Free Press about the role model he called a mentor. "He got his way often just by a force of personality, but he often brought people together in the end. I think the reason he was able to bring folks together — they could fight on the floor of the House of Representatives and then go out and have a beer later or go out to the duck stand and go hunting — was he also believed in building relationships."
The Associated Press contributed to this report.