Jobless Rate Rises, Republicans Press Obama to 'Change Course'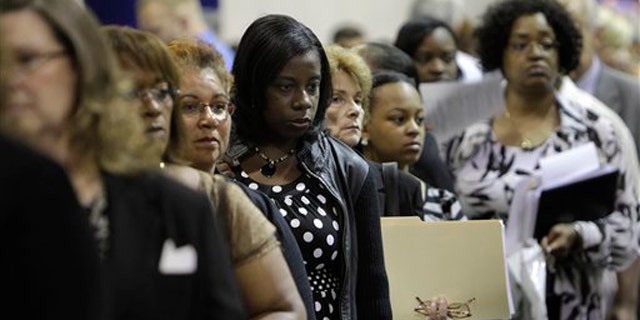 New employment figures released Friday fueled Republicans' call for President Obama to replace his economic team and "change course," as the president sought to put the best face on what many say is just more evidence of an economy stuck in neutral.
The unemployment rate rose in August for the first time in four months as more people entered the job market looking for work and struggled to find openings. The rate rose from 9.5 percent to 9.6 percent. One Republican called the numbers "anemic."
The president on Friday called an accompanying uptick in private employer hiring "positive news," but "not nearly good enough." He plans to hold a press conference next Friday to discuss a "broader" package of economic proposals.
"We are confident that we are moving in the right direction, but we want to keep this recovery moving stronger and accelerate the job growth that's needed," Obama said Friday, flanked by his economic advisers.
But Republicans pointed to the Labor Department report as the latest sign that Obama's strategy has the economy treading water.
"They passed their trillion-dollar stimulus bill 18 months ago ... The American people don't want another pep talk -- they want another approach," Rep. Mike Pence, R-Ind., House Republican Conference chairman, told Fox News. "They want to see this administration abandon this policy of more spending, more bailouts and more small-ball boutique tax incentives."
Senate Republican Leader Mitch McConnell's office pointed out that, based on Bureau of Labor Statistics numbers, the economy lost 283,000 jobs in the so-called "recovery summer."
"A year that began with Americans bracing for a jobless recovery has instead turned into a full-blown search for both jobs and a recovery," House Republican Leader John Boehner said in a written statement. "President Obama's agenda represented 'change' once, but now it is time for him to change course, abandon his job-killing policies and find himself a new economic team."
Rep. Peter Roskam, R-Ill., told Fox News Radio the "anemic" figures are "just pathetic" and moving in the wrong direction.
The Labor Department reported Friday that private employers added a net total 67,000 jobs, better than expected -- but it was not enough to keep pace with the increase in the number of people looking for work. More than 500,000 people picked up their job searches in August.
Overall, the economy lost 54,000 jobs as 114,000 temporary census positions came to an end. For the first time this year, the manufacturing sector lost jobs -- down a net total of 27,000 for the month. State and local governments shed 10,000 positions.
One member of Obama's economic team, outgoing adviser Christina Romer, said in a statement that the jobs report was "consistent" with other data showing "the economy is continuing to recover," even if that recovery is slowing. She said more private sector growth will be needed to keep up with growth in the labor force.
The White House is pushing back on a report that the administration is considering a new infusion of "stimulus" to boost the economy. Spokeswoman Amy Brundage said Wednesday night that those "reports and rumors" are largely "incorrect."
But, as Brundage acknowledged, the administration has publicly pitched several options to extend tax breaks to businesses.
The Senate is stalled on a more modest set of proposals that would give tax breaks and free up credit for small businesses -- Obama on Friday called on Congress to take up the package as soon as it returns from recess this month. The Washington Post reported Thursday night that a new package, potentially worth hundreds of billions of dollars, was being discussed and could include a temporary payroll tax holiday and extension of a research-and-development tax credit.
White House Press Secretary Robert Gibbs has said the administration is looking at a "whole host of issues," without going into specifics, but described the proposals as "small bore."
Both June and July's figures were revised Friday to show the private sector created more jobs in both months. The July figures were revised upward to 107,000 from 71,000. June was revised upward to 61,000 from 31,000. The revisions reflected smaller losses in construction, temporary help services and non-census government jobs.
Still, hiring has now been weak for four straight months. That deprives consumers of cash and reduces their ability to spend. That is one of the main reasons economic growth is likely to be so weak for the rest of this year that the jobless rate could keep rising and hit 10 percent in the coming months.
The Associated Press contributed to this report.