Jeb Bush Touts Immigrants As Key To U.S. Economy Because They're 'More Fertile' Than Native-Born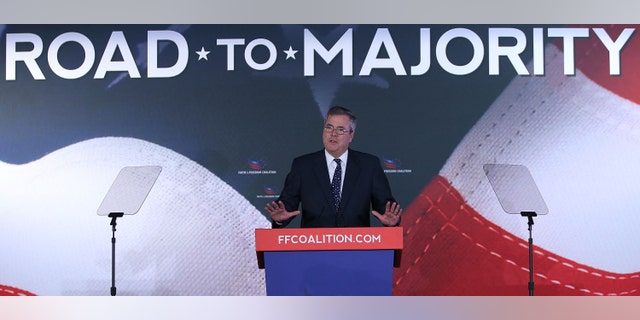 At a meeting of religious conservatives Friday, former Florida Gov. Jeb Bush, a possible presidential candidate in 2016, touted immigrants as important to the U.S. economy.
They have a strong entrepreneurial spirit, he said, and they're "more fertile."
By early afternoon, Bush was trending on Twitter because of his fertility comment.
Bush said that immigrants are particularly important to help expand the taxpayer pool to fund the safety net for the large, retiring baby boomer generation.
"Immigrants create far more businesses than native-born Americans over the last 20 years," he said, adding that immigrants also have more "intact families."
"Immigrants are more fertile, and they love families," he said.
Bush and many other Republicans have long maintained their party is a natural fit for Hispanics, particularly recent immigrants.
They cite the party's social conservatism, anti-abortion stance and support for private school vouchers and lower taxes. Voters elected several Latino Republicans last year to prominent posts, including U.S. Sen. Marco Rubio of Florida and New Mexico Gov. Susana Martínez.
Bush, brother of former President George W. Bush, is thought to be weighing a presidential bid. He is among several potential 2016 Republican presidential candidates speaking at the Faith and Freedom Coalition's annual conference in Washington.
As Congress debates changing the nation's immigration laws, many conservatives are reluctant to support a new system that grants so-called "amnesty" to millions of immigrants in the country illegally.
He said the nation must allow more immigrants "to pursue their dreams in our country with a vengeance to create more opportunities for all of us."
"If we don't do it, we will be in decline," he told evangelical Christian activists.
"They bring a younger population," Bush continued. "Immigrants create an engine of economic prosperity."
Bush came under fire in March when his book, "Immigration Wars," contained statements about immigration that seemed to contradict past views Bush had expressed in support of providing a path to citizenship for undocumented immigrants.
In the book, Bush said "We need to create another category of legal immigration where there is actually a line. So if you could create that through a path to citizenship I would support that."
But that approach appeared to contradict past statements in which Bush suggested he was supportive of a special path to citizenship for undocumented immigrants. And it contrasted with a bipartisan group of eight senators who have laid out a series of principles for immigration reform that includes a path to citizenship for undocumented immigrants as long as security along the U.S.-Mexico border is strengthened.
Based on reporting by The Associated Press.
Follow us on twitter.com/foxnewslatino
Like us at facebook.com/foxnewslatino