Janna Ryan off-stage by choice as husband emerges as GOP rock star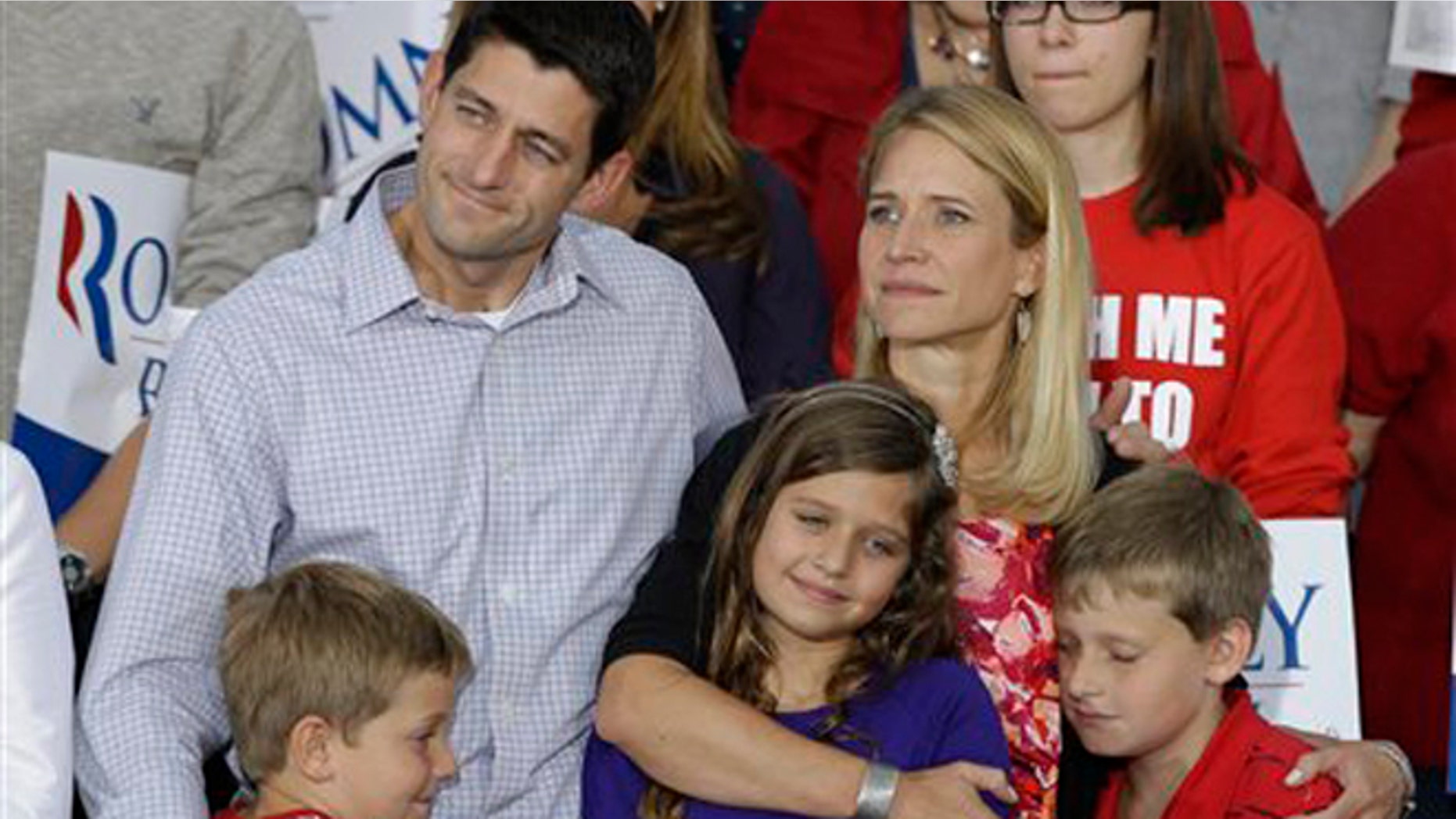 Janna Ryan is just emerging as the wife of a vice presidential candidate, but her first few days in the role appear to show the once small-town girl prefers being the family rock – not a political rock star.
During an overflow rally last weekend in North Carolina, just hours after husband and GOP Rep. Paul Ryan was announced as Mitt Romney's running mate, Janna politely declined to take the microphone – twice.
Such demure behavior is typical of Ryan, say people who have know the mother of three from her early days in Madill, Okla., (population 3,781) through her time on K Street as a tax attorney, then a lobbyist.
"She has been the rock and it's safe to assume she will continue to be supportive," said state GOP Sen. Dave Craig, who worked in Ryan's district office for nine years.
For the wife of a Republican vice presidential nominee, Janna Ryan also has an unusual family history -- that is, she comes from a family deeply tied to the Democratic Party. Oklahoma Democratic Rep. Dan Boren is her first cousin and uncle David Boren, also a Democrat, is a former Oklahoma governor and U.S. senator.
Craig told FoxNews.com on Tuesday he expects Ryan's top priority will still be taking care of the couple's three young children -- Elizabeth Anne, 10; Charles Wilson, 8; and 7-year-old Samuel Lowery, who all stay in Ryan's hometown of Janesville, Wis., while he's on Capitol Hill.
"She's extremely intelligent and she lived in D.C., so she knows D.C. culture," Craig continued. "But she and Paul are small-town people. They want the children to have the experience of growing up around family. I think that says a lot about the Ryans."
The 43-year-old Ryan looked east after she graduated from high school, attending Wellesley College in suburban Boston, like her mother, before going to George Washington University Law School. Secretary of State Hillary Clinton graduate from the liberal Wellesley in 1969.
The couple was introduced to each other in Washington in 1999, Ryan's first year as a congressman. And they married about a year later, in December 2000, after Ryan proposed to his-then fiancée at one of his favorite fishing spots, Big St. Germain Lake, in Wisconsin.
In her only interview since her husband was named the GOP vice presidential candidate, she said that Ryan is just as easy-going at home.
"He's pretty low maintenance," she told People magazine. "Paul is someone who goes with the flow and has one of the sunniest demeanors and most positive outlooks of anybody I've ever met. So I'd say Mitt will have a lot of fun with him."
Ryan's father is a lawyer and her late mother, Prudence, left her a multi-million dollar trust, according to published reports.
"She's very polished," said Val Crofts, a government teacher at a Janesville-area high school. "But my wife and I have always thought of her as a wife and mother who cares more about her family that anything else in the world."