Intel Panel Wants Iran Dissidents Off Terror List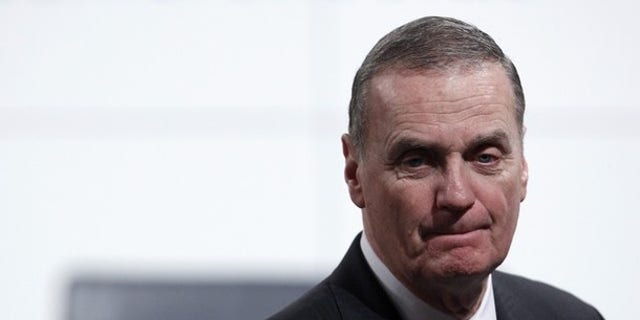 NEWYou can now listen to Fox News articles!
As yet another round of talks gets under way in Istanbul to try to convince Iran to abandon its nuclear ambitions, a bipartisan panel of top former national security experts has proclaimed further negotiations are likely to be futile and are instead urging President Obama to use a controversial dissident group to destabilize the Tehran regime.
The panel, which included Obama's recently retired National Security Adviser James Jones, former Attorney General Michael Mukasey and former Homeland Security Secretary Tom Ridge from the administration of President George W. Bush, as well as President Bill Clinton's CIA Director James Woolsey and the top military commander for the Middle East from 1997 to 2000, Gen. Anthony Zinni, agreed almost unanimously that current and past policy to engage Iran has failed.
"Every legitimate effort, as well-intentioned as it may have been, has proven to be quite unsuccessful," Ridge said. "In my judgment the Western world presently faces no greater threat than from Iran."
Former CENTCOM commander Zinni added, "I am shocked and surprised that we still chase this illusion that there can be a meaningful dialogue with the regime."
Jones, who stepped down as Obama's national security adviser in November, recalled all the times that he and Secretary of State Hillary Clinton were rebuffed in their attempts to reach out to Iranian officials.
"He who turns the other cheek gets hit with the other fist," Jones said, quoting comedian Nipsy Russell. "I am tired of turning the other cheek when Iran is concerned," adding "hope is not a strategy."
All of the speakers, except notably Jones, unanimously criticized the current administration, and the previous administrations for which they worked, for not using a weapon that is already at the State Department's disposal to counter Iran's Islamist regime: embracing and unleashing the exiled Iranian opposition group known as the Mujahideen Khalq, or MEK, which has long been a thorn in the side of Tehran. It is currently listed as a "foreign terrorist organization" by the State Department, a designation that successive Democratic and Republican Presidents have been loathe to change.
According to the State Department, the MEK was designated a terror group in 1997 at a time when the Clinton administration was attempting to engage Iran. MEK is blamed for a string of attacks on U.S. diplomats, defense representatives and oil executives in the 1970s when Iran was a U.S. ally led by the autocratic Shah Mohammad Reza Pahlavi.
After the Iranian Revolution in 1979 it began to seek "the overthrow of the Iranian regime through its military wing." It also "instigated a bombing campaign, including an attack against the head office of the Islamic Republic Party and the Prime Minister's office, which killed some 70 high-ranking Iranian officials, including Chief Justice Ayatollah Mohammad Beheshti, President Mohammad-Ali Rajaei, and Prime Minister Mohammad-Javad Bahonar," according to the State Department.
But what the State Department fails to note is that the MEK also provided the United States and the U.N.'s International Atomic Energy Agency with a major intelligence breakthrough about Iran's secret nuclear program. The MEK revealed on August 14, 2002 that Iran was building two nuclear facilities: centrifuges for highly enriched uranium at Natanz and a heavy-water reactor in Arak. The information stunned the world and embarrassed Iranian officials who had long maintained that its nuclear program was "peaceful."
Woolsey called recent U.S. intelligence estimates of Iran's nuclear program "laughable."
"The worst and most irresponsible national intelligence estimate ever several years ago confused its headline with its footnote. Its headline was that Iran had stopped its nuclear program - nuclear weapons program," Woolsey said. "The foot notes said. 'Oh, by the way, it's still enriching uranium."
Taking note of recent reports that Israeli and U.S. scientists collaborated on a cyber "worm" called Stuxnet, which caused the centrifuges at Natanz to spin out of control, setting back Iran's efforts to enrich uranium, Woolsey added: "Stuxnet may have bought us a year or so but it is not the ultimate victory over the Iranian nuclear program."
More recently the assassinations and attempted assassinations of Iranian nuclear physicists were blamed by Iran's Defense Ministry on MEK agents working for Israel's Mossad. No group ever took responsibility for the attacks -- a bomb-rigged motorcycle killed a physics professor at Tehran University in January 2010 and on November 29 men on motorcycles drove up to two separate Iranian nuclear scientists and placed bombs on their car windows, killing one of the scientists as they drove.
But according to a statement from an MEK representative, "The MEK had nothing to do with the killing of Iranian nuclear scientists. In fact, the MEK has not carried out any military operations in the past 10 years, when it rejected violence. Indeed, there are reports that the two targeted scientists were supporters of the Green movement and the regime murdered one and injured the other. The assassinations had all the markings of Iranian intelligence."
According to a State Department spokesman, the MEK petitioned the State Department for review of its designation in 2008, and in January 2009 then Secretary Condoleeza Rice decided to maintain its designation, finding that the MEK did not demonstrate that circumstances had changed sufficiently to warrant revocation, as required by the Foreign Terrorist Organization statute. The organization appealed the decision in federal court.
On July 16, 2010 the U.S. Court of Appeals for the D.C. Circuit sent the case back to Secretary of State Hillary Clinton for further consideration.
"We are currently working to comply with the court's decision," State Department spokesman Mark Toner told Fox News, without indicating whether MEK would soon be delisted as a foreign terrorist organization, a designation which prevents it from gathering or raising money in the United States.
"If the MEK has renounced violence as it has, and in fact poses no threat to any U.S. personnel or interest and in fact has been of affirmative assistance to the United States as it has," asked Mukasey. "Why does it stay on the list and why does it continue to be on the list of such organizations?"
Former New Jersey Democratic Sen. Robert Torricelli also called on Clinton to de-list the MEK as a terrorist group.
"The listing of the MEK as a terrorist organization by the United States government is wrong. It is wrong as a matter of law. It is contrary to the facts," he said.