Immigration, military spending are key issues in bid to avert government shutdown
Democratic and Republican congressional leaders took turns finger pointing on Wednesday over who's blocking a spending bill to avert a government shutdown in two days -- with immigration and military spending emerging as key issues.
"This is not a time to play politics," said House Majority Leader Kevin McCarthy, R-Calif. He suggested that the chamber's Democratic leaders are telling their rank-and-file members not to support a GOP temporary spending plan to keep federal agencies open past Friday.
Democrats have pushed hard to have any spending agreement, or continuing resolution, include permanent protections for young illegal immigrants. However, time appears to have expired, considering a shutdown is now about 48 hours away.
"There is not support for the current leadership plan as proposed."
House Democrats, within minutes of McCarthy's comments, insisted that their members can vote as those in their district want them to and contended that the GOP spending bill has numerous shortcomings beyond immigration reform.
"There are myriad issues lacking in the continuing resolution," said New York Democratic Rep. Joseph Crowley. Crowley said it fails to address such issues as community health-care centers, a mushrooming opioid crisis and hurricane recovery money for Puerto Rico.
Crowley would not say specifically whether members would agree to a spending deal that doesn't extend protection for young illegal immigrants, now that President Trump is dismantling such deportation protections under the Obama-era Deferred Action for Childhood Arrivals program (DACA).
"We will know the deal when we see one," he also said, maintaining that the GOP-controlled House and Senate have enough votes without Democrats to pass a spending bill.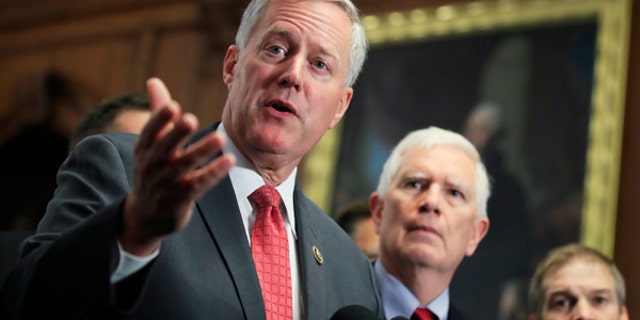 Senate Minority Leader Chuck Schumer, D-N.Y., later said there was "broad revulsion" among Senate Democrats to the House stopgap spending bill.
Democrats have insisted since returning from holiday break that any bill include immigration reform, particularly the protections for young illegal immigrants.
North Carolina Republican Rep. Mark Meadows, the leader of the House Freedom Caucus, the chamber's most conservative wing, said late Tuesday that group members and other House Republicans want additional money for the military included in any short-term bill.
Their lack of support could force House Republican leaders to court Democratic votes to pass the spending bill.
However, House Speaker Paul Ryan, R-Wis., made clear Wednesday, alongside McCarthy, that his team also wants the bill to include money to help what they consider a dangerously underfunded military. He said more military members are now dying in training exercises than in fighting, and that additional money might make future accidents "preventable."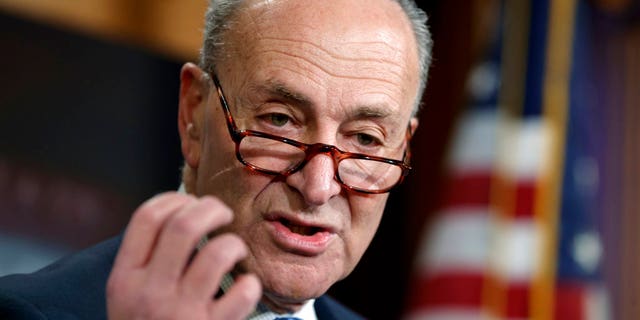 Meanwhile, Schumer appears to have his own challenges -- unifying his members to vote in support of a spending bill, while keeping the blame off Senate Democrats for a possible shutdown, according to The Hill.
Senate Democrats including Cory Booker of New Jersey, Kirsten Gillibrand of New York, and Kamala Harris of California -- among the chamber's most liberal members, each with potential 2020 White House aspirations -- voted against an earlier stopgap spending bill because it didn't address DACA. And they could do so again this week.
Trump has pre-emptively put the blame for a shutdown on Democrats. On Sunday, he argued again that Democrats and their demands -- not him or fellow Republicans in Congress -- have throttled negotiations over DACA.
And he has firmly expressed that any immigration reform deal must include a U.S.-Mexico border wall and an end to the United States' so-called chain migration and diversity lottery immigration programs.
"DACA is probably dead because the Democrats don't really want it, they just want to talk and take desperately needed money away from our Military," Trump tweeted.
The spending plan that House Republican leaders are now pitching to win over wary conservatives includes a two-year delay on implementation of unpopular taxes on medical devices and generous employer-subsidized health care plans.
The taxes, also unpopular with many Democrats, are part of the Affordabvle Care Act, widely referred to as Obamacare.
The temporary funding bill would also include a long-delayed, six-year renewal of a popular health insurance program for children of low-income families. It would fund the government through Feb. 16.
Ryan unveiled the plan Tuesday evening. Lawmakers and aides initially said it was received well, raising hopes that a potential shutdown would be sidestepped with relative ease.
Fox News' Chad Pergram and The Associated Press contributed to this report.