Illinois Begins Issuing Temporary Driver's Licenses To Undocumented Residents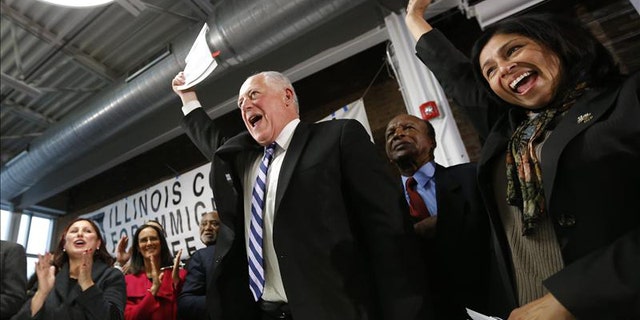 Chicago (EFE) – Mexican immigrant Alejandro Almanza, who has lived in the United States for 13 years, on Tuesday became the first undocumented person in Illinois to initiate the process of obtaining a temporary driver's license.
"I was a little nervous, hoping I wouldn't forget anything," Almanza told Efe as soon as he had gone through almost an hour's worth of procedures at one of the two facilities in Chicago set up to issue the temporary licenses.
Two other offices in the pilot plan are up and running in Springfield, the state capital, and in Bloomington.
"I didn't want to be first and then fail the written exam and the driving test," said Almanza, who sailed through the requirements without a problem and in two or three weeks will receive his license in the mail.
Officials at the office of the Secretary of State were also a little nervous, he said, since this was something new that they'll have to get used to.
"Maybe it will take them a little more time because they're learning, but for me it was easy," Almanza said.
His brother has an appointment Wednesday at the same facility in Chicago. On Tuesday ,a total of four men and two women showed up to start the process.
A spokesman for the Secretary of State's office, Ernesto Martinez, said the 12 applicants that were attended statewide on Tuesday were part of "a historic day for our community."
Due to the high demand for appointments to obtain licenses, the Secretary of State's Office will add 25 local facilities during the second half of December and another 10 in February.
Those applying for licenses must identify themselves with a valid passport or a consular registration, as well as provide proof of their current address and that they have lived in Illinois for the past 12 months. Applicants also need to show proof that their vehicles are insured.
At the time the law was passed, it was estimated that some 250,000 people were driving without a license in Illinois, of whom 90 percent were of Mexican origin and living in the greater Chicago area.
That could be a conservative estimate, considering that the consulate general of Mexico has issued more than 1 million consular registrations in the area.
The new licenses can only be used for driving within the Illinois state boundaries, and are not valid as IDs nor do they have any effect on the bearer's immigration status.
Follow us on twitter.com/foxnewslatino
Like us at facebook.com/foxnewslatino