Hugo Chavez's Cancer Battle Leaves Cuba With Just as Much to Lose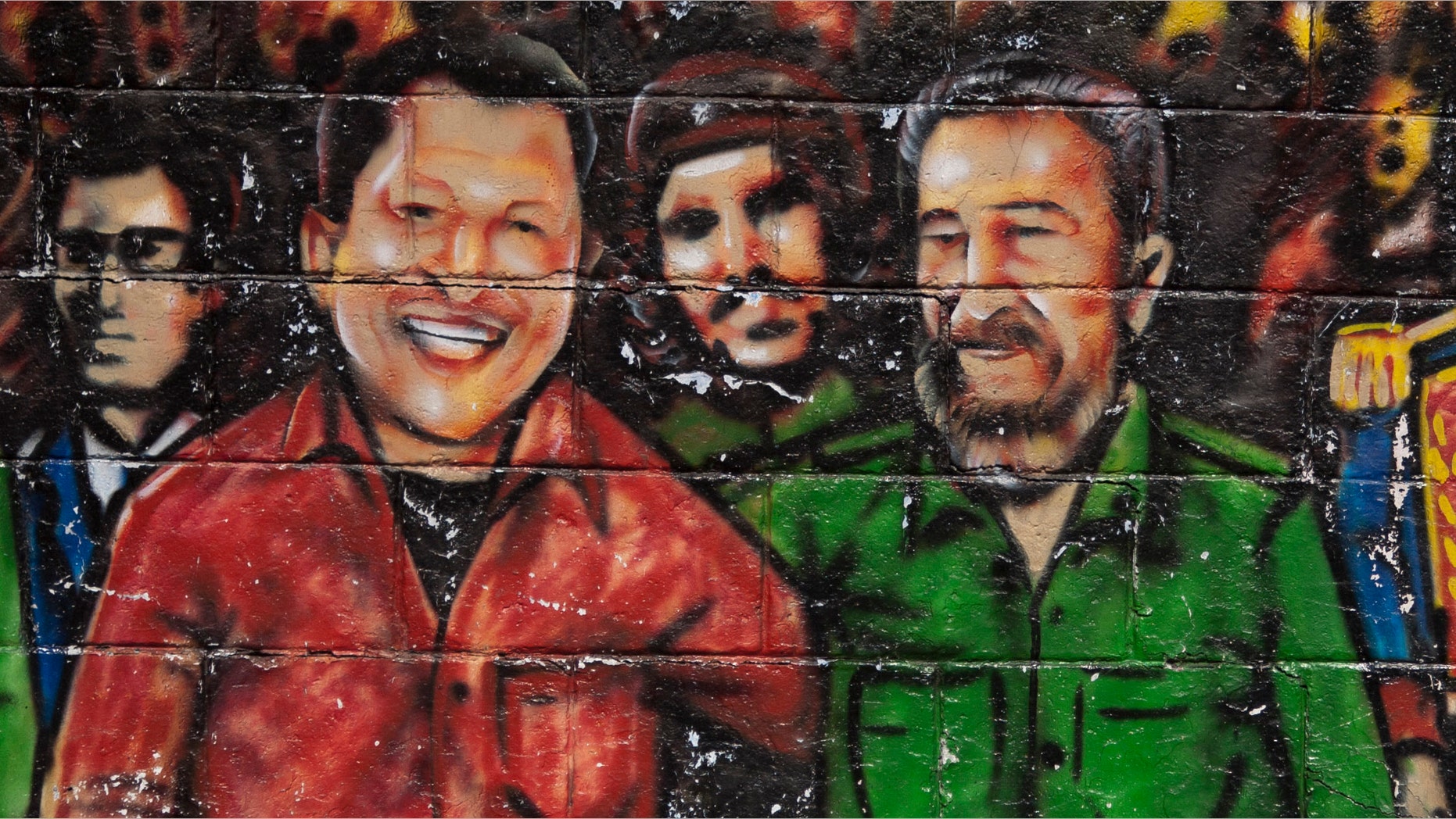 Havana – When it was revealed last month that President Hugo Chávez's cancer had returned, the news shocked not only Venezuelans but millions of Cubans who have come to depend on Chávez's largesse for everything from subsidized oil to cheap loans.
Venezuela along supplies about half of Cuba's energy needs, meaning the island's economy would be in for a huge shock and likely recession if a post-Chávez president forced the island to pay full price for oil.
Havana learned important lessons about overdependence when the 1991 collapse of the Soviet Union threw the country into a deep crisis. Trying to avoid the consequences of a similar cut, the Cuban government has been diversifying its portfolio of economic partners in recent years, looking to Asia, Europe and other Latin American nations, and is only about half as dependent on Caracas as it was on the former Soviet Union.
Cuba is also working to stimulate its economy back home by allowing more private-sector activity, giving a leg up to independent and cooperative farming, and decentralizing its sugar industry. A stronger Cuban economy would in theory have more hard currency to pay for energy and other imports.
Also getting off the ground is an experiment with independent nonfarm collectives that should be more efficient than state-run companies. And next year, another pilot program is planned for decentralized state enterprises that will enjoy near-autonomy and be allowed to control most of their income.
"This could have good results," said a Cuban economist who spoke on condition of anonymity because he wasn't authorized to talk to the foreign media. Cuba "is also thinking of boosting foreign investment in areas of the national economy, including in restricted areas like the sugar industry."
One of the country's top goals has been to make the island's struggling economy less dependent on a single benefactor.
Under the leadership of Chávez, who regularly calls former Cuban President Fidel Castro his ideological father and has followed parts of the Communist leader's governance playbook, Venezuela has sent billions of dollars a year to Cuba through trade and petro-aid.
Some people are saying the demise of Chávez is also going to be the demise of Communism in Cuba because the regime's going to collapse and the people are going to rise up.
Bilateral trade stood at a little over $8 billion last year, much of it in Cuban imports of oil and derivatives. In return, Havana primarily provides Venezuela with technical support from Cuban teachers, scientists and other professionals, plus brigades of health care workers. Analysts say those services are overvalued by outside standards, apparently costing as much as $200,000 per year per doctor. Experts peg the total Venezuelan subsidy to Cuba at around $2 billion to $4 billion a year.
While business with Venezuela makes up 40 percent of all Cuban trade, it's still a far cry from the days when the Communist Eastern Bloc accounted for an estimated 80 percent.
"A (loss of) $2 billion to $4 billion would definitely pinch. But it is not the same relative weight as the sudden complete withdrawal of the Soviet subsidies in the early '90s," said Richard E. Feinberg, a professor of international political economy at the University of California, San Diego. "Cuba's not going to go back to the days of bicycles. Could it throw the Cuban economy into recession? Yes."
That kind of resilience would result largely from Cuba's successes in courting foreign investors for joint ventures.
Last month, authorities announced a deal with a subsidiary of Brazil's Odebrecht to manage a sugar refinery, a rare step in an industry that has long been largely off limits to foreign involvement.
China has invested in land-based oil projects, and along with Canada is a key player in Cuba's important nickel industry. Spain has ventures in tourist hotels and tobacco, while French company Pernod Ricard helps export Cuban liquors. And since 2009, Brazil has been a partner in a massive project to modernize and expand the port at Mariel, west of the capital.
Trade with China alone was $1.9 billion and rising in 2010, and Raul Castro paid a visit to Chinese and Vietnamese leaders earlier this year to help cement Asian relationships.
But while Havana says it wants to boost foreign investment, obstacles remain. The approval process for investment projects can be long and cumbersome, and pilferage, disincentives to productivity and government intervention can cut into efficiencies. Foreign companies also pay a sky-high payroll tax.
Feinberg, who wrote a report on foreign investment in Cuba published this month by the U.S. think tank the Brookings Institution, said that while a number of foreign companies are successfully doing business with the island, others have run into problems, sending a chilly message to would-be investors. In particular he noted the recent cases of a government takeover of a food company run by a Chilean businessman accused of corruption, and contentious renegotiations of a contract with Dutch-British personal and home care products giant Unilever amid shifting government demands.
"The Cuban government has to decide that it wants foreign investment unambiguously. I think now there seem to be divisions among the leadership," Feinberg said. "Some are afraid that foreign investment compromises sovereignty, creates centers of power independent of the leadership or is exploitative."
He estimated Cuba has left on the table about $20 billion in missed investment over the past decade by not following practices typical of other developing nations. Instead, Cuba received $3.5 billion in foreign investment in that period.
Experts say a worst-case scenario for Chávez wouldn't automatically translate into the oil spigot shutting off overnight.
If Chávez's hand-picked successor, Vice President Nicolas Maduro, were to take office, he would likely seek to continue the special relationship.
Opposition leader Henrique Capriles has said he wants to end the oil-for-services barter arrangements, but could find that easier said than done should he win. The two countries are intertwined in dozens of joint accords, and poor Venezuelans who benefit from free care by Cuban doctors would be loath to see that disappear.
"You can't flip the switch on a relationship like this," said Melissa Lockhart Fortner, a Cuba analyst at the Pacific Council on International Policy, a Los Angeles-based institute that focuses on global affairs. "It would be terrible politics for him. ... Switching that off would really endanger his support far too much for that to be really a feasible option."
For Cuba, Chávez's latest health scare capped off a year of disappointments in the island's attempt to wean itself from Venezuelan energy.
Three deep-water exploratory oil wells drilled off the west coast failed to yield a strike, and last month the only oil rig in the world capable of drilling there without violating U.S. sanctions sailed away with no return in sight.
Yet time and again Havana has shown that it's nothing if not resilient, weathering everything from U.S.-backed invasion and assassination plots in the 1960s to the austere "Special Period" in the early 1990s, when the Soviet collapse sent Cuba's GDP plummeting 33 percent over four years. When hurricanes damaged the country's agriculture sector and the global financial crisis squeezed tourism four years ago, Cuba tightened its belt, slashed imports and survived.
"Some people are saying the demise of Chávez is also going to be the demise of Communism in Cuba because the regime's going to collapse and the people are going to rise up," Feinberg said. "That's probably yet another delusion of the anti-Castro exile community."
Still, many Cubans are nervously tuning into the near-daily updates about Chávez's health, carried prominently in state media.
"I don't know what would happen here," said 52-year-old Havana resident Magaly Ruiz. "We might end up eating grass."
Based on reporting by the Associated Press.
Follow us on twitter.com/foxnewslatino
Like us at facebook.com/foxnewslatino