House leadership pushes new legislative strategy to defund ObamaCare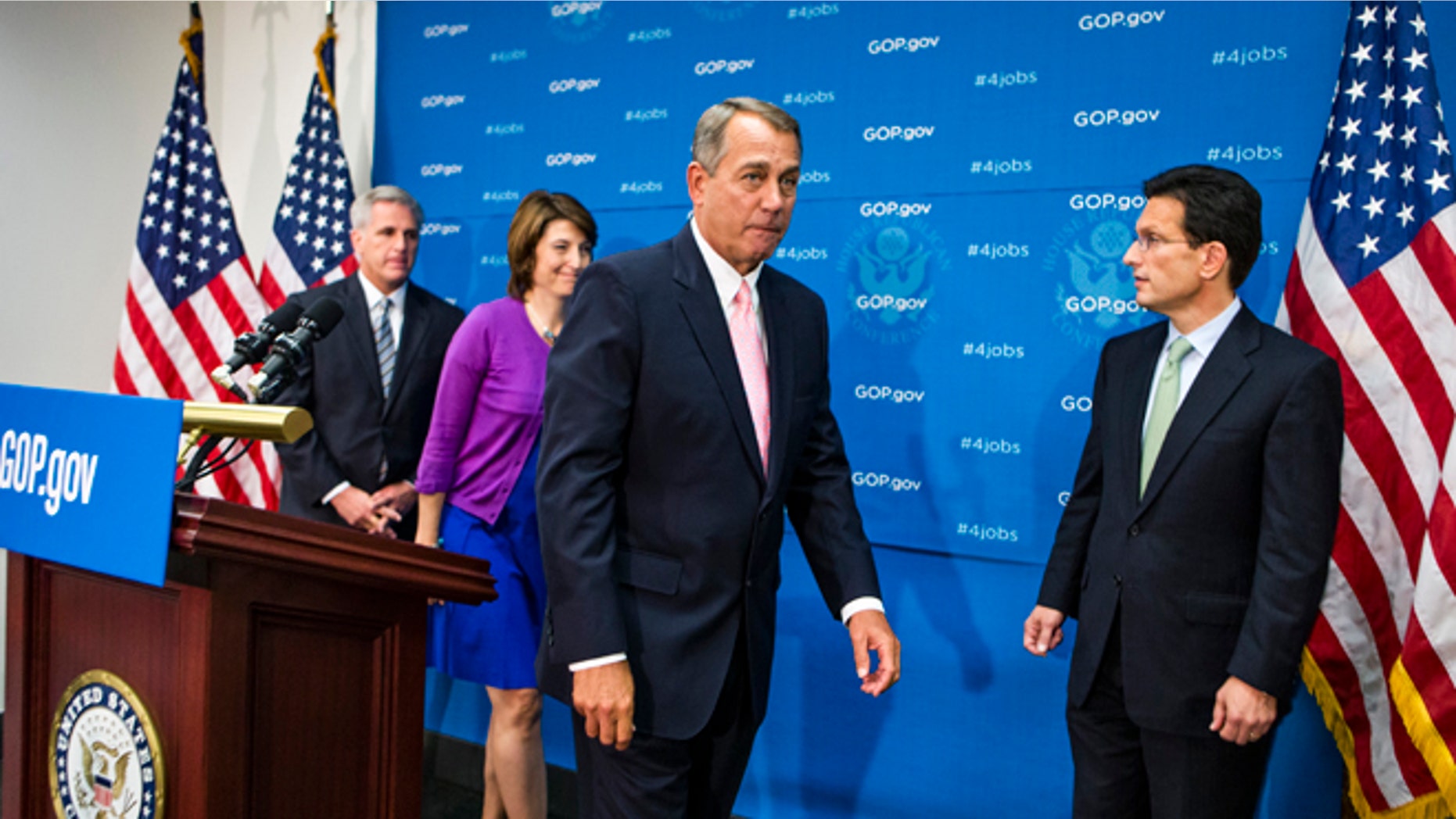 House Republican leaders on Tuesday defended their proposal for a temporary spending bill that essentially puts the contentious issue of "defunding" ObamaCare in the hands of the Democrat-controlled Senate.
"The House has voted 40 times to defund, repeal and change ObamaCare," House Speaker John Boehner said. "This strategy is intended not to really satisfy the House. We've already voted. It enforces the fight in the United States Senate. … Let's get the issue over there and force them to actually have a vote."
His comments came as the House leadership proposed a legislative strategy to vote on the spending measure and defunding, then send the package to the Senate.
It follows a GOP-led cross-country, grass-roots effort to garner support to block funding to implement the Affordable Care Act before enrollment begins Oct. 1.
The strategy would essentially allow Republicans to say they voted to defund ObamaCare while keeping the government open.
Congress must agree on a temporary spending bill before Oct 1., when the government technically runs out of money, meaning there would be a temporary shutdown.
It was unclear late Tuesday whether the House gimmick would satisfy the chamber's conservative caucus, whose members have pressed for a straight-up defund vote.
A spokesman for Arizona Republican Rep. Trent Franks, among the chamber's most conservative members, told FoxNews.com that the congressman is going to reserve comment until the legislation is written and amendments are filed.
However, Heritage Action for America, which sponsored this summer's defund town hall tour, opposed the plan.
"This is a legislative gimmick designed to provide political cover to those who are unwilling to fight to defund ObamaCare," said Michael A. Needham, the group's chief executive officer."Any constituent who looks at this vote will know it is intended to look like a vote to defund ObamaCare while failing to do so."
The plan must first go through the House Rules Committee, which if approved could get a vote as early as Thursday.
Though rank-and-file House Republicans might be upset with leadership's strategy, Boehner and his team argued Tuesday they wanted to defund the law.
"We're going to continue to do everything we can to protect Americans from this harmful health care law," Boehner said. "This is not good for the country. It's not good for the health care system. It will bankrupt and ruin the best health care delivery system the world has ever known."
House Majority Leader Eric Cantor, R-Va., said: "More and more people are struggling because they don't know where the price of their health care is going, all because ObamaCare is about to become fully implemented. And we're trying to everything we can to stave that possibility off."
He also suggested House Republicans were going to push a bill by Tennessee Rep. Diane Black that requires the Obama administration to have in place a strict income-verification system before giving tax credits to help Americans pay for health insurance under the new law.
In the Senate, Arizona Republican Sen. Jeff Flake introduced a bill Tuesday to delay for one year all of ObamaCare's provisions going into effect on January 1, 2014 or later.