House GOP Hunting for Deeper Spending Cuts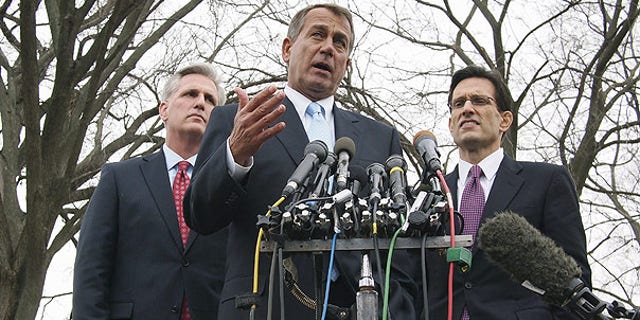 House Republican leaders are scrambling to identify billions of dollars in additional budget cuts after facing an insurrection from conservatives who complained an earlier GOP proposal didn't go deep enough.
Sources told Fox News that fiscally conscious conservatives, particularly freshmen, pressed the party leadership Wednesday to make bolder budget cuts in response to a proposal released by the House Appropriations Committee. That plan, outlined by panel Chairman Hal Rogers, R-Ky., claimed $58 billion in non-defense cuts as compared with President Obama's proposals. Compared with last year's budget, the net savings amounted to about $35 billion.
But some Republicans who ran on a platform of finding $100 billion in savings want the party to follow through -- though the federal government is nearly halfway through the budget year, making the campaign pledge more difficult to fulfill.
Republican officials said one possibility was to add across-the-board cuts to supplement the targeted reductions spelled out earlier in the day at a closed-door meeting for the rank and file.
"We have to hit the mark of at least $100 billion," Rep. Mike Pence, R-Ind., told Fox News on Thursday. "We ought to just get out a ruler and draw a line across it and have every different program take a haircut. The problem is when you start to pick specific programs, all the special interests associated with each of those programs begin to mobilize."
One source said a list of additional spending cuts will probably be released Friday, as lawmakers prepare for a vote next week on the budget for the rest of the fiscal year ending Sept. 30. The current temporary budget, called a continuing resolution, expires in early March.
The original plan calls for eliminating a high-speed rail program the administration has ticketed for a multibillion-dollar expansion and recommends ending federal support for the Corporation for Public Broadcasting, family planning services and AmeriCorps.
It calls for significant cuts to the Environmental Protection Agency, National Institutes of Health, the Internal Revenue Service and dozens of other programs and agencies.
The proposal marks an initial attempt by newly empowered Republicans to cut spending and reduce the size of the federal government. Yet it sets the stage for weeks of political combat as Democrats seek to blunt the cuts while Tea Party-backed conservatives demand more of them.
Republicans are "keeping our pledge to the American people that we will cut spending," House Speaker John Boehner, R-Ohio, said after details were outlined for the rank and file at a closed-door meeting.
Preliminary details of the plan emerged just before Obama hosted Boehner and his two top lieutenants at a White House lunch.
Reacting mildly to the recommended cuts, White House press secretary Robert Gibbs cited a "broad agreement that we have to change the way Washington works, particularly as it relates to spending."
At the same time, Gibbs said, "We have to do so in a way that protects the important investments so that we can win the future," signaling the president will fight to protect his own priorities.
House Democratic leader Nancy Pelosi was more pointed. "The Republican plan will cost jobs, undercut American innovation and clean energy, jeopardize our safety by taking cops off the street and threaten investments in rebuilding America -- at a time when our economy can least afford it," she said in a written statement.
But some conservatives told the Republican leadership at the closed-door meeting that they want deeper cuts to fulfill campaign pledges to reduce spending to levels in effect in 2008.
Still unclear, officials said, is whether the draft measure will try to ban the Environmental Protection Agency from regulating greenhouse gases under the Clean Air Act. Alternatively, a prohibition to that effect could be added when the bill reaches the House floor next week.
Other GOP priorities, including a ban on using federal money to implement the new health care law, are expected to be added, as well.
The deficit is projected to be a record $1.5 trillion for the current fiscal year, and the national debt is approaching the government's $14.3 trillion ceiling.
Yet Rogers warned against cutting too deeply, outlining the potential impact of doubling his recommended reductions.
The result would mean furloughs and layoffs for critical law enforcement personnel including the FBI and Drug Enforcement Administration, he said, according to descriptions of his remarks at a meeting.
The Food and Drug Administration could be returned to funding levels in effect two decades ago, he said of potentially deeper cuts, and the Federal Aviation Administration would have to furlough all of its air traffic controllers for 41 days a year.
In all, the recommendations include cuts of $43 billion from domestic and foreign aid budgets compared with levels in place for the fiscal year that ended last Sept. 30.
Increases for the Pentagon, homeland security and veterans' programs offset part of the total, leaving about $35 billion in cuts.
Republicans calculated they were cutting $58 billion, the amount by which they want to reduce Obama's requests for the current fiscal year.
The Associated Press contributed to this report.