Horse-riding, 10 Commandments-defending judge now front-runner for Sessions' seat
He has been removed as chief justice of Alabama's Supreme Court not once, but twice.
He is famously referred to as the "Ten Commandments Judge."
He traditionally rides a horse to the polls on election day.
Meet Roy Moore, the new front-runner for the Alabama Senate seat vacated by Attorney General Jeff Sessions.
The ex-justice is heading into a Sept. 26 runoff with Luther Strange, the appointed senator endorsed by President Trump, after neither candidate was able to clinch the nomination in Tuesday's GOP Senate primary.
But while Strange enjoyed high-level backing, Moore won 39 percent of the vote Tuesday to the incumbent's 33 percent. He also bested Mo Brooks, a conservative congressman. The longtime outsider is now seen as having a shot at joining the U.S. Senate.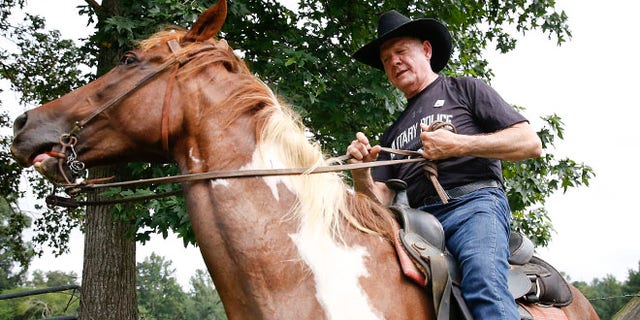 "In this overwhelmingly Republican state, Mr. Moore is the betting favorite to become the newest United States senator," Quin Hillyer, a conservative columnist who ran as a Republican for a congressional seat in Alabama in 2013, wrote in an op-ed for The New York Times.
Moore is no lock, however, and can expect to see GOP leaders fight to consolidate support -- including Brooks' voters -- behind Strange.
"Roy Moore's raw vote count yesterday is his ceiling," Alex Schriver, a political operative from Alabama and former chief of staff to GOP Rep. Bradley Byrne, told Fox News.
Moore, a favorite of religious conservative voters, has a colorful political history that has both fueled and complicated his rise.
He first got national attention in the 1990s as a county judge when he hung a wooden Ten Commandments plaque on the wall of his courtroom. The ACLU filed a lawsuit against him.
Benefiting from his popularity after the episode, Moore then ran and won a race for chief justice of the state's Supreme Court in 2000. But he was ousted after refusing to remove a 5,280-pound granite Ten Commandments monument from the rotunda of the state judicial building.
He resurrected his political career in 2012, getting elected chief justice again. But his tenure was short-lived again: in 2016, Moore was suspended as chief justice after he directed probate judges not to issue marriage certificates to gay couples.
His battles have made him enormously popular with his base of Christian conservatives.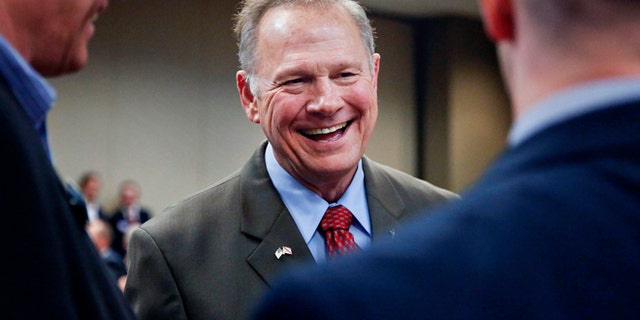 "Rather than being seen as sacrificing justice for his own ambition, Mr. Moore is seen as having sacrificed himself for a higher justice," Hillyer said.
MOORE, STRANGE HEAD TO ALABAMA SENATE RUNOFF
Appearing on "Fox and Friends" on Wednesday, Moore suggested he would continue to emphasize these cultural issues if elected.
"These are the things I've stood up for, and I've suffered accordingly by the judicial inquiry commission of Alabama," he said. "But I'll continue to uphold the Constitution, and the right to acknowledge God."
On the campaign trail, Moore is portraying himself as an anti-establishment figure who would be a reliable ally to the president.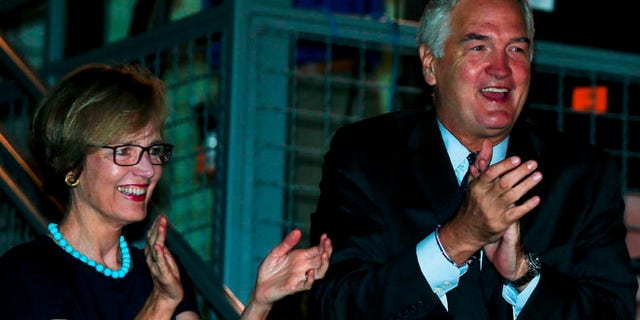 But that is complicated by Trump's endorsement of Strange, who also enjoys the support of Senate Majority Leader Mitch McConnell and well-funded super PACs linked to him.
The president on Wednesday tweeted his congratulations to both Moore and Strange "for being the final two." Trump, who endorsed Strange last week, took some credit for Strange making it into the runoff.
"Wow, Senator Luther Strange picked up a lot of additional support since my endorsement," the president said. "Now in September runoff. Strong on Wall & Crime!"
Allies of Strange argue that while Moore has a loyal base of supporters, he has a ceiling in Alabama elections. While he was elected twice to the Supreme Court, Moore unsuccessfully ran for governor in 2006 and 2010.
Schriver said he expects the McConnell-backed Senate Leadership Fund to "be heavily engaged" on Strange's behalf over the next six weeks. The super PAC spent millions in negative advertising against both Brooks and Moore ahead of Tuesday's vote.
He argued Moore's history of controversy would make it difficult for him to attract support from conservative groups that might be tempted to spend money on the race.
"What outside group would put their organization's reputation alongside his history and profile?" Schriver asked.