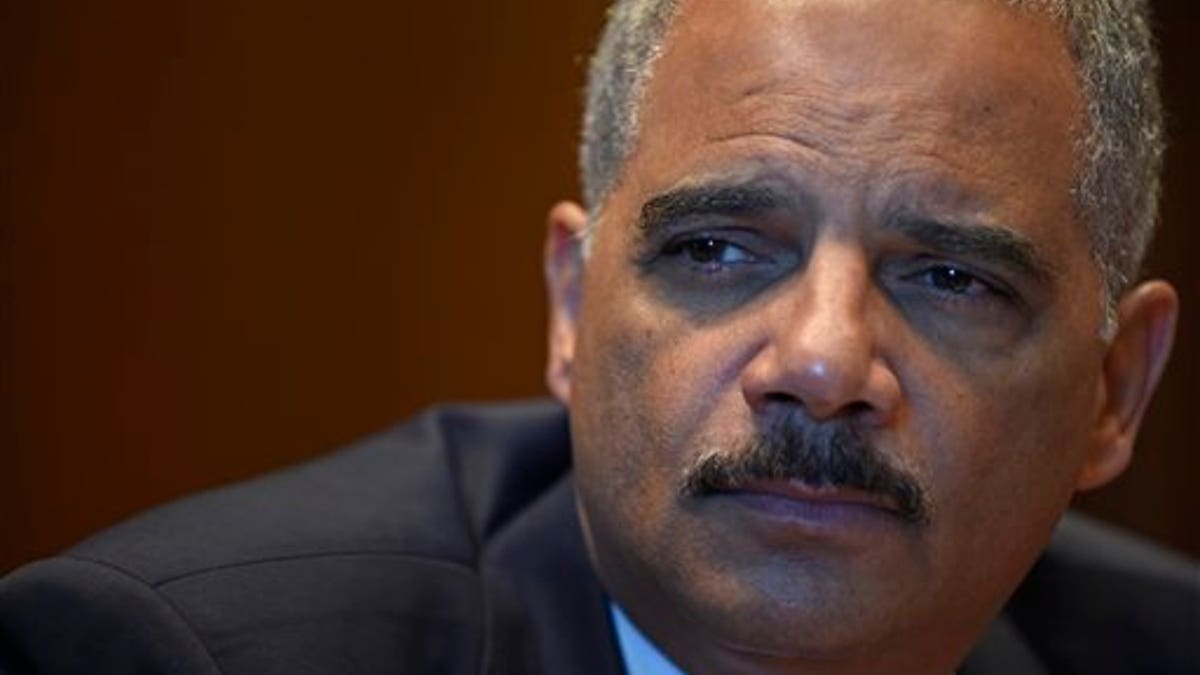 Attorney General Eric Holder's contentious relationship with Congress could cast a shadow over President Obama's efforts to install a successor, with top Republicans already warning against another controversial pick as Holder prepares to step down.
"It is incumbent upon the next attorney general to uphold the law without regard to partisan ideology," Sen. Ted Cruz, R-Texas, said Thursday, after officials confirmed Holder's departure.
Holder's six-year tenure as attorney general was marked by high-profile conflicts with Congress – like over the botched gun-running probe along the Southwest border known as "Fast and Furious," which led to the GOP-led House holding him in contempt of Congress.
On one hand, Republicans made no secret of the fact that they're glad to see Holder go and may welcome his replacement. But their problems with Holder over the years also could make GOP lawmakers wary over who might be tapped to carry on his legacy, setting up a contentious confirmation process.
"There's no question that Holder's rocky relations with the Senate are going to have an impact on his successor's confirmation," John Ullyot, a long-time former Senate Republican aide, told FoxNews.com.
President Obama has not made a final decision on a replacement for Holder, and the White House said he planned to remain at the Justice Department until his successor was in place. Whether Holder's rocky relationship with Congress portends a rocky confirmation process, political observers say, largely depends on timing.
If Obama nominates a new attorney general soon, he could push the Senate to confirm him or her during the post-election lame-duck session. Democrats currently have a 55-seat majority, and under a Democrat-authored rule change, such a nominee would need only 51 votes to be confirmed.
But if the confirmation process is pushed off to the next Congress, early next year, Obama could be dealing with a smaller Democratic majority -- or even a Republican majority. If Republicans have control, they can be pickier about who they want to replace Holder.
"All of this boils down to timing," Republican strategist Ron Bonjean told FoxNews.com. He said that if the replacement process takes place next year, and Republicans have the majority, "clearly they're going to look at Obama's nominee under a microscope, questioning the candidate on a variety of issues – from the Fast and Furious program to liberal activism within the Department of Justice."
Already, some Republicans are urging Obama and the Senate to wait until next year to replace Holder.
"Rather than rush a nominee through the Senate in a lame duck session, I hope the president will now take his time to nominate a qualified individual who can start fresh relationships with Congress so that we can solve the problems facing our country," said Sen. Chuck Grassley, R-Iowa, top Republican on the Senate Judiciary Committee.
"Allowing Democratic senators, many of whom will likely have just been defeated at the polls, to confirm Holder's successor would be an abuse of power that should not be countenanced," Cruz said in a statement.
Bonjean also noted Republicans could change Senate rules again to require 60 votes for such a nominee.
The tone of the debate also depends in large part on whom Obama chooses.
Possible candidates already discussed among White House officials include Solicitor General Don Verrilli, California Attorney General Kamala Harris, Massachusetts Gov. Deval Patrick, Deputy U.S. Attorney General James Cole and Sen. Sheldon Whitehouse, a former Rhode Island attorney general.
One of Holder's biggest detractors, House oversight committee Chairman Darrell Issa, urged Washington to work quickly -- but also carefully -- to find a new attorney general.
"While President Obama and the Senate should work expeditiously to find a replacement, time and care must be taken to ensure that our next Attorney General recognizes and does not repeat Mr. Holder's mistakes," Issa, R-Calif., said in a statement.
Fox News' Cristina Corbin and The Associated Press contributed to this report.