Historic Election Day brings record number of Latinos to Capitol Hill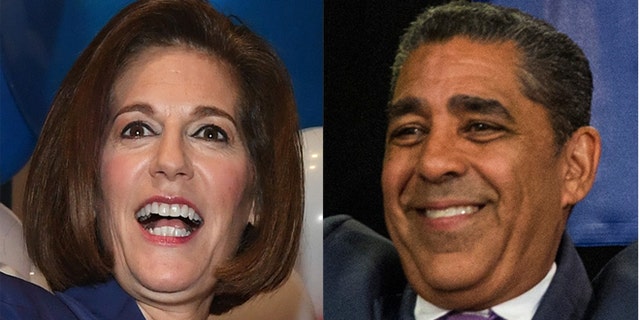 Following Tuesday's election, Latino representation in the United States Congress will reach an unprecedented number, at least 36 members, when the legislature begins its new session in January.
Election Day was historic for a number of reasons beyond Donald Trump's stunning victory in the presidential race over Hillary Clinton, as Democrat Catherine Cortez Masto of Nevada became the first Latina to win a seat in the Senate and Democrat Adriano Espaillat from New York became the first Dominican-American to join the House of Representatives.
The 36 Hispanics elected so far – out of 65 total Latino candidates – surpasses the 32 in the 114th Congress.
Early Wednesday, the fate of Hispanic candidates in California's 31st and 44th Congressional districts still remained to be officially determined, although both Democratic incumbent Pete Aguillar in the 31st and Democrat Nanette Barragan in the 44th are expected to win their races when all the votes are tallied.
Cortez Masto, the granddaughter of Mexican immigrants who recently served as Nevada's attorney general, joins three Hispanic men – all of Cuban ancestry – in the Senate: Republicans Marco Rubio of Florida and Ted Cruz of Texas and Democrat Bob Menendez of New Jersey.
Cortez Masto, who barely speaks Spanish, made immigration reform and migrants' rights a major talking point during her campaign, while also targeting the president-elect as well as her opponent, Rep. Joe Heck on the issue.
In New York's 13th District, Espaillat became the first Dominican to occupy a seat in the House of Representatives Tuesday after he overwhelmingly defeated his Republican rival, Tony Evans, by a 87 to 9 percent margin.
Espaillat moved to the country from the Dominican Republic when he was 9 and lived for two years as an undocumented immigrant before gaining citizenship.
Joining him the House will be Democrat Darren Soto, whose victory made him the politician of Puerto Rican descent to represent Florida in Congress.
Joining Cortez Masto in the Nevada delegation is Democrat Rubén Kihuen, born in Mexico, will is the first Latino congressman to represent Silver State in the House after defeating Republican incumbent, Cresent Hardy.
Another Hispanic who will be coming to Capitol Hill for the first time is attorney Vicente Gonzalez, who handily defeated Republican Tim Westley to replace Democrat Rubén Hinojosa in Texas's 15th district. That district has been dominated by Democrats since 1997.
In neighboring New Mexico, Rep. Ben Ray Luján won re-election in the state's 3rd district.
In California, Democrat Lou Correa won the seat vacated by Loretta Sanchez, who lost her bid for the Senate to Democratic rival Kamala Harris. Salud Carbajal will represent the 24th district after that seat was left vacant with the retirement of Democrat Lois Capps.
On the Republican side, Cuban-born Republican Carlos Curbelo of Florida comfortably beat Democrat Joe Garcia in the 26th district, whom he unseated in 2014, by a 53-41 margin.
Other congressmen of Cuban origin who managed on Tuesday to retain their seats were Florida Republicans Mario Diaz-Balart and Ileana Ros-Lehtinen, as well as New Jersey Democrat Albio Sires.
Other re-elected candidates include Democrats Rubén Gallego (Arizona), Michelle Lujan Grisham (New Mexico), Nydia Velásquez and José Serrano (New York) and Texans Joaquín Castro, Filemón Vela and Henry Cuéllar. California returned Juan Vargas, Tony Cárdenas, Xavier Becerra, Grace Flowers Napolitano, Raúl Ruiz, Linda Sánchez, Norma Torres and Lucille Roybal-Allard to Washington.
Republicans winning reelection included Bill Flores (Texas), Jaime Herrera Beutler (Washington), Raúl Labrador (Idaho) and Alex Mooney (West Virginia).
As for challengers, Republicans Angel Cadena, Susan Narvaiz, Hector Castillo, Julio Garza, Victor Armendariz, Carlos Santamaria, Omar Navarro, Antonio Amador and Rafael Dagnesses all failed in their attempts to displace their Democratic rivals in races in Connecticut, New Jersey, Georgia and California.
Democrat Emilio Huerta, the son of trade union activist Dolores Huerta, fell short in his effort to oust Republican David Valadao in California's 21st district, and Democrat Pete Gallego could not hang onto the Texas district he took from Republican Will Hurd in 2014.
Based on reporting by the Associated Press.
Like us on Facebook
Follow us on Twitter & Instagram