Hillary pulls into passing lane on ObamaCare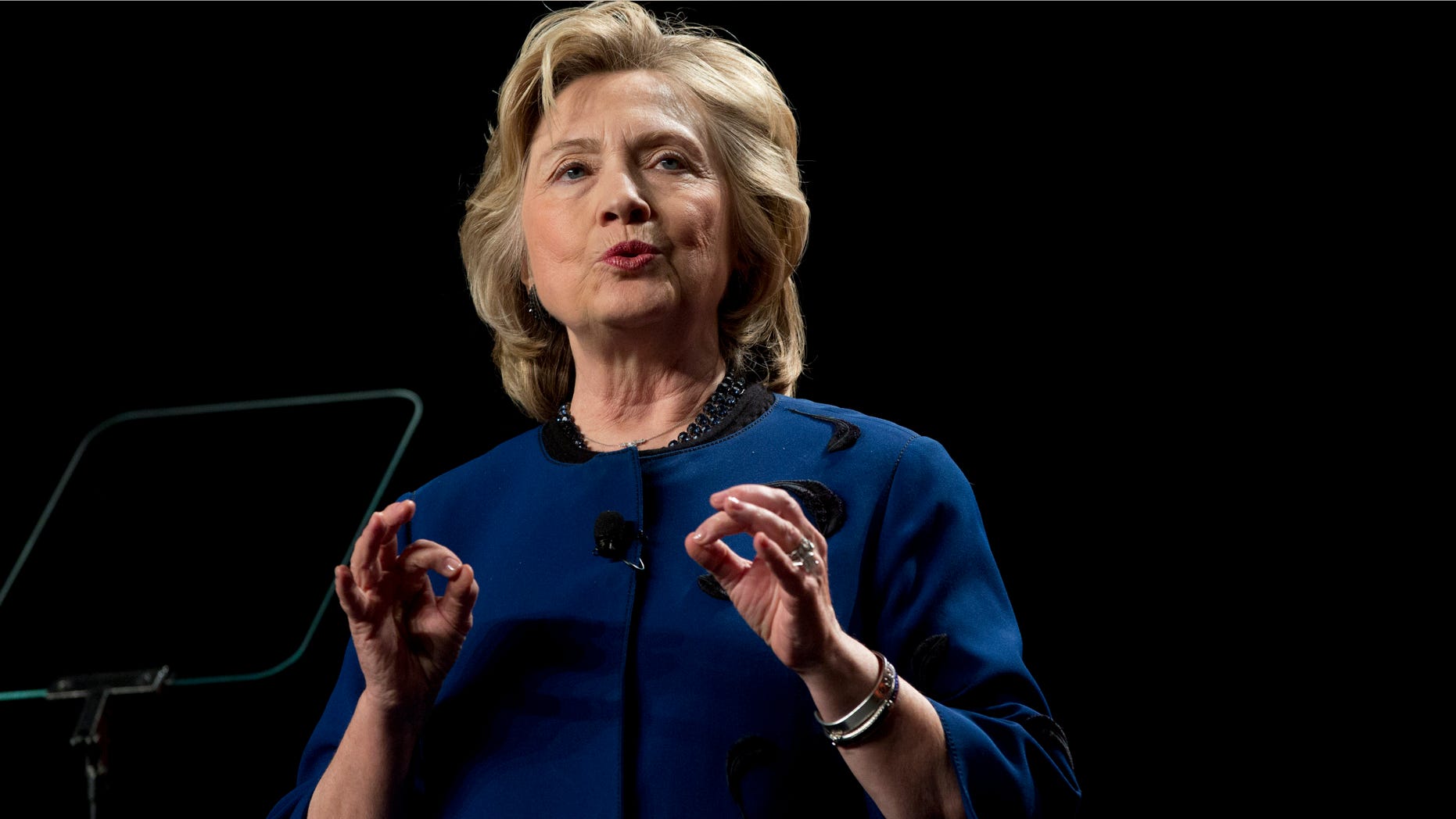 **Want FOX News First in your inbox every day? Sign up here.**
Buzz Cut:
• Hillary pulls into the passing lane on ObamaCare
• Baier Tracks: Ivan Drago diplomacy
• Chill Alert: NYT/CBS poll bad news for Dems
• Yukon Joe: Manchin stumps for Begich in Alaska
• Why dogs would make perfect politicians
HILLARY PULLS INTO THE PASSING LANE ON OBAMACARE
Democratic 2016 frontrunner Hillary Clinton nudged the accelerator in her effort to get past the problems with ObamaCare bedeviling the president and their party. Talking to a gathering of health information specialists in Florida, Clinton sounded more than open to substantial changes to President Obama's signature law. From Reuters: "Part of the challenge is to clear away all the smoke and try to figure out what is working and what isn't,' Clinton, who served as secretary of state in Obama's first term, was quoted by CNN as saying. 'What do we need to do to try to fix this? Because it would be a great tragedy, in my opinion, to take away what has now been provided.'" Clinton previewed her expected talking points for the 2016 campaign, praising Obama's goals but lamenting his poor execution: "But I would be the first to say if things aren't working, then we need people of good faith to come together and make evidence-based changes,' said Clinton, who led a failed effort to pass healthcare reform during the administration of her husband, Bill Clinton. Among issues she said should be addressed were small businesses of 50 or more employees providing health coverage and companies moving people to part-time from full-time work to avoid making healthcare contributions."
[A new Quinnipiac poll on 2016 matchups in Pennsylvania shows Hillary Clinton out-distancing potential GOP rivals.]
Talks tough on Putin - Orlando Sentinel: "There is no doubt he has absolute authority. It is reminiscent of authority exercised in the past by Russian leaders, both the czars and their Communist Soviet leaders," Clinton said. "You have to deal with President Putin from a position of strength and firmness, but not to the point where you push him into taking actions like he did in Georgia in 2008."
RNC TO NARROW CONVENTION PICKS TODAY
According to a tweet from the Republican National Committee Chairman Reince Priebus: "…will announce the final cities under consideration for the 2016 Republican National Convention….at 10am [ET] on Twitter."
REID RETREATS ON OBAMACARE HORROR STORIES
Fox News: "Senate Majority Leader Harry Reid is being hammered by Republican lawmakers after he claimed on the Senate floor that all the ObamaCare 'horror stories' being circulated are untrue. Reid tried to clarify his remarks late Wednesday by saying he was only referring to the 'vast majority' of stories featured in ads funded by Americans for Prosperity, a conservative group, and not the complaints of everyday Americans. However, he added fuel to the fire by continuing to slam the group's backers, the Koch brothers, calling them 'un-American.'  Americans for Prosperity President Tim Phillips, in response, said Reid had effectively 'attacked the character and integrity of every American who had the courage to share how they're being hurt by the president's health care law'… Reid said Wednesday morning on the Senate floor that he believes Americans for Prosperity hires actors in their ads to tell fake stories about canceled policies, higher premiums and ruined lives under ObamaCare. 'There's plenty of horror stories being told,' Reid said. 'All of them are untrue. But they're being told all over America.'''
["They're desperate because every single one of them who passed ObamaCare has been a disaster for the country and they're afraid there will be a price for it later this November… The Senate majority leader calling them a liar, is just going to make them want to come out and tell their story. These tragic stories are occurring all over the country. We hear about them every day. And I don't think they're going to be intimidated by Harry Reid." –Senate Minority Leader Mitch McConnell on "The Kelly File" Tuesday.]

Hey, you just need about 100,000 a day… - The Hill: "An ObamaCare enrollment group with close ties to the White House is launching a final, coordinated push to sign people up for health insurance ahead of the March 31 deadline. A spokesman for Enroll America told The Hill the prominent nonprofit had grown its pool of volunteers to nearly 20,000, increased its field reach by 35 percent, hired more than 70 new employees since January, and increased its digital advertising budget from $5 million to $7 million for 2014."
[Watch Fox: Sen. Dan Coats, R-Ind., discusses ObamaCare's medical device tax in the 2 p.m. ET hour]
They still don't like it - The Kaiser Family Foundation's monthly health tracking poll finds 56 percent of the uninsured view ObamaCare unfavorably, with 22 percent viewing it favorably. The pessimistic view is the lowest favorability the foundation has found since they began measuring reaction to ObamaCare in 2010.
[See the revamped, calorie-conscious mandatory nutrition label first lady Michelle Obama will unveil at the White House today. Courtesy of WaPo.]
BAIER TRACKS: IVAN DRAGO DIPLOMACY…
"In an expansive interview, Secretary of State John Kerry told NBC News that Russia must 'be careful' with the decisions it makes on Ukraine. But Kerry quickly added 'this is not Rocky IV,' referring to the 1985 film portraying an epic battle between East and West, in which Rocky Balboa fights Soviet champion Ivan Drago. 'Believe me,' Kerry added, 'We don't see it that way.' That makes for a great sound bite. The problem is that the situation in Ukraine IS rocky. With Russia staging military exercises off the coast and more aggressive statements coming from Moscow, critics are saying the Obama administration could use a little more Stallone. Clearly, the U.S. is not looking for confrontation, but it sure seems like Vladimir Putin is watching old movies and wants Drago to win this time." – Bret Baier
BREWER BACKS OFF
Gov. Jan Brewer, R-Ariz., vetoed a bill that would have allowed business owners to refuse to provide services for same-sex marriages on religious grounds. Brewer, who spent several days considering whether to sign the bill, said it had 'the potential to create more problems than it purports to solve. It could divide Arizona in ways we cannot even imagine and no one would ever want.'''
'Wild claims' prompted veto? - The president of the Family Research Council said Wednesday on "The Kelly File" that "all sorts of wild claims" led to Ariz. Gov. Jan Brewer's decision earlier in the day to veto a controversial bill that would have allowed businesses the right to deny service to gays and others based on religious beliefs. "Unfortunately, this is how fundamental freedoms are trampled," Tony Perkins said. "You create a stampede by spooking politicians in public with misinformation." Watch the Full interview courtesy of the "Kelly File" here.
All about the money? - At Fox News Opinion, Juan Williams says money was behind Brewer's veto: "The real story here is that she was responding to money and politics. On the money front the governor faced pressure from a growing list of major American companies with business interests in a state which countered the right-wing's social agenda by urging the governor to veto the bill with the implicit threat of pulling out of Arizona… On the political front, she also faced opposition from the national Republican Party's establishment wing to counter the power of the religious right to define the Republican Party brand."
[San Antonio Express-News: "A federal judge in San Antonio on Wednesday declared Texas' ban on gay marriage unconstitutional. The Lone Star state's refusal to recognize out-of-state same-sex marriages is also unconstitutional, he ruled. U.S. District Judge Orlando Garcia, however, also issued a stay, meaning the bans remain in effect for the time being.]

THE JUDGE'S RULING:  LIBERTY'S SLOW EROSION
Judge Andrew Napolitano considers New Assaults on American Law for Fox News Opinion: "Liberty is rarely lost overnight. It is lost slowly and in the name of safety. In the name of keeping us safe, the feds have spied on the lawyers who negotiate with them, lied to the lawyers whose clients they are prosecuting and misrepresented their behavior to the Supreme Court. As far as the public record reveals, they have not corrected that misrepresentation. They have done all of this in utter defiance of well-settled law and procedures and constitutional safeguards. What will they do next?"

WITH YOUR SECOND CUP OF COFFEE...
George Will offers The liberal agenda: Being good to liberals - "[B]leak judgments about the stimulus spending miss the main point of it, which was to funnel a substantial share of its money to unionized, dues-paying, Democratic-voting government employees. Hence the stimulus succeeded. So there. This illustrates why it is so sublime to be a liberal nowadays. Viewed through the proper prism, most liberal policies succeed because they can hardly fail. Each achieves one or both of two objectives — making liberals feel good about themselves and being good to liberal candidates."

Got a TIP from the RIGHT or LEFT? Email FoxNewsFirst@FOXNEWS.COM

POLL CHECK
Real Clear Politics Averages
Obama Job Approval: Approve –  43.3 percent//Disapprove – 52.3 percent
Direction of Country: Right Direction – 29.8 percent//Wrong Track – 63.2 percent
Generic Congressional Ballot:  Democrats – 42.0 percent// Republicans 42.3 percent
CHILL ALERT: NYT/CBS POLL BAD NEWS FOR DEMS
A new poll from NYT/CBS News has dire news for Democrats. President Obama's job approval dropped 5 points since last month's poll, dipping down to 41 percent, tying his lowest-ever rating in that category. Public esteem for the president's party slipped to 42 percent, a level not seen since, you guessed it, 2010. Republicans led in the generic congressional ballot test by 4 points, higher than any NYT/CBS poll during the last midterm cycle. Wondering why? Consider that the percent of respondents who said that ObamaCare should be repealed in its entirety jumped 8 points to 42 percent since January. The share of voters who believed the law can be repaired dropped 6 points to 50 percent. Among the 38 percent of respondents who called themselves independents – the largest category of potential voters – Democrats trailed Republicans by 14 points in the generic ballot. The survey was conducted among a random sampling of adults, and Republicans generally fare better among registered and likely voters.
PLANNED PARENTHOOD TO PUMP BIG CASH INTO 2014 RACES
America's largest abortion provider is touting big spending for this year's elections. Planned Parenthood told Politico that it would dump some $16 million into midterm races. It's a far cry from the money that big labor and big business will spend to keep Democrats in control of the Senate, but it would further enhance the clout of the organization. That's important because the group relies heavily on tax subsidies to operate.
[Abortion group makes nod for Pa. Gov - Planned Parenthood is picking Rep. Allyson Schwartz in the crowded Democratic field to take on vulnerable Gov. Tom Corbett, R-Pa., according to PoliticsPA ]
GARDNER A GAME CHANGER IN COLORADO
In the National Republican Senatorial Committee's greatest recruiting success of the cycle, Colorado Rep. Cory Gardner will challenge incumbent Sen. Mark Udall, D-Colo. This is a coup not just because Gardner is top-tier talent – a rising star in the House who snatched a seat from an incumbent Democrat in 2010 and was re-elected by a 17-point margin in 2012 – but because the previous frontrunner for the nomination, Ken Buck, bowed out gracefully to run in Gardner's current district covering the state's eastern plains. Buck got tangled up in his 2010 run against Sen. Michael Bennet, D-Colo., when Buck gave a politically incorrect answer to a question from NBC News about the causes of gayness. The last poll done in the state showed Buck nipping at Udall's heels. With Udall suffering for his office's part in trying to suppress the release of policy cancellations under ObamaCare, the incumbent looks very vulnerable. While the state's Republican gubernatorial contest still carries some worry for the party, Buck's departure from the statewide race will make it harder for Democrats and the press to paint the GOP as "extreme." Gardner, a former state representative, is plenty conservative, but isn't given to controversy. Read the Denver Post take on the race.
Pick Six: Colorado coming up? – Republicans need a net gain of six seats to capture control of the Senate this year. The current consensus among Fox News First readers for the six most vulnerable Democrat-held seats: Arkansas, Montana, Louisiana, South Dakota, North Carolina and Alaska. But reader Jim Hartman says the entrance of Rep. Cory Gardner, R-Colo., should give the Centennial State a place on the list. Hartman writes, "The Cory Gardner candidacy is an unexpected recruiting coup for Republicans and puts the Colorado race into the top tier of GOP pick-up opportunities."
Share your top six picks. Email them – just your top six, please – to FOXNEWSFIRST@FOXNEWS.COM or tweet @cstirewalt.
YUKON JOE: MANCHIN STUMPS FOR BEGICH IN ALASKA
Roll Call: "Sen. Joe Manchin III, D-W.Va., will travel to Anchorage this weekend to campaign for Sen. Mark Begich, D-Alaska.,… Manchin will appear at two fundraisers at the home of former Democratic Gov. Bill Sheffield,… Manchin, who has a penchant for state fairs, also will appear at a ribbon-cutting ceremony at the 2014 Anchorage Fur Rendezvous (aka 'Fur Rondy'), the annual 10-day festival kicking off the famous Iditarod race… Manchin and Begich have similar legislative profiles, though Begich notably was one of four Democrats to oppose Manchin's failed bipartisan background checks bill in 2013 — and that could be an interesting topic of questioning from donors or local reporters when the two appear together."
GRAHAM EDGES CLOSER TO AVOIDING RUNOFF
While Sen. Lindsey Graham, R-S.C., enjoys a strong plurality in his primary contest, with 45 percent of likely Republican voters backing the incumbent in a new Winthrop University poll. But that still places him under the 50 percent threshold needed to avoid a runoff when lower turnout could help the second-place primary finisher unify opposition backers and unhorse Graham. All of the challengers received single-digit support in the Winthrop poll, with 35 percent of voters undecided.
COCHRAN GETS 'D' RATING FROM CONSERVATIVE GROUP
The American Conservative Union's annual scorecard gives embattled Republican incumbent Sen. Thad Cochran of Mississippi a 63 percent rating, the group's worst score for any Republican during President Obama's tenure. Cochran's rating is more than 25 points lower than his fellow GOP colleagues who are also facing primary challengers. Sen. Pat Roberts, R-Kan., has an 89 percent rating while Senate Minority Leader Mitch McConnell holds a 94 percent rating.
[Washington Examiner: "[Former President Bill Clinton] helped rake in $700,000 for Democratic Senate candidate Alison Lundergan Grimes at a luncheon on Tuesday, her campaign confirmed Wednesday.]
CRUZ, PAUL HEADLINE TEA PARTY PARTY
Tea Party Patriots holds its five-year anniversary rally on the Hill today. Founder Jenny Beth Martin, Sen. Ted Cruz, R-Texas, Sen. Rand Paul, R-Ky., Sen. Mike Lee, R-Idaho., and Sen. Jeff Sessions, R-Ala., are among the speakers.  Breitbart announced it will carry the five-hour event live in its entirety.
COSTLY AD WARS IN FLORIDA CONGRESSIONAL RACE
Tampa Bay Times: "Spending in the [Democrat]Alex Sink - [Republican] David Jolly TV ad war has reached an eye-popping $8.2 million, according to the latest figures.
Democrats are outspending Republicans thanks to the significant advantage by Sink, who has spent $1.5 million to Jolly's $352,000. Sink did not face a primary and saw her coffers swell with money from outside the district."
HOLLYWOOD HEDGES ITS BETS
WSJ: "Hit by legislative setbacks in Washington, the Motion Picture Association of America is producing a Hollywood-style remake. The movie industry's main lobbying group has ramped up its budget and donations to political groups in the past few years, and, in a switch for an industry long associated with Democrats, has quietly reached out to Republicans and conservative-leaning organizations in an effort to rebuild its clout. Last year, the MPAA replaced its longtime lead lobbying firm, considered to be close with Democrats, with a lobbyist with ties to key GOP lawmakers. Its political-action committee now gives more donations to Republicans than Democrats. And it has sent money to a GOP super PAC, a conservative antitax entity and a business lobby helping Republicans in the 2014 elections… MPAA gave $75,000 to the U.S. Chamber of Commerce, which is a top supporter of Republican candidates for Congress; $100,000 to Americans for Tax Reform, the antitax group run by conservative advocate Grover Norquist ; $25,000 to the large pro-Republican super PAC American Action Network…"
WHY DOGS WOULD MAKE PERFECT POLITICIANS
Experts say your dog is lying to you. Well, not really. The animal behavior gurus who talked to the AP said that that ashamed-looking face that dogs make when their masters scold them is not shame at all. Says AP: "The guilty look – head cowered, ears back, eyes droopy – is a reaction to the tantrum you are throwing now over the damage they did hours earlier." So wait, dogs are photogenic, have a skill for insincere shame and seek constant praise? Talk about natural politicians. Canines have been famous as political pets for a long time, but maybe they're the ones who should be running for office.
Chris Stirewalt is digital politics editor for Fox News. Want FOX News First in your inbox every day? Sign up here. To catch Chris live online daily at 11:30 a.m. ET, click here.