Residents in Arizona town push to remove 'militaristic' border checkpoint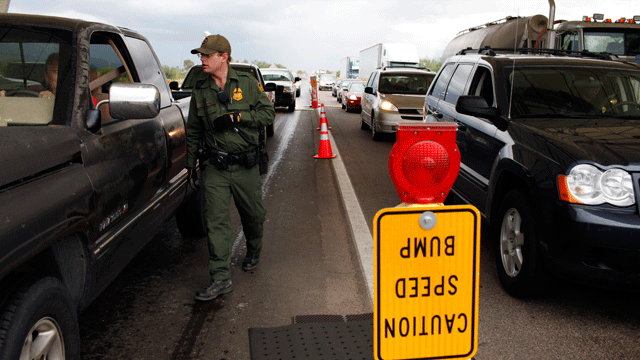 Residents of the southern Arizona town of Arivaca are monitoring a U.S. Border Patrol checkpoint to see how many arrests and drug seizures are made in a bid to remove longstanding interior checkpoints on the roads leading into the town.
Arivaca residents say they are regularly subjected to delays, searches, harassment and racial profiling at the checkpoints. Six residents monitored the checkpoint Wednesday on Arivaca Road, 25 miles north of the Mexico border.
Bobbie Chitwood, who has lived in Arivaca for 36 years, told The Los Angeles Times she plans to volunteer to monitor the checkpoint at least once a week.
"This just impedes the movement of people," Chitwood said. "It feels very militaristic. The checkpoints feel like the beginning of something that could get worse. I don't like being stopped by people with guns."
A Border Patrol spokesman says the agency won't release data for individual checkpoints. The agency, which describes the checkpoint as temporary despite it being in place for several years, told The Los Angeles Times they have no plans to remove it.
"In the Tucson sector, checkpoints remain a critical piece of infrastructure and a highly effective tool in our enforcement efforts to secure our nation's borders," a U.S. Customs and Border Protection official said in a statement.
Organizers with People Helping People in the Border Zone, a humanitarian aid group, have called on the Border Patrol to remove the checkpoint in Amado, a town of about 300 people located 60 miles southwest of Tucson.
Border Patrol Tucson Sector Chief Manuel Padilla rejected a petition last month from Arivaca residents and businesses calling for removal of nearby checkpoints.
Customs and Border Protection officials say residents may observe their operations as long as they don't interfere with agency activities.
Bob Bertolini, who volunteered as a monitor, told The Los Angeles Times the checkpoint reminds him of those he was required to go through when he was a construction worker helping with the rebuilding of Iraq and Afghanistan.
"I have flashbacks when I go north of Arivaca. 'Are they going to be Iraqi soldiers? Al Qaeda? Are they going to blow me away?'" he said. "This is America. This shouldn't be happening here."
Lloyd Easterling, the deputy patrol agent in charge of the Tucson sector, said he was willing to hold town hall in Arivaca with residents to discuss their concerns after learning about the monitoring effort, according to The Los Angeles Times.
The Associated Press contributed to this report.