Hillary Clinton protected '08 campaign adviser accused of sexual harassment: report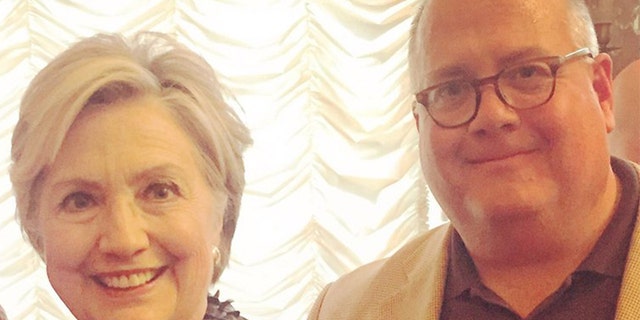 Hillary Clinton reportedly helped protect a senior adviser to her 2008 presidential campaign after accusations that he repeatedly sexually harassed a young subordinate.
The New York Times reported Friday on the incident, revealing how Clinton allegedly intervened to help keep the adviser, Burns Strider, on board.
According to the Times, the complaint was made by a 30-year-old Clinton staffer who shared an office with Strider. She reportedly told a campaign official that Strider had rubbed her shoulders inappropriately, kissed her on the forehead and sent suggestive emails.
Clinton's 2008 campaign manager, Patti Solis Doyle, reportedly recommended Clinton fire him. But sources told The Times he was kept on the campaign at Clinton's request.
Instead, Strider was ordered to receive counseling and lost several weeks of pay, while the young woman was shifted to a new role.
While the incident went unreported for years, sources came forward amid the "#MeToo" climate, in which sexual misconduct allegations from years and decades past are going public.
In response to the report, a spokesman for Clinton gave Fox News a statement from the law firm that represented the 2008 campaign:
"To ensure a safe working environment, the campaign had a process to address complaints of misconduct and harassment," the statement from Urecht, Kleinfeld, Fiori, Partners said. "When matters arose, they were reviewed in accordance with these policies, and appropriate action was taken. This complaint was no exception."
THE LEFT TURNS ON CLINTON, BIDEN OVER BEHAVIOR TOWARD WOMEN
Strider did not immediately respond to Fox News' request for comment.
Strider, who worked as Clinton's faith adviser, sent her scripture readings every morning during the 2008 campaign, according to The Times. Strider was hired five years later to lead an independent group that supported Clinton's 2016 presidential run, Correct the Record, which was launched by David Brock.
Strider was reportedly fired from Brock's firm months later for workplace issues, including accusations that he, again, sexually harassed a young female aide.
Clinton and Strider seemingly have stayed in touch, with Strider's Twitter account featuring photos of the two of them within the last year.
Strider also worked as a senior adviser to House Democratic Leader Nancy Pelosi, D-Calif., from 2003 to 2006.
A spokesman for Pelosi did not immediately respond to Fox News' request for comment on Strider's behavior during the time working in her office.
The woman who made the accusation against Strider during the 2008 campaign reportedly signed a nondisclosure agreement barring campaign staffers from publicly discussing inner workings of the Clinton team.