Hillary Clinton, on book tour, cheers the 'resistance'
Hillary Clinton brought her promotional book tour to Washington, D.C. on Monday night.
In a sold-out event, Clinton — who reportedly entered the Warner Theatre to a standing ovation and cheers — said she wrote her book because she wanted "to make sure what happened, doesn't happen again."
On one of a number of topics touched on during the event, Clinton discussed her presidential debates with President Trump, claiming that she acted the way she thought a president would.
CLINTON CONSIDERS CONTESTING ELECTION RESULTS
"You are discomforted, annoyed, frustrated that he is stalking you and staring at you, but I thought it was better not to show that kind of reaction during a presidential debate," Clinton said. "I thought at the end of the day people would say we really do want someone calm and composed in the Oval Office. So I was aware of the cross-currents, but I carried on in the way that I thought a presidential candidate should do."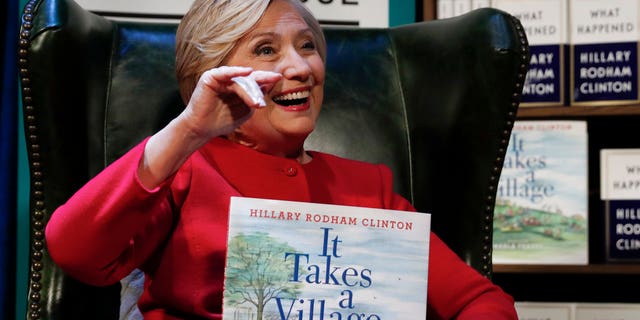 The former First Lady added that being president is "the toughest job in the world," remarking that: "It used to require a level of curiosity and focus that you would want to think that someone with that responsibility would have."
"I honestly thought we were in a different kind of campaign," Clinton said of her race with Trump. "I know the ebb and flow of a campaign. … And I don't think anyone fully grasped that this was a variation on a presidential campaign unlike any we had ever seen."
Clinton said that if she had lost to another Republican other than Trump, she "would have felt bad" and wouldn't be worrying about the future of the U.S.
She further lamented that she had lost the vote of white females — which Trump won by roughly 52% — due to the actions of former FBI Director James Comey.
Comey sent a letter 11 days before the election stating the FBI was reopening an investigation into her emails.
THIS IS HOW HILLARY CLINTON'S NEW BOOK IS DOING ON AMAZON
The failed presidential candidate claimed she was "distressed" at the thought that federal workers are being disregarded by the Trump administration in their respective fields, saying, for example, "North Korea: people who know the language, have the experience, they should be sitting in meetings with the highest levels of this administration providing advice."
She continued: "There is such a disdain for federal workers, so I would say if you can stick it out … at some point, the country is going to need you, and I hope you're still there."
And on the future, Clinton said she doesn't want the progress of today to be reversed.
"There's a lot to be proud of what people in the resistance are doing every day," Clinton said.
Fox News' Kristin Fisher contributed to this report.