Hillary Clinton criticized by fellow Dems for trashing female Trump voters
Democrats who typically fall into the Clinton camp are trashing the two-time failed presidential candidate for singling out white female Trump voters, blaming their ballots cast in 2016 on "pressure" from male figures in their lives.
From Democratic senators to even her former campaign manager, there is a seeming consensus across the board that even "sugarcoating" her comments this week don't make them any easier to swallow.
During former Secretary of State Hillary Clinton's appearance in India over the weekend, she claimed she lost the 2016 presidential race in part because white women didn't stand up to the men in their lives pressuring them to vote for Donald Trump.
"We do not do well with white men and we don't do well with married, white women," Clinton said. "And part of that is an identification with the Republican Party, and a sort of ongoing pressure to vote the way your husband, your boss, your son, whoever, believes you should."
HILLARY CLINTON BLAMES 'PRESSURE' FROM MEN FOR WHY WHITE WOMEN VOTED FOR TRUMP
She added: ""I won the places that represent two-thirds of America's gross domestic product. So I won the places that are optimistic, diverse, dynamic, moving forward. And his whole campaign, 'Make America Great Again,' was looking backwards."
Clinton's former 2008 presidential campaign manager Patti Solis Doyle didn't defend her remarks.
"Look this was bad. I can't sugarcoat it," Solis Doyle said on HLN this week. "She was wrong and clearly it's not helpful to Democrats going into the midterms and certainly not going into 2020."
Solis Doyle added: "She's put herself in a position where Democrats are going to have to distance themselves from these remarks and distance themselves from her, particularly those Democrats that are running in the states that Donald Trump won."
Like Sen. Claire McCaskill, D-Mo., who is up for re-election, come the midterms in November, in a state Trump won by 19 points.
"Those are kind of fighting words for me, because I'm partial to Missouri voters," McCaskill told The Washington Post. "I think they were expressing their frustration with the status quo."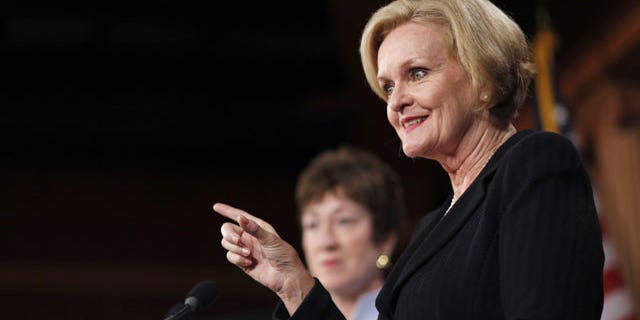 McCaskill added, defending voters in her state, "I may not have agreed with their choice, but I certainly respect them. And I don't think that's the way you should talk about any voter, especially ones in my state."
Sen. Sherrod Brown, D-Ohio, who is up for re-election in a state Trump won, also slammed Clinton.
"I don't really care what she said," Brown told the Huffington Post. "I just think that that's not helpful."
"I don't really care what she said. I just think that that's not helpful,"
But when asked for comment on her remarks, a Clinton spokesman simply referred Fox News to a study that supports Clinton's claim that women vote in their husband's economic interest--seemingly defending her comments.
Clinton has blamed a number of factors for her second presidential loss. Just last month, Clinton blamed "misogyny" and "old-fashioned sexism" for her loss. And in her memoir, "What Happened," Clinton faulted a range of factors—including voter ID laws, "Those Damn Emails," the "unprecedented intervention in our election" by former FBI director James Comey, and the "audacious warfare waged from the Kremlin."
Clinton also criticized women who did not vote but supported the Women's March on Jan. 21, 2017. In her book, she called that day "bittersweet."
Solis Doyle said she "would like to think" Clinton would not be "speaking that way" about voters if she were elected president.
"I think she is still coming to terms with the loss, and if I were in her shoes, so would I," Solis Doyle said. "I don't think the answer is to hush her up or, you know, take her away from the public view. I think she has a lot to offer."
CLINTON AGAIN BLAMES 'MISOGYNY' 'SEXISM' FOR 'WHAT HAPPENED' IN 2016
The Democratic National Committee did not respond to Fox News' request for comment on whether Clinton's remarks hurt the Democratic Party, and Democratic candidates up for re-election in states that Trump won in 2016.
But Clinton's longtime communications adviser Philippe Reines on Saturday said he understood "why that man [Trump] won in 2016."
"And I understand –I'm not terrified—but I understand why he may win again in 2020," Reines told The Hill.
Fox News' Alex Pappas contributed to this report.