Graham lauds Trump on North Korea, but says Russia 'running wild'
Republican Sen. Lindsey Graham, a military hawk and solid President Trump supporter, on Sunday gave the president a mixed review on recent foreign policy decisions -- suggesting the president indeed brought North Korea to the negotiating table, while disapproving of his plan to remove troops from Syria and allowing Russia to run "wild."
"I think the problem that Russia is running wild. Whatever we're doing, isn't working. The president for some reason has a hard time pushing back against Putin directly," Graham told "Fox News Sunday," in the aftermath of Russia apparently poisoning an ex-spy and his daughter in the United Kingdom and the release Friday of a video from the Russian government apparently showing the successful launch of an inter-continental ballistic missile.
The apparent assassination attempt has resulted in Russian diplomats being expelled in the United States and other countries, while Russia has countered by expelling foreign diplomats.
Graham, a former Air Force attorney and chairman of the Senate Armed Services Committee, on Sunday praised Trump for imposing austere economic sanctions on North Korea for leader Kim Jung Un's pursuit of a nuclear warhead and inter-continental missile on which to launch it.
'SATAN 2' NUCLEAR MISSILE AGAIN TEST-LAUNCHED BY RUSSIA, AS PUTIN BRAGS OF 'INVULNERABLE' ARSENAL
Graham said the president's "maximum pressure" campaign has paid off.
"The reason that North Korea is at the table is that this maximum pressure campaign against North Korea launched by the Trump administration where the world is beginning to follow has paid off," he said. "They're coming to the table because this hurts so much. Trump has called out Kim Jong-Un by name for being the tyrant he is."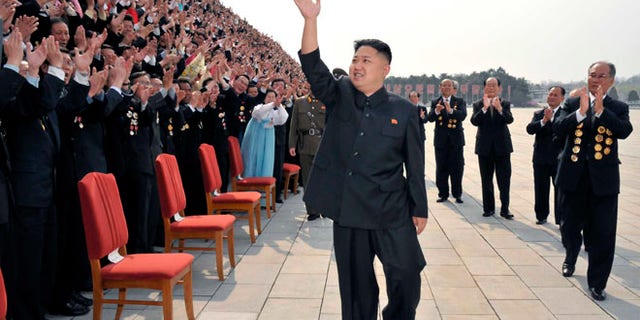 However, he cautioned about the outcomes or promises in the emerging North Korea-South Korea talks and suggested the meetings and a pending one between Trump and Kim is merely North Korea "buying time" to complete its nuclear arsenal.
In response to Trump saying on Friday that he'll get U.S. troops out of war-torn Syria "very soon," Graham said such a move would be "the single worst decision the president could make."
The once-power militant terror group the Islamic State, also known as ISIS, has now been largely defeated and driven out of Iraq and Afghanistan. In Syria, ISIS has been greatly reduced in territory, now mostly only occupying some space in the western part of the country, according to the BBC.
"We've got ISIS on the run," Graham said Sunday.