GOP Vows to Ramp Up Investigations of Obama Administration If It Wins House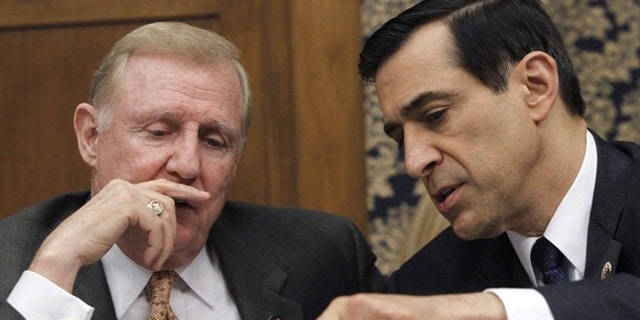 If Republicans regain control of the House in November, some have vowed to launch investigations into controversies that Democrats have tried to ignore, including the New Black Panther voter intimidation case and the activities of the community activist group ACORN.
"It's very clear that House Republicans are going to use their oversight powers when they elected. There's no question about it," said GOP strategist Ron Bonjean who is a former Capitol Hill aide.
Rep. Darrell Issa, R-Calif., has been pushing for an investigation of whether the White House unlawfully offered a job to Rep. Joe Sestak so he wouldn't run against Sen. Arlen Specter in the Democratic Senate primary in Pennsylvania.
Issa, the top Republican on the House Oversight and Government Reform Committee, said a clear reading of the laws suggests a crime has been committed.
"And I believe they committed a crime," Issa said.
Issa pushed for an investigation into the shenanigans at the Minerals Management Service long before the BP oil spill. He also pressed for a probe into the FDA and food safety prior to the recent egg recall.
Those inquiries are not partisan but Democrats warn their supporters that Republicans will go crazy if they win control of the House.
"It's pretty clear that a lot of them are chomping at the bit to do the kind of investigations ala Clinton-style impeachment hearing and I don't think people want to go back to that," said Rep. Chris Van Hollen, D-Md., chairman of the Democratic Congressional Campaign Committee.
Rep. Dan Burton went after the Clinton White House with a vengeance, using 1,052 subpoenas from 1997 t0 2002.
"There's a better use of our tax dollars than chasing partisan cheap shots using the power of the congressional subpoena," said Lanny Davis, who served in the White House legal counsel's office under President Clinton.
Bonjean said it's unlikely that Republicans will go after the Obama White House with as much intensity as they did in the 1990s because he argues the Clinton probes backfired on them when Clinton's popularity actually rose.
But Davis says both parties tend to overplay their hand, pointing to the three Democratic investigations of President Reagan's Labor secretary, Ray Donovan.
"Railroaded out of Washington, finally indicted and then acquitted in less than an hour, " Davis said.
So what would Republicans do if they regain control? Issa aides say he's not focused on skewering the Obama White House, that he and Republicans are focused instead on legitimate issues of oversight – to keep the federal bureaucracy from abusing its power.
"They don't want to come in there and yahoo it for the next two years and wait on the next presidential elections," said former Rep. Tom Davis, R-Va., who chaired the House Oversight and Government Reform Committee. "They have learned the lessons from '94."