GOP rivals claim Indiana Senate primary front-runner is actually 'lifelong Democrat'
Former Indiana state lawmaker Mike Braun is considered the favorite in the state's GOP Senate primary on Tuesday – but his primary rivals are both screaming from the rooftops that he's Republican-in-name-only.
"If the listeners get one thing out of this debate, I think it's important that they understand Braun is a lifelong Democrat," Rep. Luke Messer said in a recent campaign forum.
"We're not going to beat Joe Donnelly with a RINO," Rep. Todd Rokita said in a television ad, referencing the state's incumbent Democratic senator. "Mike Braun - he is a lifelong Democrat. He voted for Obama or Hillary."
These attacks are based on voting records indicating Braun voted in Democratic primaries until 2012.
According to the Indianapolis Star, between 1980 and 2012, Braun only asked for a GOP primary ballot in 1982.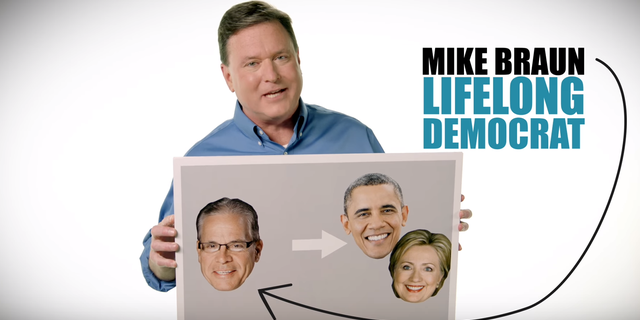 The Associated Press reported in December that Braun is listed in Republican National Committee voter databases as a "hard Democrat."
He was elected to the Indiana State House as a Republican in 2014.
Braun has responded by saying he is a conservative Republican, but he voted in past Democratic primaries to have a say in local races dominated by Democrats. His rivals have asked who he voted for in the 2008 Democratic primary race between Hillary Clinton and Barack Obama, but Braun claims he voted for neither.
"I never voted for a Democrat at the state or national level," Braun said at the local debate. "We did it solely to weigh in on our local races."
His campaign did not immediately return a request for comment Monday.
REPUBLICANS FIGHT TO WIN INDIANA SENATE SEAT HELD BY VULNERNABLE DEMOCRAT JOE DONNELLY
Indiana's Senate seat is seen as a top pick-up opportunity in the Senate for Republicans. President Trump carried Indiana by 19 points in 2016.
The Republican primary has been particularly nasty. The airwaves are filled with ads containing labels like liberal, fraud, swamp brothers – and Democrat. Rokita even published a children's book about one opponent, jabbing that Messer spends all his time in Washington and has forgotten about Hoosiers.
Democrats and Republicans suggest the candidates have done so much damage to each other they have taken a right-leaning state and given the Democrat a fighting chance.
Braun has been self-funding to the tune of around $6 million. Among other things his ads suggest is that he is an outsider, even though he served in the Indiana state legislature. He also claims Messer and Rokita are career politicians, indistinguishable from each other. In the heart of Trump country, each candidate claims he is most in-line with the president and most capable of supporting Trump in Washington.
Two days after the primary, one of the Republicans will share a podium in Elkhart for a rally with President Trump. Vice President Pence will join him to throw the weight of the executive branch behind the nominee.
Fox News' Michael Tobin contributed to this report.