GOP Operatives Prod Crist to Withdraw From Florida Senate Race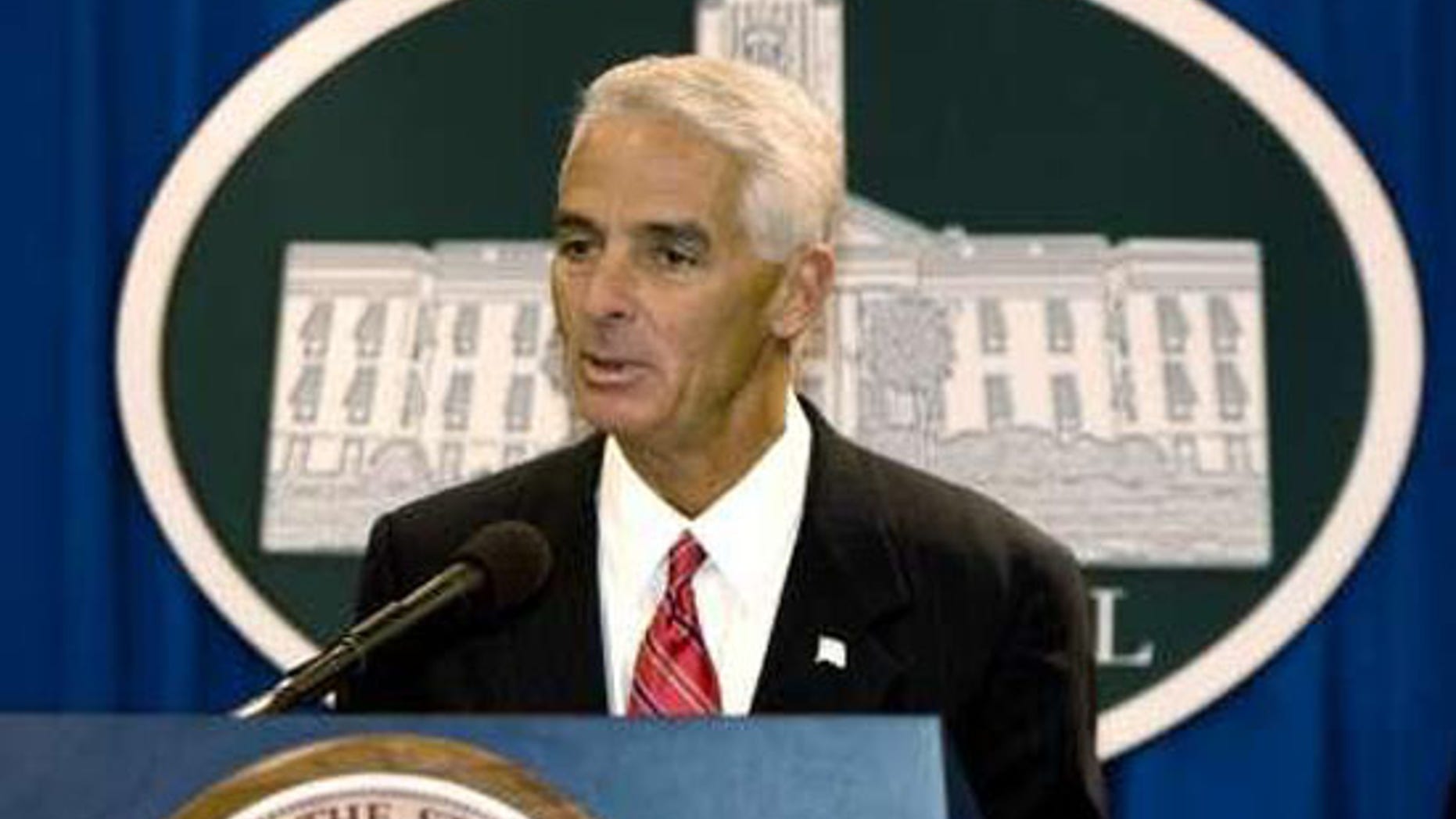 As talk of an independent run grows, Republican Gov. Charlie Crist is facing mounting pressure from his own party to withdraw his bid for the GOP nomination to the U.S. Senate and drop his Senate ambitions altogether.
A GOP official confirmed to Fox News late Monday that Republican operatives are actively trying to convince Crist to forgo an independent run if he opts to end his Republican bid against frontrunner Marco Rubio.
The National Republican Senatorial Committee, which had endorsed Crist last May, also indicated to the governor that it is in the party's best interest for Crist to withdraw from the Republican senatorial race.
"We believe there is zero chance Governor Crist continues running in the Republican primary," NRSC executive director Rob Jesmer said in a memo sent to party operatives.
Crist, who is trailing Rubio by double digits in recent polls, indicated that he's still weighing an independent run to replace Republican Sen. George LeMieux. The primary is Aug. 24 but Crist has until the end of the month to determine whether to stay on the GOP ballot.
"The law gives you until April 30 to make such a declaration and I'm going to take my time and be as thoughtful as I need to be," Crist said in an interview Monday with ABC Tampa affiliate WFTS. "I'm getting a lot of advice in that direction and I'm a listener so I'm certainly listening to it."
"It is our view that if Governor Crist believes he cannot win a primary then the proper course of action is he drop out of the race and wait for another day," wrote the NRSC's Jesmer. "Whether or not you supported our endorsement of Governor Crist, we all share the same goal of keeping the seat in Republican hands. To that end, if the Governor decides to run independent, regardless of any public commitments he makes regarding organization, we will support Marco Rubio in any way possible."
Jesmer said the NRSC had communicated its thoughts "indirectly" to Crist, saying the message would have been delivered directly to the governor had he returned a phone from NRSC Chairman Sen. John Cornyn.
Once lauded as the party's most "electable" candidate in the Florida Senate race, Crist has since seen a string of prominent Republicans throw their support behind Rubio.
Rep. Eric Cantor, the second-ranking Republican leader in the House, formally endorsed Rubio on Tuesday, praising the former Florida House speaker as a principled and trustworthy candidate.
"Marco is somebody who has demonstrated he is firm in his principles and his beliefs and he keeps his word," Cantor said in a press release Tuesday.
The Tea Party Express and FreedomWorks, two of the most visible factions of the Tea Party movement, have also thrown their support behind Rubio.
And former Massachusetts Gov. Mitt Romney, who endorsed Rubio, challenged Crist on Monday either to remain in the race as a Republican or drop out and support his opponent.
Crist's potential run as an independent may prove a viable choice in the general election, according to a poll released last week.
A Quinnipiac University survey found Crist winning 32 percent of the vote -- compared to Rubio's 30 percent and Democratic challenger Rep. Kendrick Meek's 24 percent -- if he ran unaffiliated.
Crist would win 30 percent of Republicans, 27 percent of Democrats and 38 percent of independent voters, according to the survey, while Rubio would receive 64 percent of GOP votes, 5 percent from Democrats and 29 percent of independents.
The poll, conducted April 8-13, surveyed 1,250 Florida voters and had a margin of error of +/- 2.8 percentage points.
Fox News' Trish Turner contributed to this report.