GOP endorsement sweepstakes gets rolling as Gowdy backs Rubio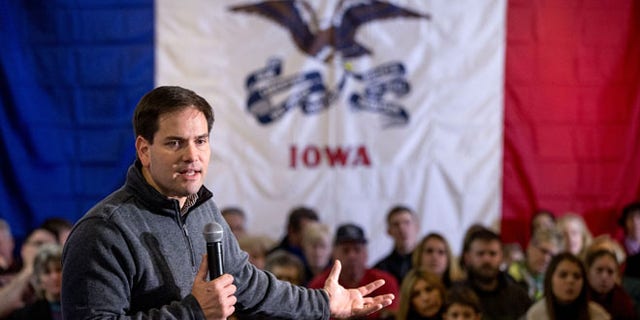 South Carolina Rep. Trey Gowdy threw his support behind Marco Rubio on Tuesday in what was arguably the biggest endorsement so far this primary season -- with other influential lawmakers still vetting candidates and perhaps trying to engineer a late-hour, game-changing announcement.
"I found hope in the son of a barkeep and housekeeper," Gowdy said at a town hall meeting in Clinton, Iowa. "I found my candidate. It's Marco Rubio."
Gowdy, chairman of the House Select Committee on Benghazi who represents the early-voting Palmetto State, said he's backing Rubio, the son of Cuban immigrants, largely on his strength and knowledge of national security and public safety issues.
"What good is freedom of speech if you're dead or living in fear?" Gowdy asked.
Rubio, third to Donald Trump in most national GOP primary polls, already has endorsements from fellow Republican Sens. Cory Gardner, of Colorado; James Risch, of Idaho; and Steve Daines, of Montana.
But the endorsement from Gowdy could make a bigger splash considering Gowdy's high profile on cable news and his leadership of the closely watched Benghazi committee.
"I can't tell you who to vote for," Gowdy told the audience members. "But I'm going to vote for Marco Rubio."
Kendra Stewart, a political professor at South Carolina's College of Charleston, doesn't expect Gowdy's backing to have a huge impact. But she argued endorsements generally help most in crowded fields, like this year's GOP lineup, and that Gowdy's appears strategically timed for the slower Christmas holiday season.
"It has been in the news cycle for two days," Stewart told FoxNews.com. "That's free media. Candidates get a lot, but Trump has dominated that."
She also pointed out that an endorsement from Gowdy, who is openly critical of the Washington political culture, is key in the 2016 anti-establishment environment.
"Candidates wouldn't be too excited with an endorsement by John Boehner or Mitch McConnell," Stewart said.
Several other Republican White House candidates also have picked up early endorsements, including former Florida Gov. Jeb Bush, who has the backing of Republican Sens. Orrin Hatch, of Utah, and Dean Heller, of Nevada.
Alabama GOP Sen. Jeff Sessions, a sharp critic of Obama administration immigration policy, would be a key GOP endorsement as the primary season moves across the South. He has appeared at campaign events for two GOP presidential contenders: Texas Sen. Ted Cruz and Trump, whom he has helped with immigration policy.
But Sessions, notoriously stingy with endorsements, has yet to announce his candidate of choice.
"A few people might be interested in how I would evaluate the candidates," Sessions told Roll Call in September. "I'm not going to go out and just jump out and start advocating for somebody that I'm not really sure represents the best for America."
Democratic front-runner Hillary Clinton appears to lead all 2016 candidates in the endorsement sweepstakes purportedly with 38 senators and 149 House members.
Rubio has steadily climbed in the GOP primary polls, reaching second place in early December behind Trump.
However, his numbers have since dropped slightly, and he is now in third place with 11.6 percent of the vote, behind Trump at 35.6 percent and Cruz at 18.6 percent, according to the RealClearPolitics average.