GOP Candidates For Governor Make Play For Latino Vote With Early Spanish Campaign Ads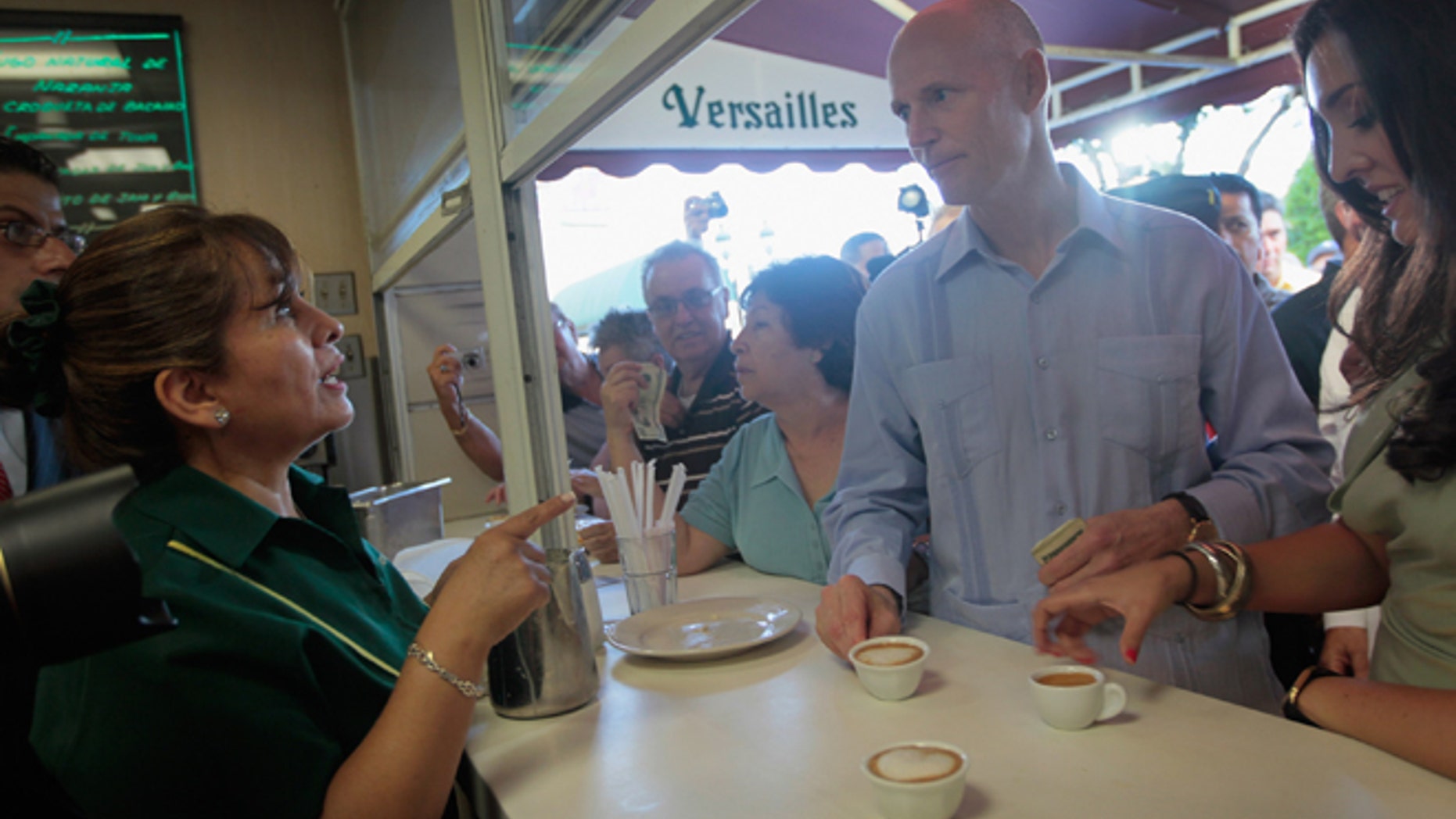 The message is a common one for a political campaign – the candidate had picked himself up from the bootstraps, and so he knew the value of being employed.
But the message is in Spanish, and the messenger is a Republican – Gov. Rick Scott, of Florida.
Scott began the Latino outreach much earlier than usual in such elections, taking the unprecedented step of courting Latinos a whole seven months before the November election.
Scott is just one of several Republican gubernatorial candidates focused on Spanish-language advertising, unusually early, in their re-election campaigns.
The others are New Mexico Gov. Susana Martinez, Texas Attorney General Greg Abbott, and Illinois' Bruce Rauner.
None of the candidates running against them, the Wall Street Journal said, have started advertising on television.
Underlying the assertive effort is the growth of the Latino population.
"You can expect to see many of our governors build their coalitions for re-election with multi-language ads and outreach," said Jon Thompson, a spokesman for the Republican Governors Association, according to the Journal.
Abbot began advertising in Spanish in early March – before he won the primary. Rauner took out Spanish-language ads last month and Martinez released her ads last week.
Martinez's ad campaign, entitled "Las Empresas Pequeñas" is a biographical spot about how her family started a security guard business – and she said as governor she'd fight for small businesses.
"We have to help them. That is something I will never forget," she says in the ad.
Scott, who like some of the other candidates, is drawing from his rags-to-riches experience to personalize his courtship effort, has put $500,000 into his ad campaign.
In 2010, Scott started advertising a month before the election. But he still managed to score the Latino vote, the newspaper noted.
Although this is not addressed in the ad, Scott supports allowing undocumented immigrants to attend public colleges at the same tuition rates as other residents of the state.
It marks a reversal from the 2010 primary, the Journal said, when Scott took a hard line on undocumented immigrants, backing a sweeping crackdown on them.
For their part, Democratic candidates are likely to prop up their support for a comprehensive immigration reform law that would include a pathway to citizenship for undocumented immigrants.
"Republican Congress's failure on this bipartisan priority will come back to haunt them this fall," said Rep. Steve Israel, chairman of the Democratic Congressional Campaign Committee, said in a written statement, according to the Journal.
Follow us on twitter.com/foxnewslatino
Like us at facebook.com/foxnewslatino