GOP candidate for California governor goes homeless to show economic gap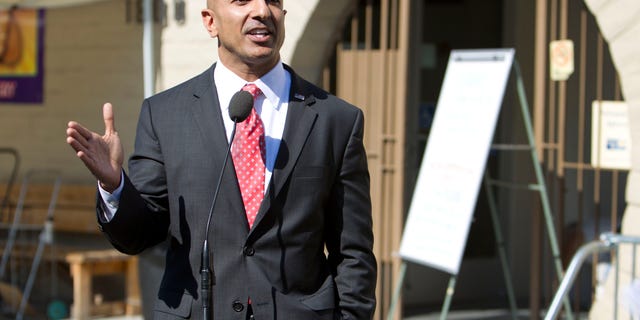 SACRAMENTO, Calif. – The Republican candidate for California governor said Thursday he spent a week living as a homeless person in Fresno to highlight the disparity between the governor's claim that the state is making an economic comeback and the reality faced by the working poor.
Neel Kashkari, a millionaire and former Goldman Sachs banker who is far behind Gov. Jerry Brown in pre-election polls, released a short documentary about the six nights he spent sleeping in parking lots and on park benches, and wrote about his experience in an opinion piece published in the Wall Street Journal.
Kashkari, 41, said he had hoped to find work and stay in low-priced motels, but he was turned away from dozens of businesses where he offered to wash dishes, sweep floors, pack boxes and cook meals after taking a bus from Los Angeles to Fresno with $40 in his pocket. He eventually turned to a homeless shelter for food.
Kashkari acknowledged that his experiment gave him "just a taste" of the struggles faced by poor people and said he could not truly understand their plight because he knew his situation was only temporary.
Still, he said he wanted to force a discussion about poverty.
"Gov. Brown is not talking about poverty," Kashkari said at a news conference outside a Sacramento food bank. "He's not talking about unemployment in our state. He's not talking about our failing schools. He's declared a California comeback."
Kashkari, a former U.S. Treasury official who helped lead the federal bank bailout at the height of the recession, also criticized the media for failing to challenge Brown, a Democrat, about endemic poverty in some parts of the state amid an economic boom in places such as Silicon Valley.
Dan Newman, a spokesman for Brown's campaign, said he was having difficulty reconciling Kashkari's "bizarre campaign stunt" with his assistance for big banks.
"If one truly cared about the homeless and had $700 billion to spend, would he give it all to big banks and ignore families struggling to stay in their homes?" Newman wrote in an email.
California's unemployment rate fell to 7.3 percent in June, higher than the national average of 6.1 percent, but it remains at 9.8 percent in the Central Valley city of Fresno. Still struggling with fallout from the recession, the Central Valley has also been hit hard by the state's epic drought, which has fallowed fields and left many day laborers without work in the region.
Asked for specifics on his plan to solve poverty in California, Kashkari said he would try to create jobs through "pro-growth economic policies" such as fewer regulations, investing in an overdue water storage solution, allow greater development of oil and natural gas resources and bring back manufacturing jobs.
Kashkari is considered a longshot against the 76-year-old Brown, who is seeking an unprecedented fourth term as governor after first serving from 1975 to 1983.
A poll earlier this month found Kashkari trailing Brown by 19 points and the race so far has generated only sporadic public interest.
Kashkari said he walked for miles with a backpack, change of clothes and toothpaste in 100-degree heat searching for work. He said he showered once and was awakened five of the six nights by security guards or police asking him to move on.
He said he was committed to finding a job and had to change his focus about halfway into the experiment as his money was running out.
"It was find a job, find a job, find a job. And then it switched: I've got to find food," he said. Aaron McLear, a spokesman for the campaign, said Kashkari later donated $500 to the homeless shelter that gave him food.