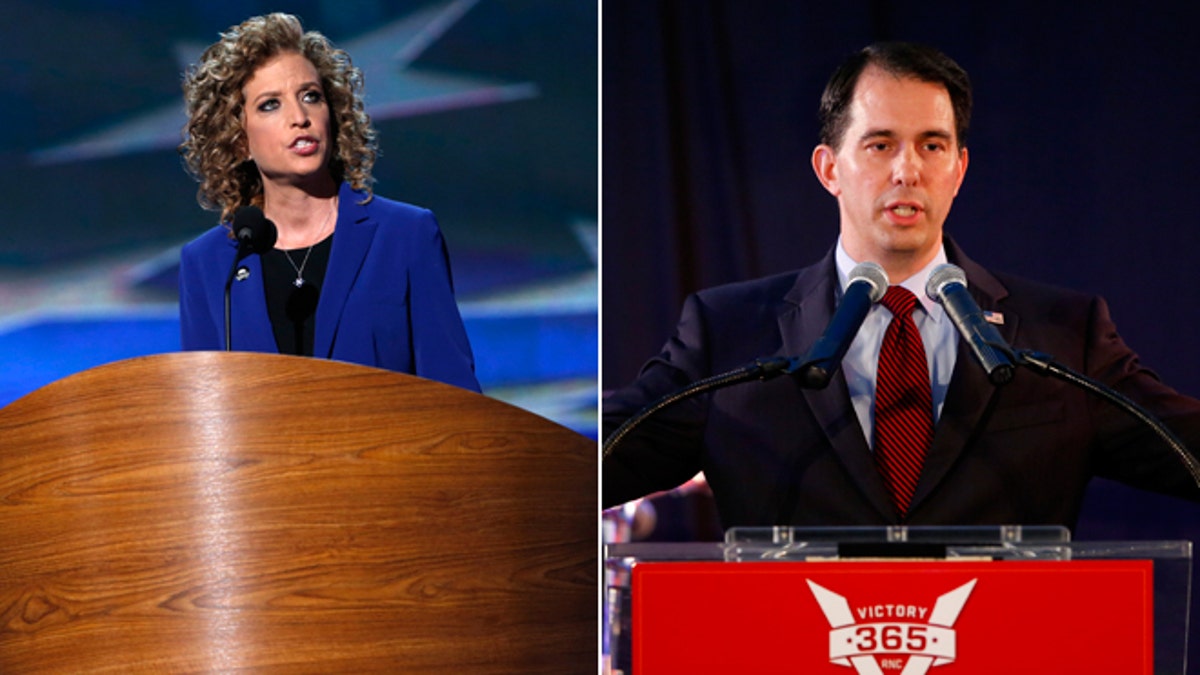 Republicans say Democratic Party head Debbie Wasserman Schultz crossed a line on Wednesday after she used graphic terms to criticize Wisconsin GOP Gov. Scott Walker's policies toward women – at one point claiming the governor is giving "women the back of his hand."
Wasserman Schultz, chairwoman of the Democratic National Committee, made the comments during a discussion on women's issues in Milwaukee. According to the Milwaukee Journal Sentinel, she said: "Scott Walker has given women the back of his hand. I know that is stark. I know that is direct. I know that is reality."
She didn't stop there. According to the Journal Sentinel, she added: "What Republican tea party extremists like Scott Walker are doing is they are grabbing us by the hair and pulling us back. It is not going to happen on our watch."
The Republican National Committee swiftly condemned the comments and urged Walker's general election opponent Mary Burke to do the same.
"This is a sad attempt to gain political points that's offensive to victims of abuse and well beneath the chair of a major political party," RNC spokeswoman Kirsten Kukowski said in a statement. "It's a new low for an already flailing Democrat Party. Mary Burke should denounce the leader of her party or explain why she's standing by as Democrats mislead Wisconsin voters."
Reached by FoxNews.com, Burke spokeswoman Stephanie Wilson said of Wasserman Schultz's comments: "That's not the type of language that Mary Burke would use, or has used, to point out the clear differences in this contest."
"For the last 11 months of this campaign, and in the final 9 weeks left to go, Mary is committed to pointing out those clear differences -- there is plenty that she and Governor Walker disagree on -- but those disagreements can and should be pointed out respectfully," Wilson said.
A spokeswoman for the DNC told FoxNews.com that Wasserman Shultz was not trying to minimize the seriousness of domestic violence.
"Domestic violence is an incredibly serious issue and the Congresswoman was by no means belittling the very real pain survivors experience," Lily Adams said. "That's why Democrats have consistently supported the Violence Against Women Act and won't take a lesson from the party that blocked and opposed its reauthorization. The fact of the matter is that Scott Walker's policies have been bad for Wisconsin's women."
Burke, a businesswoman, and Walker are locked in one of the tightest gubernatorial contests of the year. The stakes are high, with Democrats eager to settle an old score against the incumbent governor after failing to oust him during a recall election largely driven by his support for a major union crackdown in the state. Walker is also considered a potential 2016 presidential candidate.
Recent polls have shown Burke and Walker trading the lead. A Marquette University poll in late August showed Burke up by 2 percentage points. A Rasmussen Reports poll issued a few days earlier had Walker up by a single point.
In her comments on Wednesday, the head of the DNC reportedly was criticizing Walker's opposition to a minimum wage increase – as well as his support for a bill to prevent those facing employment discrimination from seeking damages in state court.