Goodwin Liu Withdraws Appeals Court Nomination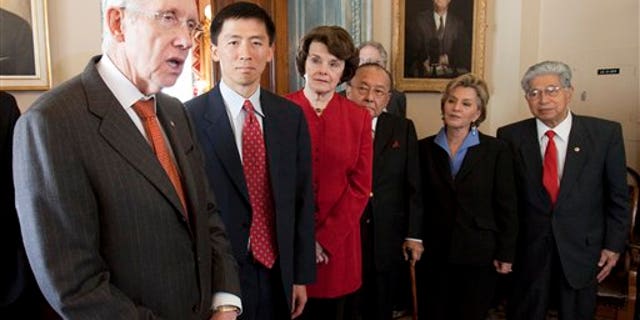 WASHINGTON – A liberal legal scholar at the heart of the debate over judicial activism on Wednesday asked President Obama to withdraw his nomination for a position as an appeals court judge after Senate Republicans blocked a vote on his confirmation last week.
Goodwin Liu, 40, wrote in a letter to President Obama that "with no possibility of an up-or-down vote on the horizon, my family and I have decided that it is time for us to regain the ability to make plans for the future."
Democrats failed to come up with the 60 votes they needed to end a Republican filibuster that included several senators, including Sen. John McCain, R-Ariz., who previously had pledged not to filibuster judicial nominees except under extraordinary circumstances.
"It is now clear that continuing my nomination will not address that need any time soon," Liu wrote.
Obama nominated Liu, a law professor at the University of California at Berkeley, to the San Francisco-based 9th U.S. Circuit Court of Appeals last year. Liu was seen as potentially the first Asian American Supreme Court nominee, and time as an appeals court judge would have burnished his credentials.
His nomination cheered liberal interest groups, but aroused strong opposition from Republicans who objected to his record and criticism of Supreme Court justices.
Sen. Chuck Grassley, ranking member of the Senate Judiciary Committee, said Liu was not a "consensus" nominee to fill the vacancy.
"I hope the president accepts Mr. Liu's request so we can finally move forward with a consensus nominee who reflects the mainstream of American views, respects the rule of law and the Constitution, and has an appropriate judicial temperament," Grassley said in a statement. "As I have pledged and demonstrated, I will work with the president and the majority to confirm such a nominee."
Liu had previously stated that Justice Samuel Alito's vision was an America "where police may shoot and kill an unarmed boy ... where federal agents may point guns at ordinary citizens during a raid, even after no sign of resistance ... where the FBI may install a camera where you sleep ... where a black man may be sentenced to death by an all-white jury for killing a white man, absent ... analysis showing discrimination."
During his confirmation hearing, he Liu described his statement as inappropriate and "unduly harsh," and added, "If I had it to do over again I would have deleted it."
With a stalemate over Liu over, the Senate may be able to move onto some of the other 47 nominees presented by Obama to fill 86 vacancies on the federal courts.
In the letter to Obama, Liu said the 9th Circuit, including California and several other Western states, has a "desperate need for judges."
The Associated Press contributed to this report.