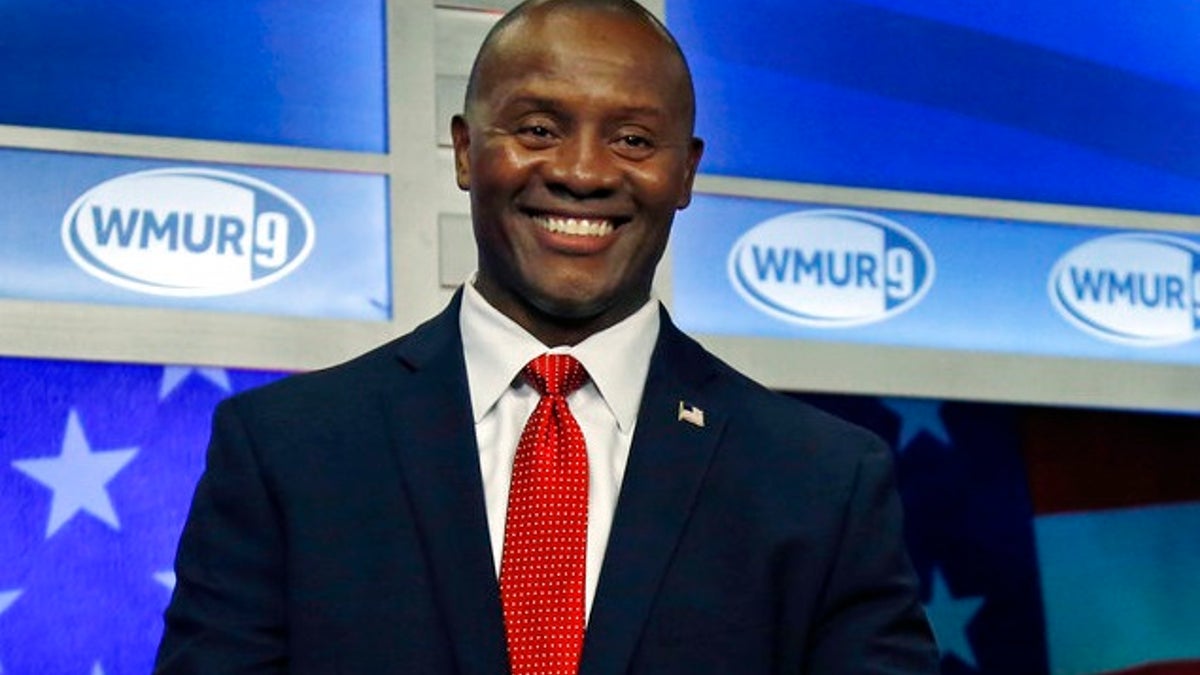 A Rudy Giuliani-backed congressional candidate seeking to make history as New Hampshire's first black congressman emerged from a crowded field to win the state's GOP primary on Tuesday, as Sen. Bernie Sanders' son was trounced by a large margin in the Democratic contest.
Eddie Edwards, a Navy veteran, won convincingly over state Sen. Andy Sanborn, who had the endorsement of Kentucky Republican Sen. Rand Paul.
Giuliani called Edwards a "strong conservative who believes in low taxes and is a supporter of the 'America First' agenda of President Trump."
The contest -- for a critical seat Republicans hope to flip in November -- was a brutal, highly personal slugfest. Sanborn has been accused of making a sexually explicit comment to a Statehouse intern in 2013 and allegedly frequently commented on an aide's dress and appearance. Sanborn has denied the accusations, calling them a "witch hunt."
During a surreal party-organized debate last month, Edwards was even asked to step off the stage – amid chants and screams from supporters of both candidates – after refusing to pledge to support the eventual nominee if Sanborn won the primary.
While the effects of Giuliani's endorsement were unclear, candidates backed by President Trump and his administration have proven to be powerhouses ahead of the midterms, after wins by Brian Kemp in Georgia, Troy Balderson in Ohio, Ron DeSantis in Florida, and Katie Arrington in South Carolina, among others.
Edwards has said the "president's doing one hell of a job in Washington" and "it's about time we had a president who understood the values of our country and stood up for our country."
There had not been an open seat in New Hampshire's 1st Congressional District in more than 16 years, and fittingly, 16 candidates vied on Tuesday to fill it, including 11 Democrats and 5 Republicans. The district, which Fox News ranks as leaning Democratic in November, is considered a key potential battleground in November and a rare opportunity for the GOP to snatch a blue seat.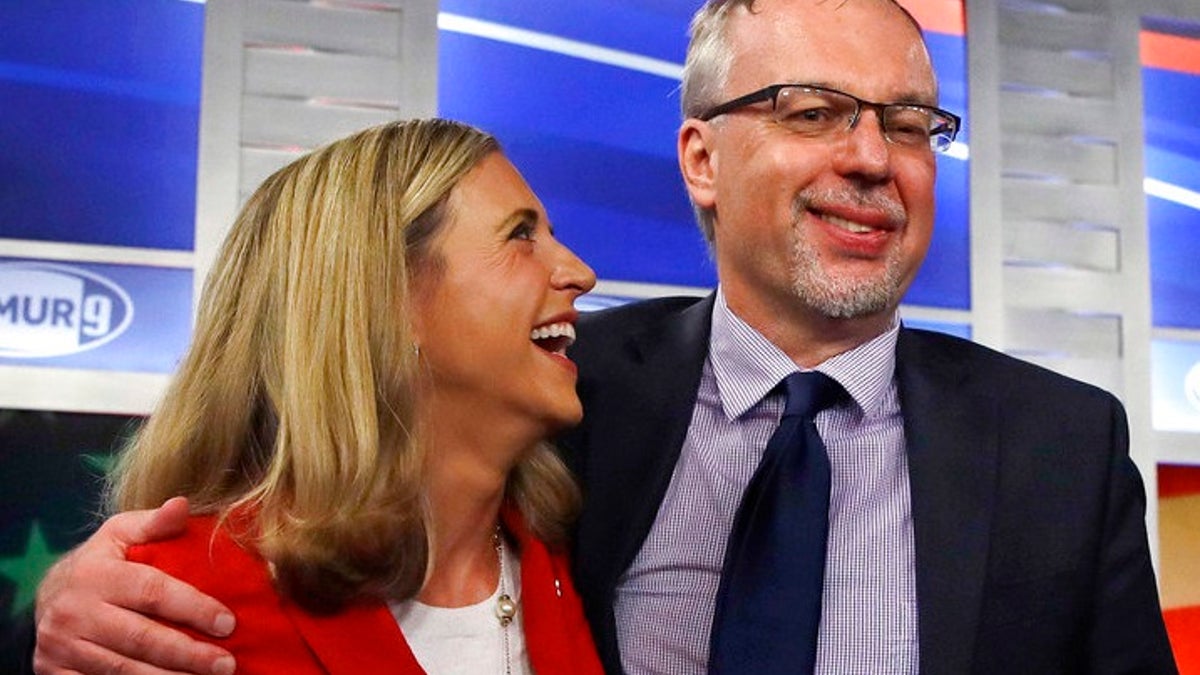 GOP SEES GLIMMER OF HOPE IN ROWDY, NASTY NH HOUSE PRIMARY RACE
Democratic Rep. Carol Shea-Porter's retirement "makes the seat a true jump ball," Republican consultant Ryan Williams said.
In 2016, the district backed Donald Trump, leading Edwards to call it "his district." However, also in 2016, the district re-elected Shea-Porter, who is stepping down after four terms.
On the Democratic side, Chris Pappas, a former state lawmaker who is serving his third term on the governor's Executive Council, won the party nod. Pappas, who is openly gay, topped Maura Sullivan, a U.S. Marine and Iraq War veteran who served in the Department of Veterans Affairs and at the Pentagon during the Obama administration.
Both finished well ahead of Sanders' son, 49 -year-old Levi, who did not pick up his father's endorsement. Levi explained, "In the Sanders family, we don't 'do' dynastic politics."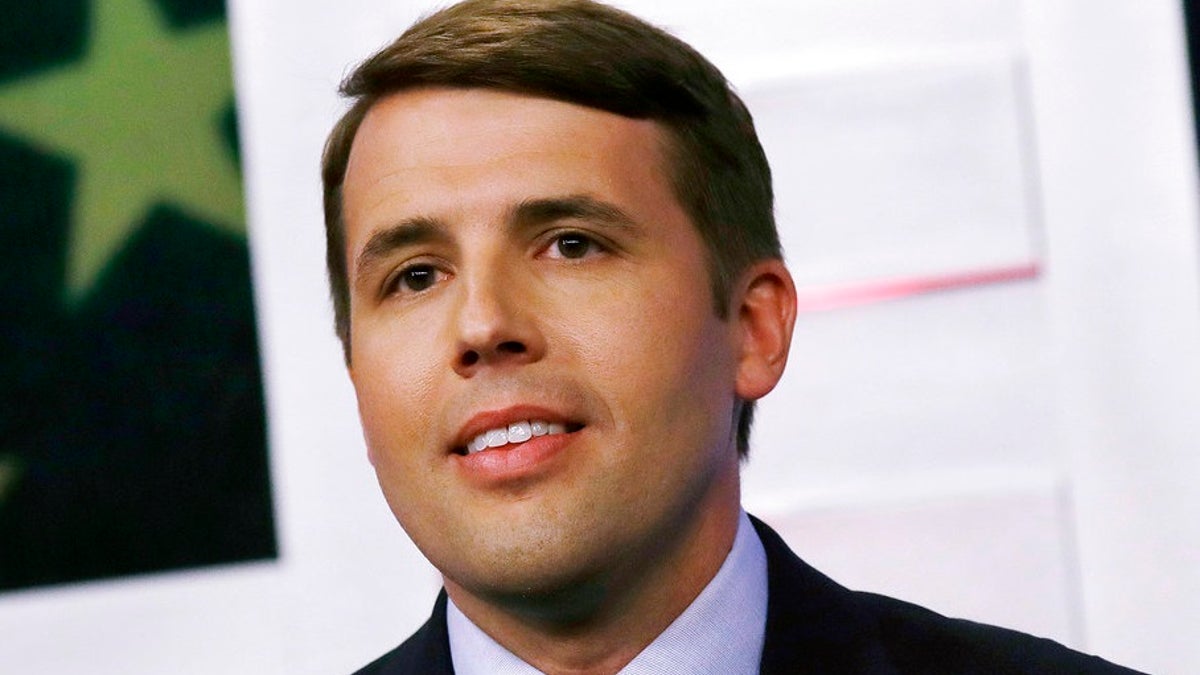 In early results, Sanders had picked up less than three percent of the vote in New Hampshire, which his father won by double-digits in the 2016 Democratic presidential primary.
The younger Sanders' platform included Medicare-for-all and a higher minimum wage, but he was criticized during the race for living not only outside of the district, but also out of the state's political mainstream.
SOCIALIST TORCHBEARERS FLAME OUT NATIONALLY, DESPITE HIGH-PROFILE BERNIE SANDERS ENDORSEMENTS
New Hampshire is host to another House primary on Tuesday, for the 2nd Congressional District, held by incumbent Rep. Annie Kuster, a Democrat, who didn't face a primary challenger. The seven Republicans vying to take her on in November all vocally supported Trump and his agenda.
In the New Hampshire gubernatorial primary, first-term Republican Gov. Chris Sununu has sailed through the primary unopposed. The GOP currently holds the governorships of four out of six states in the deep-blue New England region, including Vermont, Maine and Massachusetts. New Hampshire had a Democratic governor for more than a decade before Sununu took office in 2016.
Hoping to help the Democrats make a dent in the Republican hold on the region's governorships were former state Sen. Molly Kelly and former Portsmouth Mayor Steve Marchand, considered an outsider candidate. Kelly won convincingly on Tuesday, by a margin of 66 percent to 34 percent, and is set to face Sununu in November.
Kelly emphasized her experience as a single mother who raised three children while putting herself through college. While Marchand touted his progressive plans, Kelly said she has the track record to prove it on issues such as support for public education, women's rights and gun safety. She accused Sununu of pandering to the Trump administration with his support of a school voucher bill that ultimately failed.
Accustomed to going first in the presidential primary, New Hampshire voters are among the last to nominate candidates for November, with Rhode Island and New York holding the nation's last primaries later this week.
Fox News' Kaitlyn Schallhorn, Paul Steinhauser and The Associated Press contributed to this report.