Georgia runoff: Cagle-Kemp fight scrambled by secret tapes, late Trump endorsement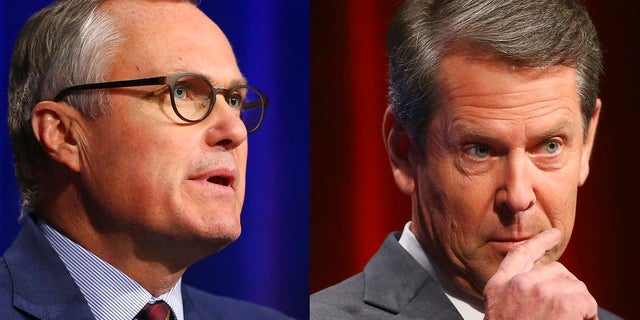 Georgia's voters on Tuesday will select one of two Trump-supporting candidates as the Republican nominee for governor, capping off an electric race rocked by a slow burn of secretly recorded tapes and eye-catching advertising, as well as a sudden and unexpected endorsement by the president himself.
Georgia Secretary of State Brian Kemp and Lt. Gov. Casey Cagle are locked in a contentious primary runoff, with both vying to position themselves as the true Trump conservative. The two have emerged from a crowded field of candidates, though neither won more than 50 percent of an earlier vote to avoid the July 24 runoff.
Kemp, who has called himself a "politically incorrect conservative," made headlines in May for running an advertisement boasting that he has a pick-up truck "in case I need to round up criminal illegals."
Trump unexpectedly weighed in on the race last week, tweeting his "full and total endorsement" for Kemp. Trump's endorsement reportedly caught Kemp, who was in a press conference at the time, by surprise.
WHO ARE KEMP AND CAGLE? A CLOSER LOOK AT THE TWO CANDIDATES
Speaking to Fox News on Monday, Kemp said Georgia is a solid-red state that needs an "unapologetic conservative."
"We need a nominee that's going to keep the base fired up and keep Georgia red as it's been," Kemp said. He called Trump's endorsement on Wednesday "huge," and compared it to "pouring gasoline on a fire."
Meanwhile, Cagle's candidacy has been thrown off-kilter by the release of several furtively-recorded audio tapes, including one in which Cagle allegedly offers to help pay off former gubernatorial candidate Clay Tippins' $300,000 in campaign debt in exchange for an endorsement.
"I'm well aware that we walked away from $300,000," Tippins said. "It's the best $300,000 we've ever walked away from."
Cagle denied the allegations, saying he never offered a bribe for any reason and saying he was tiring of "antics" in the race.
In another secretly recorded tape, Cagle seemed to disparage some of his constituents, saying the race was about "who had the biggest gun, who had the biggest truck and who would be the craziest."
Vice President Mike Pence made his presence felt Saturday in the race, headlining a rally for Kemp, whom he called "tough on crime" and "strong on borders."
WATCH: CAGLE DISCUSSES THE INCREASINGLY HOT PRIMARY RACE IN GEORGIA
One of the largest reactions from the crowd in Macon came when Pence trumpeted strong support for U.S. Immigration and Customs Enforcement (ICE).
"Leading liberal Democrats in the country said they want to abolish ICE," Pence said. "Abolish them!" a member of the crowd yelled back.
"We will never abolish ICE," Pence said to applause from the crowd.
Kemp and Cagle are both seeking to stake out conservative positions on the coattails of Trump, each frequently evoking the president's name in television ads, stump speeches and debates. And Trump on Saturday tweeted anew that Kemp has his "full endorsement," saying "He will be a GREAT governor!"
Cagle, for his part, was making the rounds in northern Georgia on Saturday. He attended an early meet-and-greet in Cleveland, Ga., and another event in Hiawassee, near the North Carolina border.
"It's always good to be back ... in Cleveland. This is our third time during this election cycle & I know we'll be back soon. Especially with the great advertising on the sign! Proud to be supported by the Sheriff, Commission Chair, and Senator," Cagle tweeted.
The winner of Tuesday's Republican contest faces Democrat Stacey Abrams in the general election in November. Abrams is seeking to become the first black female governor in the U.S.
Pence's appearance in Georgia followed a stop earlier in the day in Tennessee, where Pence touted Republican tax cuts and campaigned with two GOP congresswomen waging tough campaigns for statewide offices.
In an appearance in Cleveland, Tenn., Pence praised U.S. Reps. Diane Black and Marsha Blackburn, who joined the rally and are hoping to lead Tennessee's statewide GOP ticket this fall. Trump has endorsed Blackburn in her bid for the U.S. Senate from Tennessee but has not formally backed a candidate in that state's GOP primary for governor, where Black is one of four leading contenders.
The Associated Press contributed to this report.