Georgia candidate Kemp triggers uproar with shotgun ad
Georgia gubernatorial candidate Brian Kemp has triggered an uproar with a campaign ad that shows him pointing a shotgun toward a young man -- who supposedly wants to date his daughter but first has to recite Kemp's campaign platform.
Kemp, Georgia's Republican secretary of state, aired the commercial on local stations. Viewers reportedly called the ad offensive, but the campaign has stood by the spot.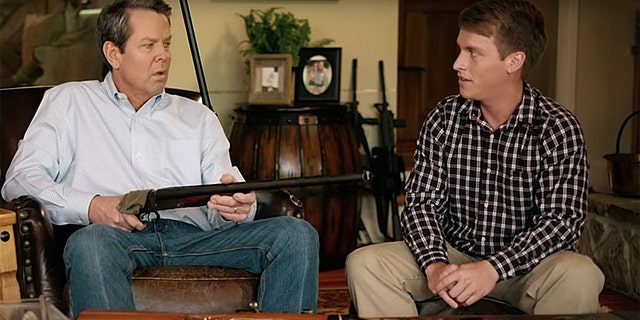 The ad, titled "Jake," shows Kemp sitting in a living room holding a double-barrel shotgun next to an actor named "Jake."
"I'm Brian Kemp. This is Jake. Young man interested in one of my daughters," Kemp says. "Jake asked why I was running for governor."
Jake responds with a list: "cap government spending," "take a chainsaw to regulations," and "make Georgia number one for small business."
Kemp then says, "And two things if you're going to date one of my daughters," while tightly holding the shotgun.
"Respect," Jake replies. "And a health appreciation for the 2nd Amendment sir."
Kemp lifts the gun and points it at a somewhat-nervous Jake.
"We're gonna get along just fine," Kemp says, lowering the shotgun.
The ad is a riff on countless online videos and photos portraying an over-protective father warning a young man interested in dating his daughter. Former NFL kicker Jay Feely last month took a photo with one hand on his daughter's shoulder, and the other holding a handgun close to her prom date. Feely said he posted the photo on Twitter as a joke, but faced similar criticism as Kemp.
Viewers of the Kemp ad have complained to local stations, like NBC Atlanta, with some reportedly calling the ad "very inappropriate" and urging the station to refuse to air it.
But the Federal Communications Commission's political broadcast rules prohibit stations from refusing to air, or altering, ads from any qualified candidate. Television stations also are barred from censoring or altering the content of any political ad.
Kemp's spokesman said in a statement to NBC Atlanta that Kemp "loves his daughters, values our 2nd Amendment rights, and will be an unapologetic fighter for our families as Georgia's next governor."
"The liberal media and radical, left-wing activists - who have probably never even held a firearm - are freaking out and creating fake controversy. The real problem they have with me is my unapologetic support of our 2nd Amendment rights and common sense, conservative policies," Kemp said in a statement to Fox News.  "As Secretary of State, I stood firm against these crazy agitators when implementing voter ID and citizenship check laws, and I will continue to fight for Georgia values and Georgia families as the Peach State's next governor."