George H.W. Bush gets special visitor at hospital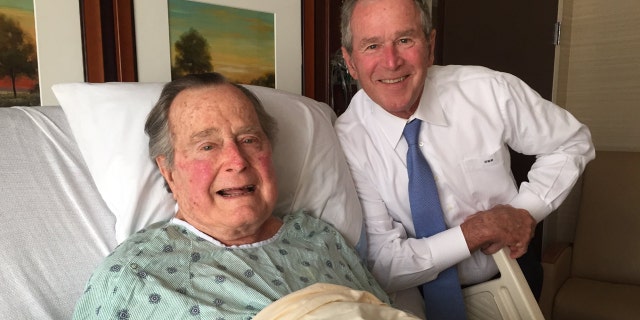 NEWYou can now listen to Fox News articles!
Former President George H.W. Bush remains under care at a Houston hospital, but got a special visitor on Thursday.
Bush, 92, received a visit from his son George W. Bush, the nation's 43rd president.
"Big morale boost from a high level delegation. No father has ever been more blessed, or prouder," H.W. Bush tweeted.
Earlier on Thursday, a spokesman for Bush said he was spending another day at the hospital where he's under observation after recovering from a mild case of pneumonia.
GEORGE H.W. BUSH REMAINS IN HOSPITAL AFTER BOUT WITH PNEUMONIA
Family spokesman Jim McGrath reported no changes on Thursday. On Wednesday, Bush was said to be gaining strength and in good spirits.
He was admitted to Houston Methodist Hospital last Friday for treatment of a persistent cough and doctors determined he had pneumonia. Physicians said the illness was treated and has been resolved.
He spent 16 days in the hospital in January for treatment of pneumonia. Days after his release, he participated in the coin flip at the Super Bowl in Houston.
Bush served as president from 1989 to 1993.
The Associated Press contributed to this report.