General says poor leadership is biggest problem for Afghans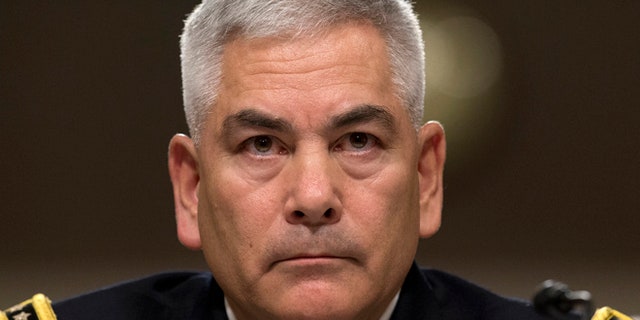 WASHINGTON – The top American commander in Afghanistan told Congress on Tuesday that most of the problems facing the Afghan security forces stem from poor leadership.
Testifying before the House Armed Services Committee, Army Gen. John F. Campbell said the Afghan National Army has replaced 92 general officers, including a high-level commander in volatile Helmand province.
The Afghan interior ministry is still "lagging behind" in making leadership changes, he said. U.S. forces are "taking steps to remedy this through our train, advise and assist mission," Campbell said. He cautioned that the institutional changes that are required will take time.
Campbell's testimony comes as lawmakers are growing skeptical amid concerns that worsening security conditions demand a greater number of U.S. forces to ensure the gains made in the war-torn country since 2001 aren't lost.
President Barack Obama plans to cut American troops numbers from the current 9,800 to 5,500 before he leaves office. Obama backtracked from his initial plan to reduce the force to 1,000 by the end of 2016.
Afghanistan "is at an inflection point," Campbell told the committee. "I believe if we do not make deliberate, measured adjustments, 2016 is at risk of being no better, and possibly worse, than 2015."
"Ultimately, Afghanistan has not achieved an enduring level of security and stability that justifies a reduction in our support in 2016," Campbell said. He called Obama's decision to maintain the U.S. force at 9,800 through most of 2016 "welcome and important."
Campbell is expected to retire soon and Obama has nominated Army Lt. Gen. John Nicholson, Jr., to replace him.
Republicans have long assailed Obama's exit strategy, arguing that conditions on the ground in Afghanistan, not a calendar, should determine the pace of the withdrawal. With the Taliban staging new offensives and the Islamic State extremist group seeking a presence in Afghanistan, congressional Democrats also are raising the prospect of an extended stay.
Rep. Mac Thornberry, R-Texas, the committee's chairman, noted that the reductions in force have reduced the capability to gather intelligence on looming threats. "It is harder to keep up with the enemy and prevent another attack on our homeland," Thornberry said. He said he is concerned Campbell does not have the resources and authority he needs.
Campbell said Islamic State militants continue to conduct brutal attacks against civilians, and directly compete with the Taliban for resources to establish a foothold in the country." But he said U.S. forces have had considerable success in "degrading their capabilities."
While campaigning for his second term, Obama promised the war in Afghanistan would end on his watch. At the end of 2014, the White House declared an end to combat operations there. Yet American forces and money remain committed as Afghan troops and police slowly take over the fighting.
The mission of the U.S. troops in Afghanistan is to conduct counterterrorism operations and to train and assist the Afghan security forces. Nicholson assured the Senate Armed Services Committee during his confirmation hearing last week that he would do a thorough review to make sure there are enough American forces to accomplish both assignments.
Nicholson acknowledged, however, that security conditions are worsening in Afghanistan. The Afghans held their own in 2015 during combat against the insurgency, he said, but are still not self-sustaining. The U.S. continues to provide the bulk of the money to train and equip the Afghan military and police -- more than $4.1 billion was allotted in fiscal year 2015 alone to the Afghanistan Security Forces Fund, according to the Defense Department.
"The Taliban came at the (Afghan forces) more intensely than perhaps we anticipated," Nicholson said. "Because of that, we did not make the advances we projected we thought we would make."
Overall, the U.S. has committed $113 billion since 2002 for reconstruction projects in hopes of establishing a stable, functioning Afghan government. Yet, nearly 15 years later, Afghanistan still lacks the capacity to independently operate and maintain the hospitals, roads, power plants, and more built with all the money.