Gary Cohn, WH chief economic adviser, announces resignation hours after signaling he won't back tariffs
White House national economic council director Gary Cohn will resign from his post, the White House confirmed Tuesday, in yet another high-profile departure from the Trump administration in recent weeks.
Cohn, who served as President Trump's chief economic adviser since the beginning of the administration, opposed Trump's planned tariffs on imports of steel and aluminum, first announced last week, and reportedly tried getting the president to change course. Hours before his resignation was announced, Trump set a "line in the sand" asking Cohn if he would support the tariffs -- and Cohn did not answer, a White House official and an outside adviser to the president told Fox News.
Cohn had been discussing with the president his transition out of the White House for several weeks.
"It has been an honor to serve my country and enact pro-growth economic policies to benefit the American people, in particular the passage of historic tax reform," Cohn said in a statement to Fox News. "I am grateful to the President for giving me this opportunity and wish him and the Administration great success in the future."
White House officials told Fox News that Cohn's departure date is to be determined, but it's expected to be a few weeks from now. Trump tweeted Tuesday night: "Will be making a decision soon on the appointment of new Chief Economic Advisor. Many people wanting the job - will choose wisely!"
Trump's questioning of Cohn earlier Tuesday was reported first by Bloomberg.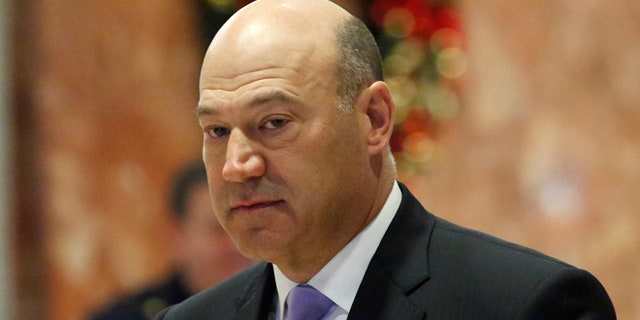 Cohn's policy portfolio included tax and retirement, infrastructure, the financial system, energy and environment, healthcare, agriculture, global economics, international trade and development, and technology, telecommunications and cybersecurity.
Cohn helped to advance the president's deregulatory agenda, and to organize his participation in the World Economic Forum in January 2018.
"Gary has been my chief economic advisor and did a superb job in driving our agenda, helping to deliver historic tax cuts and reforms and unleashing the American economy once again," Trump said in a statement. "He is a rare talent, and I thank him for his dedicated service to the American people.
White House Chief of Staff John Kelly said Cohn served his country with "great distinction" and dedicated his "skill and leadership to grow the U.S. economy" and "pass historic tax reform."
"I will miss having him as a partner in the White House, but he departs having made a real impact in the lives of the American people," Kelly said in a statement Tuesday.
Over the summer, Cohn reportedly drafted a resignation letter, following the president's response to the violence in Charlottesville, Va.
Cohn's White House departure comes just one week after White House Communications Director Hope Hicks resigned from her post, after serving for several months.
Tuesday afternoon, the president pushed back against news reports of a dysfunctional West Wing, saying that "everybody wants to work in the White House."
"I like conflict," Trump said in a joint press conference with Swedish Prime Minister Stefan Lofven, noting that the West Wing has "tremendous energy" and that the White House is a "great place to be working."
TRUMP ON TURBULENCE IN THE WEST WING: 'I LIKE CONFLICT' 
"Many, many people want every single job," Trump said, adding that "there will be people that change," but said, "Believe me, everybody wants to work in the White House. They want a piece of the Oval Office, they want a piece of the West Wing."
The Trump administration has seen plenty of turnover in its first 14 months. Last month, Hicks stepped down; a senior communications official who worked closely with Jared Kushner and Ivanka Trump, Josh Raffel left his post. Earlier in February, White House staff secretary Rob Porter, and White House speechwriter David Sorenson, left the administration after domestic abuse allegations.
Fox News' Kristin Brown and Serafin Gomez contributed to this report.