Freshman lawmaker sews the gap between the aisle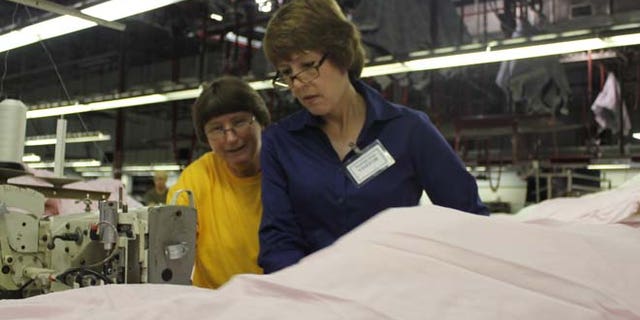 NEWYou can now listen to Fox News articles!
NEW YORK – Freshman lawmaker Rep. Gwen Graham, D-Fla., is living up to her campaign promise –and carrying out her father Sen. Bob Graham's legacy of "workdays" -- a program aimed at protecting and promoting jobs.
"Too many textile and manufacturing jobs have left our country to be shipped overseas," Graham told FoxNews.com.
Graham recently worked a 7-hour shift at WestPoint Home in Chipley, the last major home-textile producer in the country, employing over 250 Floridians.
"Working on the factory floor, I gained a real sense of why all the associates were smiling: it feels good to make something in America," she said.
WestPoint Home sells textiles directly to consumers under brand names, retail outlets and online. Their products are sold in Target, Bed Bath & Beyond, TJ Maxx, and HomeGoods.
Graham spent her workday sewing and stuffing pastel-colored comforters at WestPoint Home, setting the stage for the announcement of the Northwest Florida Jobs Certainty Act, her fourth major piece of legislation as an elected official representing Florida's 2nd district.
Factories like WestPoint experienced cutbacks during the recession, but as the country's fiscal health improves, so does business.
"The Northwest Florida Jobs Certainty Act will save more than 250 good-paying manufacturing jobs," Graham said and claims it "…would prevent this new tax and keep the factory and these jobs in Chipley."
The bipartisan legislation would extend a free trade provision between the United States and Bahrain, which is vital for workers at the factory. Without the extension, the trade agreement will expire in June 2016.
This isn't Graham's first piece of legislation with sponsors across the aisle. The VETS Act, created to educate, train and hire more recovery care coordinators to help the most seriously injured veterans has Republican co-sponsors, as well as her Congressional Travel Perks Elimination bill introduced in early March. Her last piece of legislation, the US-Israel Anti-Tunnel Defense Cooperation Act, was introduced to authorize research and development of an anti-tunneling defense system to protect Israel from terrorist attacks, also had broad support across party lines.
According to a study by the National Journal, Cook Political Report, and Quorum Analytics, Graham has "co-sponsored legislation with the other party" more than any other freshman. The National Journal says that this is a "political necessity" for members representing purple districts, but Graham doesn't seem concerned with racking up points for re-election.
"I'm bringing the North Florida Way to Washington – and that means working with Democrats and Republicans to get things done," she said. "All of our bills have bipartisan support because they're not 'Republican ideas' or 'Democratic ideas,' they're common sense solutions to problems we face."