Franken out? Governor prepares to name Lt. Gov. successor
Amid speculation over why Sen. Al Franken has not yet set his resignation date, Minnesota's governor is planning to announce Wednesday his pick to replace the Democratic senator — and the governor is expected to choose Lt. Gov. Tina Smith.
Smith not only would be an immediate placeholder for Franken, but also would run in the November 2018 special election to serve out Franken's term. Minnesota will conduct another election for the same seat in November 2020 for a full, six-year term.
Gov. Mark Dayton will make the announcement of the appointment at 10 a.m. Wednesday at the State Capitol.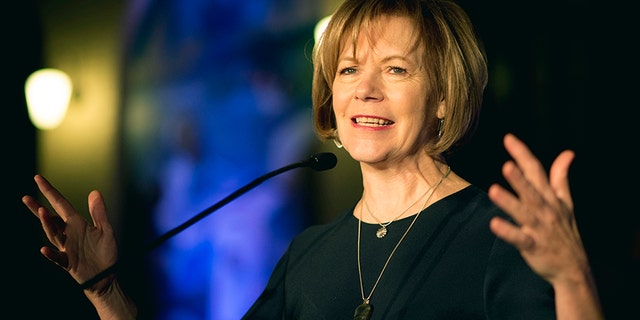 Smith is a native of Albuquerque, New Mexico, and has lived in Minnesota since the mid-1980s. She managed the abbreviated Senate campaign of former Vice President Walter Mondale in 2002 after the death of Sen. Paul Wellstone, D-MN, just days before the mid-term election.
The announcement could well put to rest the simmering speculation that Franken might be keeping the door open to remain in the Senate, if Roy Moore is elected in Tuesday's Alabama Senate race.
The latest such call came from Zephyr Teachout, an associate law professor at Fordham University who has run unsuccessfully as a Democrat for Congress and New York governor.
Writing in The New York Times on Tuesday, she said due process was missing from the "hasty call" for Franken's resignation over allegations of groping and other sexual misconduct.
She said a Senate ethics panel probe into the Minnesota Democrat's conduct should be allowed to "run its course."
"Then we'll know whether his planned resignation was warranted," she wrote, adding: "New facts may put Senator Franken in a better light, or a far worse one, and we should be open to both."
In the Alabama race, Republican Roy Moore has faced numerous allegations that he pursued teenage girls when he was in his 30s. Moore denies them. But if he wins, some have said it gives Franken an opening to stay.
"I think at that point, Franken will renege on his promise, using Moore's election as his excuse Franken can then play the role of hero," conservative talk radio host Lars Larson wrote last week. "… That's the only sensible explanation I can find for Franken to delay his departure from the Senate."
In his floor speech last week, Franken said only that he would resign in "the coming weeks." He also used the address to call out Republicans accused of sexual misconduct and did not admit wrongdoing.
There could be other explanations for Franken delaying his exit — for instance, giving his staff more time to find a new job, as noted by the Cook Political Report.
Franken's office has not responded to questions from Fox News about why the senator opted to resign in "the coming weeks."
Fox News' Judson Berger and Chad Pergram contributed to this report.