Fox News Poll: White House Could Have Done More, Moved Faster On Spill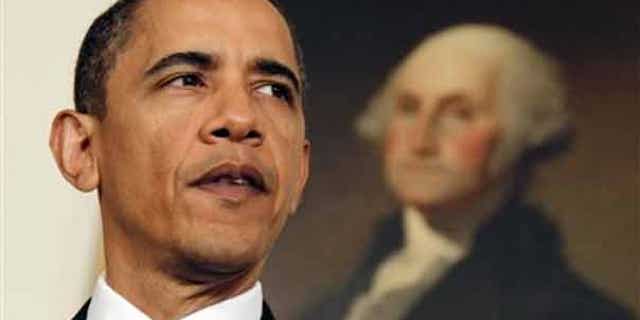 American voters find the Obama administration's response to the BP oil spill lacking, and a majority thinks the administration is in over its head, according to a Fox News poll released Thursday.
Fifty-seven percent think the administration could have done more and reacted more quickly to the spill in the Gulf of Mexico. That's 20 percentage points higher than the 37 percent who think the administration did as much as it could as fast as it could.
Not unexpectedly, most Republicans (72 percent) think the administration could have done more. A majority of independents (63 percent), as well as a substantial minority of Democrats (43 percent), agree.
And while many voters — 36 percent — think the Obama administration is "up to the job" of fixing the problem in the gulf, a 54 percent majority thinks the administration is "in over its head."
BP garners even less confidence: 25 percent think it's "up to the job" and 68 percent "in over its head."
Just over half of voters (51 percent) now disapprove of the job the White House is doing on the spill. Some 38 percent approve, down from 44 percent approval in mid-May, and 50 percent approval the week after the rig explosion.
BP gets worse marks: 13 percent approve and 79 percent disapprove of how the company is handling the spill.
A majority of Democrats (60 percent) approves of how the Obama administration is dealing with the spill, while majorities of Republicans (74 percent) and independents (55 percent) disapprove. Large majorities of Democrats (84 percent), Republicans (74 percent) and independents (80 percent) disapprove of BP's job performance.
President Obama's overall job rating holds steady this week: 46 percent of voters approve and 45 percent disapprove. In mid-May, 45 percent approved and 46 percent disapproved (18-19 May 2010).
While a majority of voters think the president has been "compassionate" in reacting to the spill (60 percent), far fewer describe his response as "strong leadership" (42 percent) or as "aggressive" (28 percent).In the six weeks since the rig disaster, President Obama has visited the gulf three times and is expected to go again next week. Nearly half of voters — 45 percent — think he is spending the right amount of time working on the spill. That's slightly more than the 40 percent who think he's spending too little time. Only 4 percent say he's spending too much time.
For comparison, a month after Hurricane Katrina hit the gulf coast some 51 percent of voters thought President Bush was spending the right amount of time on hurricane relief, 27 percent said too little time and 12 percent said too much (27-28 September 2005).
The national telephone poll was conducted for Fox News by Opinion Dynamics Corp. among 900 registered voters from June 8 to June 9. For the total sample, the poll has a margin of sampling error of plus or minus 3 percentage points.
Reactions to the Spill
Who's responsible for the oil spill? More people (58 percent) point to BP for not being prepared than point to anyone else. Ten percent blame environmentalists for opposing drilling on land and in shallow water. Similar numbers put the blame on consumers for relying on large quantities of oil and gas (8 percent) and the federal government for allowing the drilling (7 percent).
In addition, more voters think the lesson learned from the BP disaster is that drilling should be done in shallow waters or on land so problems can be more easily addressed (40 percent) than think it's that drilling should be seriously limited in the future (31 percent) or that it should be done in extremely remote areas (14 percent).
The number in favor of increasing offshore drilling has dropped below half for the first time and now stands at 44 percent. That's down from 54 percent three weeks ago (18-19 May 2010). In early April, before the Deep Water Horizon oil rig exploded on April 20, fully 70 percent said they favored increasing offshore drilling in U.S. coastal waters.
Similarly, opposition has increased to 48 percent, up from 38 percent in mid-May and 22 percent in early April.
The largest decline in support for drilling comes from Democrats. Just 28 percent of Democrats favor increasing drilling in the latest poll. That's a 33 percentage point drop from the 61 percent who favored it in April.
For Republicans, 62 percent favor it today, while 79 percent favored it before the BP disaster. There is a similar drop in support among independents: 52 percent favor it now, down from 71 percent.
Spill Stirs More Heartbreak than Anger
When asked about their personal reactions to the spill, more voters expressed heartbreak than anger. A significant number also worry about the economic fallout.
Nearly 7 in 10 voters (69 percent) are "very" worried about the economic impact of the spill and another 23 percent are "somewhat" worried.
Most people — 95 percent — say they feel heartbroken about the people and wildlife affected by the spill (76 percent "very" and 19 percent "somewhat"). Fully 83 percent are angry at those responsible (52 percent "very" and 31 percent "somewhat").
Women react more intensely than men on both measures: Women are more likely to be very angry (by 7 percentage points) as well as very heartbroken (by 8 points).